TRADITIONAL MOUNTAINEERING ™
www.TraditionalMountaineering.org ™ and also www.AlpineMountaineering.org ™

™
FREE BASIC TO ADVANCED ALPINE MOUNTAIN CLIMBING INSTRUCTION™
Home | Information | Photos | Calendar | News | Seminars | Experiences | Questions | Updates | Books | Conditions | Links | Search

Middle Sister Oregon, photos of this mountaineering summit in June 2007
Click on an image you like to see the full version; broadband folks can click here to see the full sized page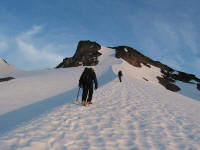 Toward the summit of Middle Sister.
Of course, it is steeper than it looks in the photograph.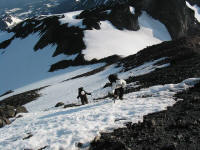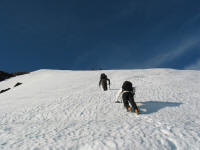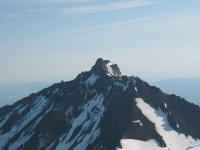 North sister from the summit of Middle Sister
POSTED ON:
CascadeClimbers.com
wannabe
newbie
Posts: 29
06/04/07

Our party of three camped Saturday night and climbed Middle Sister on Sunday morning. Thunderstorms on Saturday night, but it cleared off. The temp did not really drop and the snow all the way was like mashed potatoes. We managed to wallow our way to the top.
http://www.cascadeclimbers.com/forum/ubbthreads.php/ubb/showflat/Number/690145/page/1#Post690145



WARNING - *DISCLAIMER!*
Mountain climbing has inherent dangers that can, only in part, be mitigated
Read more . . .



NORTH SISTER EXPERIENCES
Climbers swept by avalanche while descending North Sister's Thayer Glacier Snowfield
North Sister - climbing with Allan Throop
North Sister - accident report to the American Alpine Club
North Sister fatal accident news reports
North Sister and Middle Sister spring summits on telemark skis
North Sister, North Ridge by Sam Carpenter
North Sister, the Martina Testa Story, by Bob Speik
North Sister, SE Ridge solo by Sam Carpenter

CASCADES SUMMITS
Photos of a South Sister snow-climb in June 2006
Photos of Central Oregon from an ultralight aircraft
Views of the Oregon Cascades in the summer and fall
Views of the Cascades from the ridge above Three Creek Lake
Summits of the Oregon Cascades from Tumalo Mountain in February 2005
A snowshoe summit of Vista Butte off Cascades Lakes Highway near Bend, OR
Mt. Bachelor, the Three Sisters and Broken Top
Photos of the Three Sisters Wilderness Summits form Sparks Lake
Geocaching the Top of Black Crater
Overlooking the Three Sisters from Mt. Bachelor


Three Sisters summits


Scott shares his summits of Middle Sister and Mt. Thielsen

NORTH SISTER
North Sister, the Terrible Traverse in September, 1999
Middle and North Sister exploratory adventure


North Sister and Middle Sister spring summits on telemark skis
North Sister, Scott's solo summer summit
North Sister exploratory
North Sister winter solo
North Sister: crux photos of the Three Sisters Marathon
North Sister by the south east ridge

MIDDLE SISTER
Middle and North Sister exploratory adventure
North Sister and Middle Sister spring summits on telemark skis
Middle Sister spring summit

SOUTH SISTER
The Fall Creek Trail to Moraine and Green Lakes near Bend Oregon
Photos of a South Sister snow-climb in June 2006
A cross country circumnavigation of South Sister in September
Climbing South Sister - a spring snow summit to 10,385'
South sister spring overnight snow climb, gear and skills
South Sister Summer Summit
South Sister climbers trail relocated
South Sister Spring South Ridge Summit

BROKEN TOP
Hiking to the glacial tarn below Broken Top in the Three Sisters Wilderness
A cross country circumnavigation of Broken Top in late summer with friends
Broken Top north side, with Z21 TV
Broken Top winter summit with Eric Hoffman
Climbing to the summit of Broken Top
Climbing Broken Top with Eric Seyler
Todd Lake, a gateway to Broken Top
Broken Top circumnavigation
Climbing Broken Top in the winter

MT BACHELOR
North American Pond Skimming Contest at Mt. Bachelor
Mt. Bachelor ski and summer resort during the Atta Boy 300
Atta Boy 300 dog sled race start and finish from Mt. Bachelor
Overlooking the Three Sisters from Mt. Bachelor
Mt. Bachelor from Tumalo Ridge
Photos of the melted snow pack near Mt Bachelor

TUMALO MOUNTAIN
Summits of the Oregon Cascades from Tumalo Mountain in February 2005
Tumalo Mountain across from Mt. Bachelor
A spring climb of Tumalo Mountain near Mt. Bachelor

MOUNT HOOD
Mount Hood - Solo climber falls from Cooper Spur
Mount Hood - climbing accident claims three lives -Final Report and our Analysis

Notable mountain climbing accidents Analyzed

Mount Hood - Solo hiker drowns while crossing Mt. Hood's Sandy River
Mount Hood - Solo climber slides into the Bergschrund and is found the following day
Mount Hood - The Episcopal School Tragedy
Mount Hood - experienced climbers rescued from snow cave
Mount Hood - a personal description of the south side route
Mount Hood - fatal avalanche described by Climbing Ranger
Mount Hood - avalanche proves fatal for members of Mazamas climbing group
Mount Hood - snowboard rider dies on Cooper Spur
Mount Hood - fatal fall on snow, Cooper Spur Route
Mount Hood - fatal fall on snow from the summit
Mount Hood - climb shows the need for knowledge
Mount Hood - climb ends in tragedy
Mount Hood - rescue facilitated by use of a VHF radio

THE THREE SISTERS MARATHON
The Five Sisters Marathon by Pat Creedican
North Sister and Middle Sister spring summits on telemark skis
Middle Sister and North Sister exploratory

BROKEN TOP
Solo backcountry ski to Broken Top Bowl and return
McArthur Rim - responsible climber slips on steep hard snow
A fine winter summit of Broken Top by Eric Seyler
Broken Top - climber disappears
Broken Top - climber slips on hard snow

MIDDLE SISTER
Middle Sister - climb proves need for equipment and experience