TRADITIONAL MOUNTAINEERING ™
www.TraditionalMountaineering.org ™ and also www.AlpineMountaineering.org ™

™
FREE BASIC TO ADVANCED ALPINE MOUNTAIN CLIMBING INSTRUCTION™
Home | Information | Photos | Calendar | News | Seminars | Experiences | Questions | Updates | Books | Conditions | Links | Search

Read more:
Recent rescues, tragedies spur KTVZ hiker-safety reminders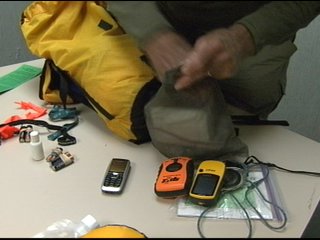 Recent rescues, tragedies spur hiker-safety reminders
KTVZ .com
June 10, 2008
By Kelsey Watts
"A small day pack can carry all you need to stave off a bad outcome in the outdoors, says hiking-safety expert Robert Speik"

On Monday, a climber died atop Mount Rainier in Washington, and another two had to be rescued. This past weekend, a man was rescued near Sparks Lake, and a hiker had to be plucked off Mount Hood by helicopter.

As the summer weather approaches, more people are heading into the mountains, forests, and trails. But a simple day trip can quickly turn into a rescue.

Snow-covered mountains, lava rock caves and steep canyon trails. At NewsChannel 21, we've reported on dozens of rescues this year alone. Some people lost, others hurt, all in need of help.

"The weather gets a little bit better, they get out there and think, 'Oh I'm just going to go on a day hike,'" said Deschutes County sheriff's Sgt. Marvin Combs. "And when they go they don't take any equipment, they don't take compasses, they don't tell anyone where they're going - they're not prepared."

Even when you're not planning on being gone long, a quick trip can turn deadly even for the most experienced people in the outdoors.

"You've lived here your whole life, you've been out to the area a hundred times, you think, 'It's not going to happen to me.' Well, it can happen to you," Combs added.

Robert Speik of Bend runs www.traditionalmountaineering.org, and has been giving hiker safety classes for more than 14 years.

He says the top four things to do are:

1. Tell someone where you're going, your itinerary, and when you plan to return, and stick to your plan.

2. Bring extra supplies, including clothing, food, medical supplies and shelter systems.

3. Have a map of the area, a compass and a GPS device.

4. Bring a cell phone.

"The central theme of everyone who is lost is that they didn't plan to be lost. They never thought they'd become lost," Speik said.

His lightweight day pack is filled with clothing for all kinds of weather, food, GPS systems and smaller items, like medicine and toilet paper.

"Six or seven pounds will keep you comfortable all night," Speik said. "And if you don't have those things, you can die."

Deschutes County Search and Rescue gets roughly 90 calls a year. Each can require hours of planning, calling in volunteers, and sending out equipment.

"We never know going in if we're going in if we're going to be there for a short two-hour period, to several days or several weeks," Combs explained.

Still, the team would much rather go on a rescue than a recovery.

Regardless of your outdoor plans, there are dozens of tips available online that can literally save your life this summer. Robert Speik will be holding his next class on Saturday. To sign up, or for more detailed safety tips, go to www.traditionalmountaineering.org.
Check ktvz.com for this segment!

http://www.ktvz.com/global/story.asp?s=8460757&ClientType=Printable
Four simple responsibilities of the backcountry traveler
Hikers, backpackers, peak baggers, alpine climbers, backcountry skiers,
snowshoers, snowmobilers, horsemen, hunters and other outdoorsmen
1. Tell a Reliable Person where you are going, what you are going to do and when you will return. Search and Rescue personnel will want to know where you planned to park your vehicle, its description and license number, what gear you have, the names, cell phone information and experience level of your companions. Of course, you must agree that you will call the Reliable Person when you return to town. Also, this encourages your thoughtful setting of a "turn-around" time for your adventure.

The Reliable Person must accept the responsibility to call the local County Sheriff's Search and Rescue through 911 with the above information if you do not check in by an agreed-upon time. Your life may depend on a timely call to 911. Oregon Statutes require that you have left this information or you could be charged up to $500 per person for Sheriff's Search and Rescue services.


Experience tells us that the Reliable Person may not understand the importance of this responsibility.
2. The Second Responsibility of each individual backcountry traveler or climber is to be prepared with a light weight daypack and enough extra clothing, water, food and selected gear to survive an emergency stop of several hours or overnight. These Essentials are seasonal and should focus on keeping you warm and dry, hydrated, eating simple carbohydrates, and able to stay in one place. If you become lost, signal your location, perhaps with colored tape or a reflective "plastic 9 ounce bivy sac", and stay still or exercise your large muscles at your marked position to stay warm. Do not try to find your way until you become exhausted, cold or dangerously wet. Wait at your marked location safely for rescuers. If you are not "prepared", you could be charged up to $500 in Oregon for Sheriff's rescue services.


Experienced mountaineers carry the traditional "Ten Essential Systems".
3. The Third Responsibility is to have a topo map of the area, a declination corrected base plate compass (seventeen degrees currently in Central Oregon) and an inexpensive GPS that provides your coordinates. A small simple accurate Garmin eTrex H GPS receiver costs only about $100 everywhere, a simple base plate compass $35 and a 1:24,000 USGS Quad topo map, $7, total $137. If you do not have a "topo map and compass", you could be charged up to $500 per person for Sheriff's rescue services.


Experience tells us that you cannot get by with GPS alone – you need a topo map and declination adjusted base plate compass, and new skills to use them together!
4. The Fourth Responsibility is: Carry your common digital cell phone, turned on, in contact with any cell towers
Insure that you have the personal option to call for medical or rescue services. I would prefer to call for help on Friday morning at the time my leg was broken and not have to wait until Sunday at 6PM when I will be reported missing by my Responsible Person. In our experience, there are very few areas in our Oregon Cascades where a cell phone is out of contact. Several cell phones in a group are far better than one. Phone rescuers on your cell phone with your exact UTM (NAD 27) GPS coordinates, your current condition and proposed plans.

An important new free service is the ability of Rescuers to request from your mobile phone Provider, your general location triangulated from cell phone "ping" records or from a GPS chip in some new phones. Another option for many is to carry a $150 SPOT Satellite Messenger which can give your friends and/or 911 your exact GPS location. Oregon SAR Statutes require that you carry a means of communication such as a cell phone.


Carry a personal cell phone turned on and positioned where it can best stay (warm and) in contact with the cell phone towers.
Copyright© 1995-2008 by Robert Speik. All Rights Reserved.
http://www.traditionalmountaineering.org/Basic.htm
Here are the Oregon State SAR Statutes that apply to the Basic Responsibilities of backcountry travelers
401.590 Reimbursement of public body for search and rescue by benefited persons; amount; exceptions.
(1) A public body may collect an amount specified in this section as reimbursement for the cost of search and rescue activities when the public body conducts search and rescue activities for the benefit of hikers, climbers, hunters and other users of wilderness areas or unpopulated forested or mountainous recreational areas in this state.
(2) The public body may collect moneys as authorized by this section from each person for whose benefit search and rescue activities are conducted. The public body may not collect more than $500 from an individual under this section and may not collect more than the actual cost of the search and rescue activities from all of the individuals for whose benefit the activities are conducted.
(3) A public body may obtain reimbursement under this section only when:
(a) Reasonable care was not exercised by the individuals for whose benefit the search and rescue activities are conducted; or
(b) Applicable laws were violated by such individuals.

(4) Any individual who is charged a fee for reimbursement under this section may appeal the charge or the amount of the fee to the public body that charged the fee.
(5) For the purposes of subsection (3) of this section, evidence of reasonable care includes:
(a) The individuals possessed experience and used equipment that was appropriate for the known conditions of weather and terrain.
(b) The individuals used or attempted to use locating devices or cellular telephones when appropriate.
(c) The individuals notified responsible persons or organizations of the expected time of departure and the expected time of return and the planned location or route of activity.
(d) The individuals had maps and orienteering equipment and used trails or other routes that were appropriate for the conditions.

(6) As used in this section, "public body" means any unit of state or local government that conducts or has authority to conduct search and rescue activities. [1995 c.570 §1]
Note: 401.590 was enacted into law by the Legislative Assembly but was not added to or made a part of ORS chapter 401 or any series therein by legislative action. See Preface to Oregon Revised Statutes for further explanation.

401.600 [1975 c.624 §4; repealed by 1983 c.586 §49]
(Equipment and Signaling Devices)

401.605 Definitions for ORS 401.605 to 401.635. As used in ORS 401.605 to 401.635:
(1) "Electronic signaling device" includes, but is not limited to, a system consisting of an instrument which emits a radio signal, designed to be carried on the person, an instrument for locating the source of such signal, designed to be utilized by searchers and such instruments as may be employed for testing and maintaining the same.
(2) "Inherent risks of wilderness travel and mountain climbing" includes, but is not limited to, those dangers or conditions, the risk of which is an integral part of these activities, such as becoming lost, incapacitated or for some other reason being unable to return safely without outside assistance. "Inherent risks" include the activities associated with search and rescue, due to the unpredictable circumstances under which search and rescue operations are conducted.
(3) "Wilderness travel" includes, but is not limited to, travel in areas not served by roads suitable for ordinary motor vehicles, whether or not such areas have been officially designated as wilderness areas. [1987 c.915 §1; 1993 c.18 §95]
Note: 401.605 to 401.635 were enacted into law by the Legislative Assembly but were not added to or made a part of ORS chapter 401 or any series therein by legislative action. See Preface to Oregon Revised Statutes for further explanation.

401.610 [1975 c.624 §5; repealed by 1983 c.586 §49]

401.615 Assumption of risk of wilderness travel or mountain climbing; use and effect of signal devices. (1) In accordance with ORS 31.600 and notwithstanding ORS 31.620 (2), an individual who engages in wilderness travel or mountain climbing accepts and assumes the inherent risks of wilderness travel or mountain climbing.
(2) The Legislative Assembly recognizes that the use of electronic signaling devices can aid in locating wilderness travelers or mountain climbers who require search and rescue, but that the use of such devices may be required in unpredictable circumstances which may not result in successful function of such devices. [1987 c.915 §2]
Note: See note under 401.605.

401.620 [1975 c.624 §6; renumbered 401.335]

401.625 Required equipment when guiding children above timberline. A person who guides for compensation an organized group that includes children under 18 years of age on any mountain above the timberline must carry an altimeter, a contour map of the area and a compass. [1987 c.915 §4]
Note: See note under 401.605.

401.627 Exemption from liability for electronic signaling device; exceptions. No person may maintain an action against the manufacturer, distributor or supplier of an electronic signaling device for any loss or damage incurred during wilderness travel or mountain climbing, based on a claim that such a device failed to function successfully unless the person shows that the failure resulted from willful or wanton misconduct of the defendant or from the defendant's distributing or supplying such a device having actual knowledge that it fails to meet the specifications referred to in ORS 401.635. [1987 c.915 §3]
Note: See note under 401.605.

401.630 [1975 c.624 §7; renumbered 401.125]

401.635 Electronic signaling devices; rulemaking authority of state police; advisory committee. The Department of State Police by rule shall adopt specifications and distribution procedures applicable to electronic signaling devices described in ORS 401.605 to 401.635. The department may appoint an advisory committee to advise it on the specifications and procedures. [1987 c.915 §5; 1993 c.18 §96]
Note: See "note" under 401.605.
http://www.leg.state.or.us/ors/401.html
A suggested minimum standard news advisory for all backcountry travelers
"We would like to take this opportunity to ask our visitors to the backcountry of Oregon to plan for the unexpected. Each person should dress for the forecast weather and take minimum extra clothing protection from a drop in temperature and possible rain or snow storm or an unexpected cold wet night out, insulation from the wet ground or snow, high carbohydrate snacks, two quarts of water or Gatorade, a map and compass and optional inexpensive GPS and the skills to use them, and a charged cell phone and inexpensive walkie-talkie radios. Carry the traditional personal "Ten Essentials Systems" in a day pack sized for the season and the forecast weather.
Visitors are reminded to tell a Responsible Person where they are going, where they plan to park, when they will be back and to make sure that person understands that they are relied upon to call 911 at a certain time if the backcountry traveler has not returned. If you become lost or stranded, mark your location and stay still or move around your marked location to stay warm. Do not try to find your way until you are exhausted, or worse yet - wet. Wait for rescuers.
THE MISSION of TraditionalMountaineering.org
"To provide information and instruction about world-wide basic to advanced alpine mountain climbing safety skills and gear, on and off trail hiking, scrambling and light and fast Leave No Trace backpacking techniques based on the foundation of an appreciation for the Stewardship of the Land, all illustrated through photographs and accounts of actual shared mountaineering adventures."
TraditionalMountaineering is founded on the premise that "He who knows naught, knows not that he knows naught", that exploring the hills and summitting peaks have dangers that are hidden to the un-informed and that these inherent risks can be in part, identified and mitigated by mentoring: information, training, wonderful gear, and knowledge gained through the experiences of others.
The value of TraditionalMountaineering to our Friends and Subscribers is the selectivity of the information we provide, and its relevance to introducing folks to informed hiking on the trail, exploring off the trail, mountain travel and Leave-no-Trace light-weight bivy and backpacking, technical travel over steep snow, rock and ice, technical glacier travel and a little technical rock climbing on the way to the summit. Whatever your capabilities and interests, there is a place for everyone in traditional alpine mountaineering.



WARNING - *DISCLAIMER!*
Mountain climbing has inherent dangers that can, only in part, be mitigated
Read more . . .
SPOT Satellite Messenger "PLB" reviewed and recommended
How do you use your map, compass and GPS together, in a nut shell?
Why is the digital cell phone best for backcountry travel and mountaineering?
How do mobile phones assist mountaineering and backcountry rescues?
FREE Clinic on Real Survival Strategies and Staying Found with Map, Compass and GPS together
Two climbers become lost descending Mt. Hood's standard South Side Route
What do you carry in your winter day and summit pack?
Why are "snowcaves" dangerous?
Why are "Space Blankets" dangerous?
Why are "Emergency Kits" dangerous?
How can you avoid Hypothermia?
Final Report to the American Alpine Club on the loss of three climbers on Mount Hood in December 2006
Missing climbers on Mount Hood, one dies of exposure, two believed killed in fall
Missing California family found, dad dies from exposure and hypothermia
Missing man survives two weeks trapped in snow-covered car
Missing snowmobile riders found, Roger Rouse dies from hypothermia
Olympic Champion Rulon Gardner lost on snowmobile!
Lost Olympic hockey player looses feet to cold injury
Expert skier lost five days near resort in North Cascades without map, compass, gps or cell phone
Mount Hood - The Episcopal School Tragedy
Mount Hood - experienced climbers rescued from snow cave
How can you learn the skills of snow camping? Prospectus

Lost and Found
Climber on Mt. Rainier dies, others injured
Once again, hypothermia kills stranded Oregon driver
Lessons learned from the latest lost Mt. Hood climbers
Lessons learned from the latest lost Christmas tree hunters New rescue services for all American Alpine Club Members
OpEd: Oregon requires electronic communications in the backcountry
Rescue charges in traditional alpine mountaineering
Governor establishes a Search and Rescue Task Force
Oregon Search and Rescue Statutes
Lost hiker in Oregon backcountry found with heat-sensing device in airplane
HB2509 mandates electronic locator beacons on Mt. Hood - climbers' views
Oregon HB 2509 as approved on March 28, 2007
Three hikers and a dog rescued on Mt. Hood
Motorist stuck in snow on backcountry Road 18, phones 911 for rescue
Snow stranded Utah couple leave car and die from hypothermia
Missing man survives two weeks trapped in snow-covered car
Missing snowmobile riders found, Roger Rouse dies from hypothermia
Longacre Expeditions teen group rescued from the snowdrifts above Todd Lake
Lost climber hikes 6.5 miles from South Sister Trail to Elk Lake
Hiking couple lost three nights in San Jacinto Wilderness find abandoned gear
Expert skier lost five days in North Cascades without Essentials, map and compass
Climber disappears on the steep snow slopes of Mount McLaughlin
Hiker lost five days in freezing weather on Mount Hood
Professor and son elude search and rescue volunteers
Found person becomes lost and eludes rescuers for five days
Teens, lost on South Sister, use cell phone with Search and Rescue
Lost man walks 27 miles to the highway from Elk Lake Oregon
Snowboarder Found After Week in Wilderness
Searchers rescue hiker at Smith Rock, find lost climbers on North Sister
Girl Found In Lane County After Lost On Hiking Trip
Search and rescue finds young girls lost from family group
Portland athlete lost on Mt. Hood
Rescues after the recent snows
Novice couple lost in the woods
Broken Top remains confirmed as missing climber
Ollalie Trail - OSU Trip - Lost, No Map, Inadequate Clothing

Your Essential Light Day Pack
What are the new Ten Essential Systems?
What does experience tell us about Light and Fast climbing?
What is the best traditional alpine mountaineering summit pack?
What is Light and Fast alpine climbing?
What do you carry in your summer day pack? Photos?


What do you carry in your winter day pack? Photos?


What should I know about "space blankets"?
Where can I get a personal and a group first aid kit? Photos?

Carboration and Hydration
Is running the Western States 100 part of "traditional mountaineering"?
What's wrong with GORP? Answers to the quiz!
Why do I need to count carbohydrate calories?
What should I know about having a big freeze-dried dinner?
What about carbo-ration and fluid replacement during traditional alpine climbing? 4 pages in pdf


What should I eat before a day of alpine climbing?

About Alpine Mountaineering:


The Sport of Alpine Mountaineering


Climbing Together


Following the Leader


The Mountaineers' Rope


Basic Responsibilities

Cuatro Responsabiliades Basicas de Quienes Salen al Campo


The Ten Essentials

Los Diez Sistemas Esenciales

Our Leader's Guidelines:


Our Volunteer Leader Guidelines


Sign-in Agreements, Waivers and Prospectus This pdf form will need to be signed by you at the trail head


Sample Prospectus Make sure every leader tells you what the group is going to do; print a copy for your "responsible person"


Participant Information Form This pdf form can be printed and mailed or handed to the Leader if requested or required


Emergency and Incident Report Form Copy and print this form. Carry two copies with your Essentials


Participant and Group First Aid Kit Print this form. Make up your own first aid essentials (kits)


About our World Wide Website:


Information


Mission


Map, Compass and GPS
Map, compass and GPS navigation training Noodle in The Badlands
BLM guidelines for Geocaching on public lands
Geocaching on Federal Forest Lands
OpEd - Geocaching should not be banned in the Badlands
Winter hiking in The Badlands WSA just east of Bend
Searching for the perfect gift
Geocaching: What's the cache?
Geocaching into the Canyon of the Deschutes
Can you catch the geocache?
Z21 covers Geocaching
Tour The Badlands with ONDA
The art of not getting lost
Geocaching: the thrill of the hunt!
GPS in the news
A GPS and other outdoor gadgets make prized gifts
Wanna play? Maps show you the way
Cooking the "navigation noodle"