TRADITIONAL MOUNTAINEERING ™
www.TraditionalMountaineering.org ™ and also www.AlpineMountaineering.org ™

™
FREE BASIC TO ADVANCED ALPINE MOUNTAIN CLIMBING INSTRUCTION™
Home | Information | Photos | Calendar | News | Seminars | Experiences | Questions | Updates | Books | Conditions | Links | Search

Read more:
Bend's Badlands WSA hiking map available from BLM!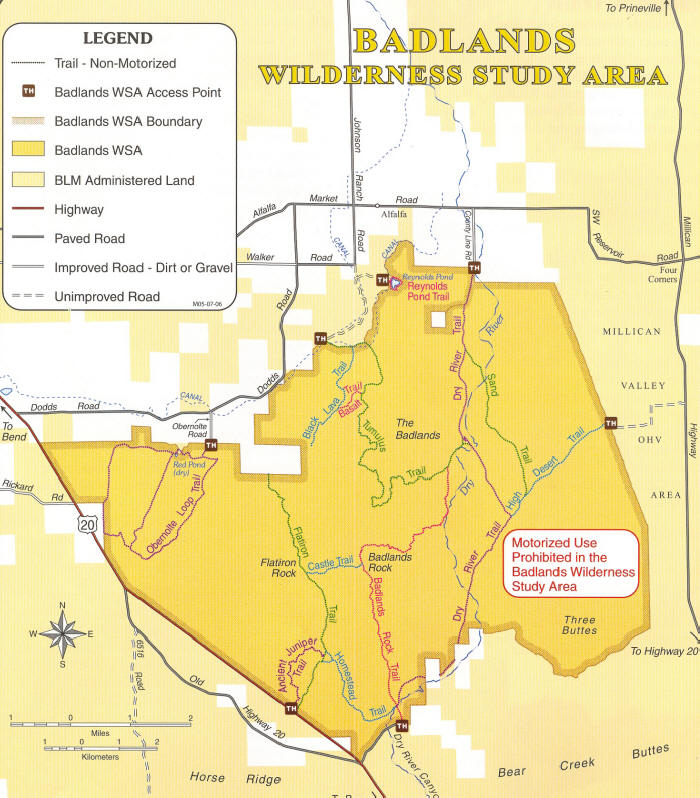 Note: This BLM hiking map can be copied by right clicking and choosing "print"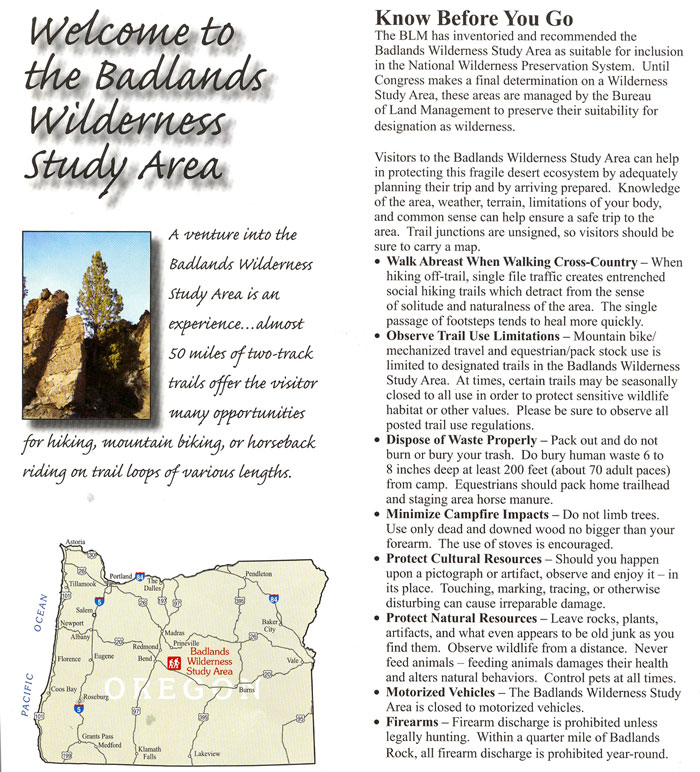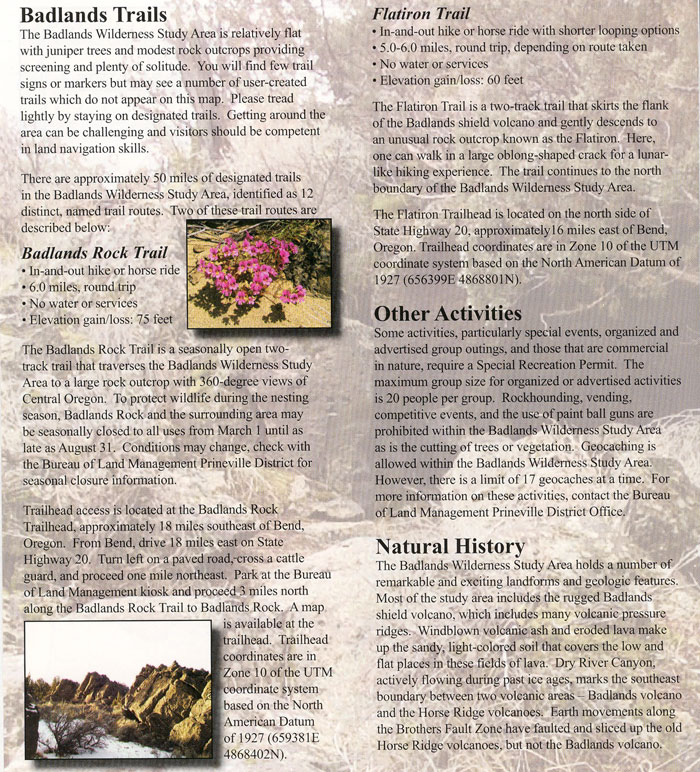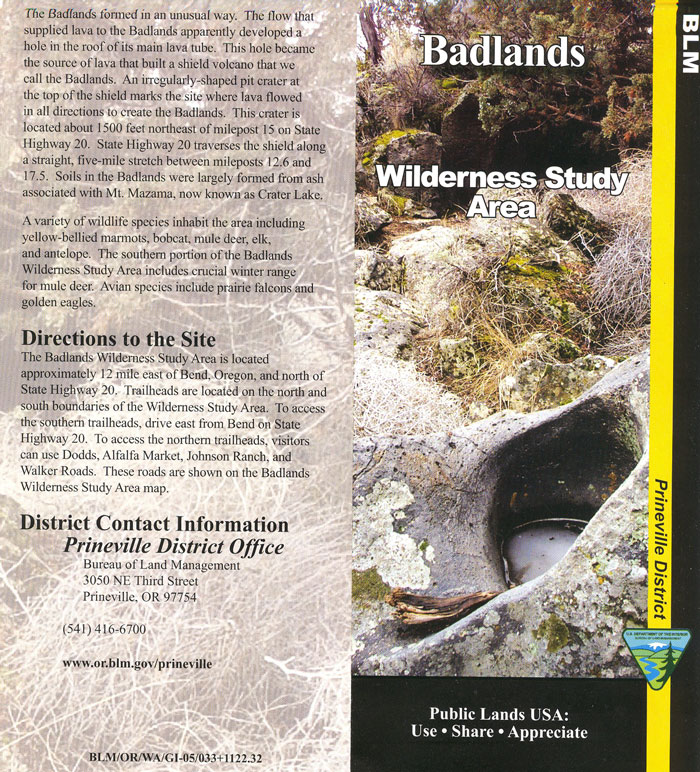 ###########
"Badlands Wilderness Study Area Closed To Motorized Use"
October 25, 2005
"After several years of collaborative effort, the Upper Deschutes Resource Management Plan (UDRMP) has been completed. In September 2005, the UDRMP and Record of Decision (ROD) was signed by Elaine M. Brong, BLM Oregon/Washington State Director, making the management policy in the UDRMP effective immediately. The UDRMP provides guidance for the management of over 400,000 acres of BLM administered lands in Central Oregon.
The Badlands Wilderness Study Area is frequently visited by a variety of public land users year-round. One of the key issues in the planning process was how to provide a diversity of recreation settings or opportunities throughout BLM administered lands in Central Oregon. The UDRMP /ROD identified the Badlands as an area managed exclusively for non-motorized use, with other areas identified for creation of additional trail networks for motorized use.
The closure of the Badlands WSA represents approximately 8 percent of the BLM administered lands within the planning area (400,000 acres). Approximately 80 percent of the planning area remains open to motorized use year-round or seasonally on designated routes.
The decisions in the ROD provide a diverse range of recreation opportunities and reflect our commitment to ensure wilderness values are protected by managing visitor use in a manner that does not impair these values. The Badlands WSA will be managed under the guidelines in the UDRMP and BLM's interim management policy for lands under wilderness review, until Congress makes a final determination on including the area as part of the National Wilderness Preservation System or releasing it for other uses.
For more information on Badlands WSA management or management of recreation uses throughout BLM administered lands in Central Oregon, please contact Prineville BLM at 541­416-6700."
Note: Roland Giller, USFS-BLM Spokesperson, notes a new fancy map of approved trails (hopefully with UTM gridlines) is in the works. Trailhead improvements, vehicle proof gates and better signage will follow. --Webmeister Speik

Read more . . .


The Badlands Wilderness
Bend Oregon Badlands WSA hiking map available from BLM
Hunters who use ATVs are hurting Oregon's elk population
BLM's final UDRMP opens Bend's Badlands to Geocaching
BLM's final UDRMP closes Bend's Badlands WSA to motorized vehicle use
Wilderness workshop for USDA Forest Service held by University of Idaho
BLM's UDRMP plans for Badlands deal with exploding public use
Map, compass and GPS navigation training Noodle in The Badlands
Deschutes County Commissioners fail to support Badlands Wilderness!
Deschutes County takes no position on Badlands Wilderness
Deschutes County Commissioner DeWolf supports Badlands Wilderness
OpEd - Dirt road through The Badlands must close
Photos of Road 8 damage sent to Commissioners
Badlands Wilderness with a road?
The Badlands have unique interest for the hiker
BLM guidelines for Geocaching on public lands
Geocaching on Federal Forest Lands
OpEd - Geocaching should not be banned in the Badlands
Fee Demo groundwork may save Geocaching on our public lands
Protest of exclusion of Geocaching in Badlands WSA in BLM's UDRMP
BLM's UDRMP puts Bend's Badlands off limits to Geocaching
Deschutes County Commissioners hearing on Badlands Wilderness support
OHV use restricted in Upper Deschutes Resource Management Plan
Winter hiking in The Badlands WSA just east of Bend
Tread Lightly OHV USFS tip of the month
OHVs to be held to designated trails by USDA Forest Service!
New pole shows Badlands Wilderness favored by voters
BLM posts Reward for information on Juniper rustlers
BLM weighing public input on management plan
Oregon's Badlands hit by old growth Juniper rustlers Photos
Congressman Greg Walden to visit The Badlands
Badlands Wilderness endorsed by COTA
OpEd - Unregulated OHV use is being reviewed across the western states
OHV use curtailed by new USFS policy decisions
Sierra Club's Juniper Group supports Badlands Wilderness
OHV regulation discussed at BLM meeting in Bend, Oregon
OpEd - Badlands part of BLM's recreation management area
OpEd - We need the Badlands Wilderness
OpEd - Off-roaders have no reason to fear Badlands Wilderness designation
Speak for the Badlands at Town Hall Meeting
Hiking poles are becoming essential gear
Vandals destroy ancient pictographs in the Badlands
Senator Wyden tests support of Badlands Wilderness
Badlands Wilderness endorsed by Bend City Commissioners
The Badlands: proposed for Wilderness status
The Badlands unique geologic forms explained by Chitwood pdf
The Badlands, a brief history
The Badlands pictographs reported 75 year ago



WARNING - *DISCLAIMER!*
Mountain climbing has inherent dangers that can in part, be mitigated