TRADITIONAL MOUNTAINEERING ™


www.TraditionalMountaineering.org ™ and also www.AlpineMountaineering.org ™

™
FREE BASIC TO ADVANCED ALPINE MOUNTAIN CLIMBING INSTRUCTION ™
Home | Information | Photos | Calendar | News | Seminars | Experiences | Questions | Updates | Books | Conditions | Links | Search

Tri-athlete Mark Allen talks about training for Rebound Physical Therapy
Click on an image to see the full version; broadband folks can click here to see the full sized page.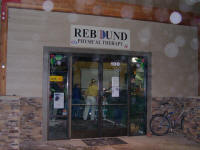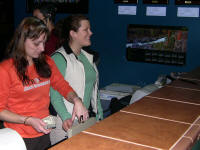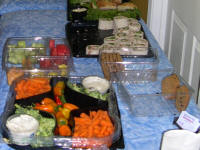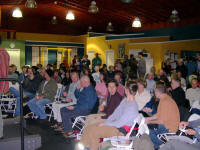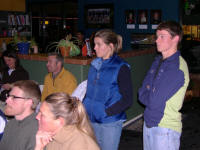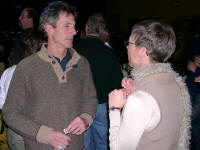 Our TraditionalMountaineering Calendar of interesting events for January 2005:
Friday, January 14, six-time Ironman Champion Mark Allen will talk about training for aerobic endurance
Rebound Physical Therapy and Sports Performance Lab is sponsoring Mark Allen's talk about training for success in aerobic sports and more. Location is their facility at 155 SW Century Drive opposite Ray's Food Place in Bend. Reservation required. Cost $3.00! Contact Barb at 322-7332. See the flyer
Comments and historical notes from an ancient marathoner!
Webmeister's Note:
In April 1968, Major Kenneth Cooper, MD, USAF, published Aerobics. Within a year the book went to its 16th Printing. No, it did not propose "aerobic dance classes". Cooper made a convincing case that Long Slow Distance (LSD) - walking, jogging, biking, hiking, etc. at an aerobic pace improved overall fitness and provided a base for maximum athletic performance. Millions of Americans began to jog and run long slow distance. Some of these folks built on this base and began to compete.
Marathon runners grew from a few, to hundreds, to thousands in the early 1970s.
Nathan Pritikin published his Pritikin Program for Diet and Exercise in the early 1970s. It soon became a multi-million copy bestseller and everyone paid attention to the amount of whole grains and vegetables, fats and proteins in their daily diet. Pritikin suggested we get 80% of our calories from complex carbohydrates. Many of us tried our best.
Covert Bailey, published his hugely popular book Fit or Fat in the early 1970s. He began lecturing around the country, holding small seminars and weighing participants in a portable water tank on a mortician's scale, to gage their lean body mass. His lectures grew to hundreds of folks and he personally reached thousands more on PBS. Covert told us about our aerobic and anaerobic metabolism and how to train these two fundamentally different systems that move us over the ground. He proved that one could look fit but be fat. Fat folks find it hard to do long distance stuff. Some can play golf and tennis pretty well, however.
Triathlons were made possible and became popular based on the new knowledge of how to train and what to eat and drink.
Mark Allen became interested in triathlon competitions and finally found the formula for world wide success in this extreme aerobic event. Mark Allen's Total Triathlete, first published in 1988, is now out of print, but many used copies are available at Amazon.com. (I was taking time off from training in the 1980s and I did not take notice of books on Triathlons. In 2005, inspired by Mark's talk last evening, I have ordered a copy today!)
Here is Mark's message: Train with LSD below your calculated maximum aerobic heart rate until you no longer go faster at that heart rate. Then do your speed training until you no longer improve. Then you are ready for your best effort at racing, fast and light climbing or just recreational running, nordic skiing, swimming, biking, or what ever with your friends.
Here is how Mark suggests you calculate your max heart rate: 180 minus your age in years (add some beats for older people) equals your calculated maximum aerobic heart rate. Use your heart rate monitor and (after a warm up, of course) walk up-hill or jog, or run a mile holding to that "calculated maximum aerobic heart rate". Test your improvement periodically, maintaining the same heart rate and note your improvement in speed over the exact same ground. At some point you will reach a plateau. Then start some speed training. Over age 40? Go to a gym twice a week and do two sets of twelve reps at somewhat challenging weight on maximum twelve big muscle groups as your aerobic engine improves. You will be lookin' good!
Perhaps more on this when I get my copy of Mark Allen's Total Triathlete, soon. And who knows? . . .
--Webmeister Robert Speik

Read more . . .
Mark Allen Online
"Athletic training designed for you - all levels, all distances, customized to your heart rate/performance - "

Race events in Bend, OR
Photos of the X-Adventure Raid World qualifier in Bend, Oregon USA
Map of the Raid adventure race course for 2004 Broadband Only

Photos of the 2004 Pole Pedal Paddle race transitions
Pole Pedal Paddle 2004 results by age group
Pole Pedal Paddle race changes in 2004
Pole Pedal Paddle 2003 race results
Pole Pedal Paddle 2002

Snowshoe Shuffle comes to Bend, Oregon
Atta Boy 300 dog sled race start and finish from Mt. Bachelor
Bend Adventure Racing Klub - The Wild Juniper Berry Race
Annual race to the top of Pilot Butte
Cascade Cycling Classic 2002
Bouldering gets a handhold at Smith Rock
ABS Contest night at InClimb Gym
CORK, Central Oregon Running Klub plays in The Badlands

Traditional Mountaineering R & R in Central Oregon
Winterfest in Bend, Oregon


Bend's Tower Theater restored to 1940s elegance
A snowshoe adventure with Bend Parks and Recreation
Bend's Wednesday market near the Deschutes River in Drake Park
Central Oregon's High Desert Museum in Bend


Bend Log Jam celebrates the opening of the Deschutes southern crossing bridge


Bend's southern crossing bridge
The Beach Boys concert in Bend Oregon, Summer 2003


Pilot Butte - hike and run to the summit
Cascade Music Festival in Drake Park, Bend Oregon


Misty River Band plays a free concert next to the Deschutes River


Riverfest boat-demo in Bend Oregon
Earth Day in Bend, Oregon


Customer appreciation night at a local store
ABS Contest night at InClimb Gym
Nordic Club's fall ski swap
Sustainable living expo in Bend
Fall festival in Bend


Joan Baez concert at the Athletic Club of Bend
Sunriver Resort exotic car rally
Munch-n-Music R & R in Bend

• Alpine Mountaineering: This is the central interest of TraditionalMountaineering. This tradition-based sport includes: on and off trail hiking, scrambling, light weight wilderness backpacking, Leave-No-Trace camping and bivouacking, as well as technical travel and mountaineering on snow, rock and ice, glacier travel, technical rock climbing and summitting peaks.
• Related Activities: Alpine Mountaineering is an aerobic sport. It includes jogging, running, hiking the hills, backpacking, climbing, mountain biking, back country skiing, snowshoeing, telemark skiing and similar sports all acting together to improve aerobic capacity, strength, balance and athleticism.