TRADITIONAL MOUNTAINEERING ™


www.TraditionalMountaineering.org ™ and also www.AlpineMountaineering.org ™

™
FREE BASIC TO ADVANCED ALPINE MOUNTAIN CLIMBING INSTRUCTION ™
Home | Information | Photos | Calendar | News | Seminars | Experiences | Questions | Updates | Books | Conditions | Links | Search

Mount Hood climber rescued after thirty hours

PMR Rescues Injured Climber From Mt Hood's Crater
Thursday, September 30, 2004
(Updated October 10, 2004)

Thursday afternoon, a team from Portland Mountain Rescue, along with paramedics from American Medical Response, rescued an injured climber from the crater of Oregon's 11,239-foot Mount Hood.

A 56-year-old male fell on Wednesday while climbing the upper portion of the Hogsback ridge, near 11,000 feet. He slid down the ridge, landing in the Bergschrund crevasse at 10,700 feet, sustaining a fractured leg. The subject was alone and crawled down the Hogsback to an area near Crater Rock at 10,000 feet.

The man yelled for help, but was unable to contact anyone on Wednesday. Forced to spend the evening on the mountain, the climber finally contacted two New Zealanders who were climbing the mountain on Thursday morning. One of the two climbers descended to the Timberline Ski Area at 8,500 feet to report the situation. The Ski Patrol contacted the Clackamas County Sheriff's Office in order to launch a rescue mission.

The Sheriff activated PMR just after 10:00 AM and deployed a small team of paramedics from AMR's Reach and Treat (RAT) Team. While the RAT Team ascended the mountain, PMR volunteers rushed to Mount Hood.

After gathering their technical rescue gear, the PMR team rode a Timberline Ski Area sno-cat from Timberline Lodge to above Palmer Snowfield, near at 9,000 feet. From there, the rescuers hiked up to Crater Rock, packaged the subject and began the slow task of lowering the patient down the mountain to the waiting sno-cat.

Shortly after 6:00 PM, the PMR team delivered the climber to the safety of Timberline Lodge. The man's ultimate condition is not known, but his injuries are not life threatening.
Note: The injured climber was climbing alone and did not have a cell phone. He was removed from the snow after a total of about 30 hours of pain and suffering through two days and a very cold night. --Webmeister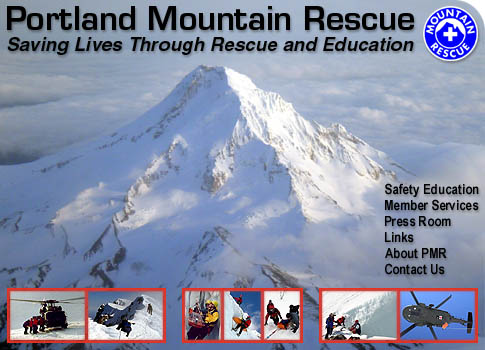 Donate to PMR!

Read more . . .

Portland Mountain Rescue

About Alpine Mountaineering:


The Sport of Alpine Mountaineering


Climbing Together


Following the Leader


The Mountaineers' Rope


Basic Responsibilities


The Ten Essentials


Our Mission


Mount Hood
Mount Hood - climbers fall from Sandy Glacier Headwall
Mount Hood - Solo hiker drowns while crossing Sandy River
Mount Hood - notable mountain climbing accidents analyzed


Mount Hood - The Episcopal School Tragedy
Mount Hood - experienced climbers rescued from snow cave
Mount Hood - a personal description of the south side route
Mount Hood - climbing accident claims three lives -Final Report and our Analysis


Mount Hood - fatal avalanche described by Climbing Ranger
Mount Hood - avalanche proves fatal for members of Mazamas climbing group
Mount Hood - snowboard rider dies on Cooper Spur
Mount Hood - fatal fall on snow, Cooper Spur Route
Mount Hood - fatal fall on snow from the summit
Mount Hood - climb shows the need for knowledge
Mount Hood - climb ends in tragedy
Mount Hood - rescue facilitated by use of a VHF radio

Cascades Summits
Bruce Jackson Photography
Mt. Bachelor, the Three Sisters and Broken Top
Photos of the Three Sisters Wilderness Summits form Sparks Lake
Geocaching the Top of Black Crater
Overlooking the Three Sisters from Mt. Bachelor


Three Sisters summits


Aerial photos of the Cascades summits by Mark and Linda Tuttle
Scott shares his summits of Middle Sister and Mt. Thielsen
Middle and North Sister exploratory adventure


Mountaineering Accidents
Injured climber rescued from Mount Washington
Mt. Washington tragedy claims two climbers
Another Mt. Rainier climber dies on Liberty Ridge
Mt. Rainier climber dies after rescue from Liberty Ridge
Young hiker suffers fatal fall and slide in the Three Sisters Wilderness
North Sister claims another climber
Solo climber Aron Ralston forced to amputate his own arm
Portland athlete lost on Mt. Hood
Broken Top remains confirmed as missing climber
Grisly find: hikers on Broken Top find apparent human remains
Once again, cell phone alerts rescuers of injured climber
Storm on Rainier proves fatal
Mountain calamity on Hood brings safety to the fore!
Fall into the Bergschrund on Mt. Hood, rescuers crash!
Paying the price for rescue
Accidents in North American Mountaineering