TRADITIONAL MOUNTAINEERING ™


www.TraditionalMountaineering.org ™ and also www.AlpineMountaineering.org ™

™
FREE BASIC TO ADVANCED ALPINE MOUNTAIN CLIMBING INSTRUCTION ™
Home | Information | Photos | Calendar | News | Seminars | Experiences | Questions | Updates | Books | Conditions | Links | Search

Map of Dutchman Flat snowmobile use restrictions for 2004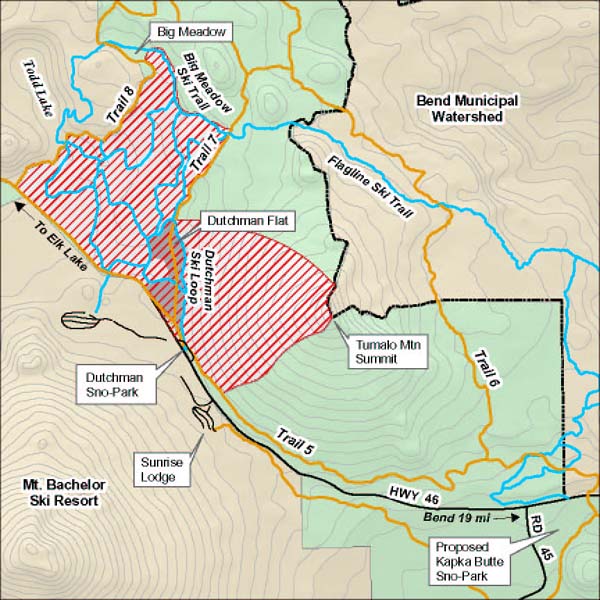 Dutchman/Tumalo Mt. Winter Recreation Changes
BEND—Bend Fort-Rock District Ranger Walt Schloer announces changes in recreation use patterns that will be implemented at the Dutchman/Tumalo Mountain area next winter. Members of the public have provided many helpful ideas. Issues most frequently voiced were those of safety, parking, snow recreation corridors, snowmobile speed, and the need for good education about winter recreation uses in the area.

Winter recreationists can expect to see the following differences in use patterns next winter in the Dutchman/Tumalo Mt. area:
• A portion of the west face of Tumalo Mt. will be closed to motorized use.
• The area bounded by the Flagline Trail on the north, Century Drive (trail 5) on the south, the 370 road (trail 8) on the west, and trail 7 on the east is closed to snowmobile use. Snowmobiles are allowed on routes 5,7, and 8 and Big Meadow. (see attached map).
• The southeast face of Tumalo Mt. and the northwest face of Tumalo Mt. will remain open to snowmobile use.
• There will continue to be some areas where each user group will share common corridors and trail crossings. Yet the current volume of crossover areas will be considerably reduced.

Ranger Schloer is also initiating environmental analysis to evaluate proposed development of a new Kapka Butte Snow Park at the junction of road 45 and Century Drive. This proposal seeks to ease pressures of limited parking capacity at Dutchman Snowpark. If environmental analysis leads to a development decision, and funding is available, actual construction would not occur before Summer of 2005.

"With some separation of winter sports, safety should be significantly improved for skiers, snowshoers and snowmobilers alike," says Ranger Schloer. "I would like to thank the many people who participated in the Dutchman Summit in April and the many more who wrote thoughtful letters about this popular place."

To learn more about these planned changes, view the maps and visit with District Ranger Walt Schloer, you can attend the Trail User Group meeting, May 11th at 6:30 p.m. at the Bend Community Center, 1036 N.E. Fifth Street. The map of changes can be viewed on the web at
http://www.fs.fed.us/r6/centraloregon/news/2004/04/040430dutchman.shtml
###

Read more . . .
SNOWMOBILES
Map of snowmobile restrictions at Dutchman Flat
Snowmobile restrictions published for Dutchman Flat
Snowmobile Safety Summit on Dutchman Flat area
Report snowmobile renegades - an Editorial
Snowmobiles should not mix with skiers and snowshoers
Snowmobile accident draws 11 million dollar damage award
Snowmobilers keep the Atta Boy Race on track
Snowmobilers must give a little on parking at Dutchman Flat
Recent snowmobile accidents near Bend
Set snowmobile limits at Dutchman Flat
Unregulated OHV use is being reviewed across the western states
Snowmobile access to summit of Mt. St. Helens questioned by The Mountaineers
Snowmobile speed limits on Dutchman Flat in Oregon
Snowmobiles offer thrills
Snowmobiles in Yellowstone
Snowmobiles as a tool for traditional mountaineering
OHVs
BLM weighing public input on management plan
Oregon's Badlands hit by old growth Juniper rustlers Photos
Badlands Wilderness endorsed by COTA
OpEd - Unregulated OHV use is being reviewed across the western states
OHV use curtailed by new USFS policy decisions
Sierra Club's Juniper Group supports Badlands Wilderness
OHV regulation discussed at BLM meeting in Bend, Oregon
OpEd - Badlands part of BLM's recreation management area
OpEd - We need the Badlands Wilderness
OpEd - Off-roaders have no reason to fear Badlands Wilderness designation
Speak for the Badlands at Town Hall Meeting
Hiking poles are becoming essential gear
Vandals destroy ancient pictographs in the Badlands
Senator Wyden tests support of Badlands Wilderness
Badlands Wilderness endorsed by Bend City Commissioners
The Badlands: proposed for Wilderness status
The Badlands, a brief history
The Badlands pictographs reported 75 year ago

FEE DEMO TAX
Fee Demo Forest Pass dropped at 20 sites on the Deschutes National Forest!
Senator Regula's Fee Demo support and The Wilderness Center, Inc.
Senator Craig calls Fee Demo a failed program
Outdoor recreation in Oregon far from free
Oregon Field Guide: "Pay to Play on Public Land"
National Park Service plans climbing fees increase!