TRADITIONAL MOUNTAINEERING ™
www.TraditionalMountaineering.org ™ and also www.AlpineMountaineering.org ™

™
FREE BASIC TO ADVANCED ALPINE MOUNTAIN CLIMBING INSTRUCTION™
Home | Information | Photos | Calendar | News | Seminars | Experiences | Questions | Updates | Books | Conditions | Links | Search

Read more:
SNOWMOBILE ACCESS TO MT. ST. HELENS QUESTIONED BY THE MOUNTAINEERS
MOUNTAINEERS MEET WITH MT. ST. HELENS STAFF CONCERNING CONFLICT
The Mountaineer
January, 2004

On October 29, The Mountaineers Recreation Access Committee (RAC) initiated a meeting with Mt. St. Helens staff to discuss safety issues and user conflicts between non-motorized users and snowmobilers on the monument. The meeting was held at the Tacoma Clubhouse and all interested Mountaineers members - especially recreationists such as skiers, climbers, snowshoers, etc. - were invited. The following Mountaineers members attended: Ed Henderson, RAC Chair; Christine Wolf, RAC Member; Fran Troje, RAC Member; Fatima Oswald, Public Policy Assistant; Roble Pruden, Seattle Skiers; Don Thompson, Mountaineers Skier; Helen Engle, Tacoma Clubhouse; and Patrick Mullaney, Seattle Climbers. The following Mt. St. Helens representatives attended: Monument Manager Cliff Ligons, Public Services Officer Ron Freeman and Deputy Manager Reed Gardner.

Mountaineers climbers and skiers have complained of near miss accidents involving snowmobilers for some time now. Also, snowmobiles are ascending all the way to the crater rim, but not paying a climbing fee - whereas climbers pay $15 per climb or $30 for an annual climbing permit. The Mountaineers concern with resource preservation was also a topic of discussion.

The Mountaineers would like to thank the monument staff for taking the time to meet with us. Many benefits were reaped from this face-to-face meeting. The Mountaineers were able to communicate our concerns and the monument managers were able to hear applicable user group concerns. Following is a list of questions discussed, and answers gained:
1) What documents govern the use of snowmobiles at Mt. St. Helens National Monument?

In 1980, after Mt. St. Helens erupted, the Mt. St. Helens Protection Organization was formed. In 1982, Congress created the 110,000-acre National Volcanic Monument. There are 3 things that Mt. St. Helens was created for: scientific research, recreation and environmental education opportunities.

On October 18, 1985, the Comprehensive Management Plan (CMP) was put into place to manage Mt. St. Helens for multiple users. The CMP is based on the Forest Plan, which is due to be revisited in 2008. There are lots of people looking to make changes to the CMP now. This would cost millions however and cannot be done. Changes will have to wait until 2008.
2) What enforcement tools/regulations does the Forest Service have at its disposal to address the safety concerns between snowmobilers and muscle powered recreationists?

Mt. St. Helens is not designated Wilderness. It is a National Monument, which needs to address the concerns of all users. The monument staff considers the issues on the monument everywhere - usually annually but, it is an informal process. The decision to change management practices on the mountain is Monument Manager Cliff Ligon's. User conflicts and resolving those conflicts are his responsibility. However, Cliff stressed that he must consider all users; they are all customers.
3) What is the Forest Service's position on the operation of snowmobiles high on the mountain or to the summit of Mt. St. Helens? And, why aren't snowmobilers being charged to summit the mountain?

Climbing permits are required to climb above 4,800 feet elevation, however, snowmobiles are allowed above 4,800 feet without a permit because the CMP called for the existence of a climbing permit system but, did not do so for snowmobilers reaching the summit. Also, snowmobilers pay other fees.
4) What can be done in the meantime to address this user conflict?

Monument staff are doing what they can with the resources available to them to address this conflict In the past, Mt. St. Helens has held a meeting to discuss the safety issues between snowmobilers and non-motorized recreationists. A large number of snowmobilers attended while only a few skiers and climbers attended. Monument staff listened to both sides. At that time they did develop some new rules. Last year, they posted speed limit signs on many roads including a speed limit in the parking/take-off area. Other rules and changes were also adopted, such as: No smoking or overnight camping is allowed at the snow park area. No animals are allowed except assistance dogs. They have also expanded the size of the parking lot to reduce user conflict.
5) What about the resource damage caused by snowmobiles?

The Mountaineers sited several resource damage issues associated with snowmobiles including damage to: vegetation, hydrology and wildlife. Also, damage associated with snowmobilers ascending the bare soil to reach the snow level in the spring; air pollution; noise; fuel and oil spills; and disturbance of big game and other winter range issues were also discussed.

Mt. St. Helens staff will take these concerns into consideration, and thanked The Mountaineers for discussing these issues with them.

For more information about climbing permits visit: ww.fs.fed.us/gpnf/mshnvm/climbing/. There is a $15 fee for climbing permits. Climbers may purchase an annual Cascade Volcano Pass for $30 per person. For more information about the Cascade Volcano Pass visit: www.fs.fed.us/gpnf/recreation2003/mount-adams/cascade-volcano-pass.shtml.
--The Mountaineer, the monthly publication of The Mountaineers in Seattle Washington.
Mount St. Helens climbers, snowmobiles separated
The Associated Press
January, 2009
The Forest Service has banned snowmobiles on a section of the south side of Mount St. Helens most popular with climbers and backcountry skiers.

A spokesman for the Mount St. Helens National Monument, Peter Frenzen, says some had complained about noise. Gifford Pinchot National Forest officials also were concerned about snowmobile safety on the steep slope.

Snowmobiles are still allowed on other parts of the volcano.

The Longview Daily News reports that climbers, skiers and snowmobilers need a permit to travel above the 4,000-foot level of the mountain.
http://www.bellinghamherald.com/northwest/story/734343.html


More about Mount St. Helens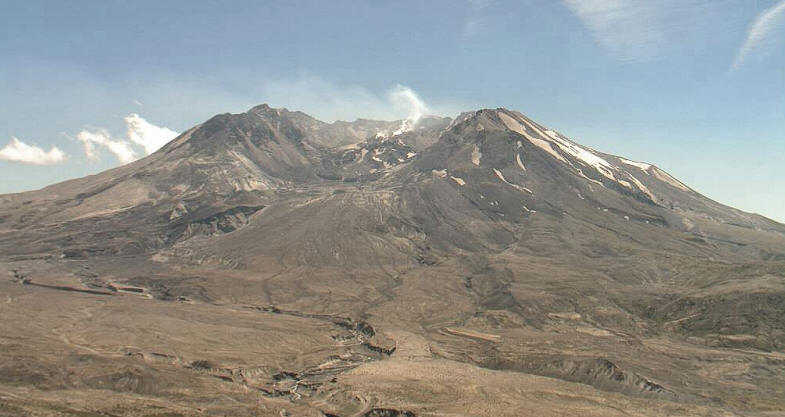 Mount St. Helens as viewed with the new high definition Volcano-Cam. USDA Forest Service photograph from Volcano-Cam HD
by Dennis Lapcewich taken on Friday, July 27, 2007 at approximately 2:02 pm PDT.
At 8:32 Sunday morning, May 18, 1980, Mount St. Helens erupted
Shaken by an earthquake measuring 5.1 on the Richter scale, the north face of this tall symmetrical mountain collapsed in a massive rock debris avalanche. Nearly 230 square miles of forest was blown down or buried beneath volcanic deposits. At the same time a mushroom-shaped column of ash rose thousands of feet skyward and drifted downwind, turning day into night as dark, gray ash fell over eastern Washington and beyond. The eruption lasted 9 hours, but Mount St. Helens and the surrounding landscape were dramatically changed within moments.

In 1982, the President and Congress created the 110,000-acre National Volcanic Monument for research, recreation, and education. Inside the Monument, the environment is left to respond naturally to the disturbance.

Mount St. Helens Climbing Update
Fall / Winter Climbing Access: Snowfall and wind will form unstable cornices (snow overhangs) on the crater rim (please see our climbing page and scroll down to cornice photo). The crater rim is unstable and can be hazardous at any time. Forest Road 81-830 to Climber's Bivouac is closed by snow at Cougar Snopark. Forest Road 83 (access to Lava Canyon) is closed by snow at Marble Mountain Snopark.

Permits are required above 4800 foot elevation on the volcano year round. During the Nov 1 to March 31 winter climbing season permits are available at no charge by self-registration at the Climber's Register or at Marble Mountain Snopark. The Climber's Register is located at the Lone Fir Resort, 16806 Lewis River Road, Cougar, WA. (360) 238-5210.

2009 Climbing Permit Sales will begin at 9:00 a.m. PST on February 1, 2009: Permits for the April 1 October 31 climbing fee season are sold online, in-advance on a first-come, first-served basis through the Mount St. Helens Institute.

Read more . . .
SNOWMOBILES
Snowmobile parking at Kapka Butte and Dutchman Flat revisited in 2009
Proposed Tumalo Recreation Zone in the Deschutes National Forest in 2009
Snowmobiler falls 1,500' into Mt. St. Helens and survives
Map of snowmobile restrictions at Dutchman Flat


Snowmobile restrictions published for Dutchman Flat


Snowmobile Safety Summit on Dutchman Flat area


Report snowmobile renegades - an Editorial
Snowmobiles should not mix with skiers and snowshoers
Snowmobile accident draws $11 million dollar damage award
Snowmobilers keep the Atta Boy Race on track
Snowmobilers must give a little on parking at Dutchman Flat


Recent snowmobile accidents near Bend
Set snowmobile limits at Dutchman Flat


Unregulated OHV use is being reviewed across the western states
Snowmobile access to summit of Mt. St. Helens questioned by The Mountaineers
Snowmobile speed limits on Dutchman Flat in Oregon


Snowmobiles offer thrills
Snowmobiles in Yellowstone
Snowmobiles as a tool for traditional mountaineering