TRADITIONAL MOUNTAINEERING ™


www.TraditionalMountaineering.org ™ and also www.AlpineMountaineering.org ™

™
FREE BASIC TO ADVANCED ALPINE MOUNTAIN CLIMBING INSTRUCTION ™
Home | Information | Photos | Calendar | News | Seminars | Experiences | Questions | Updates | Books | Conditions | Links | Search

Snowmachines, the thrill of the ride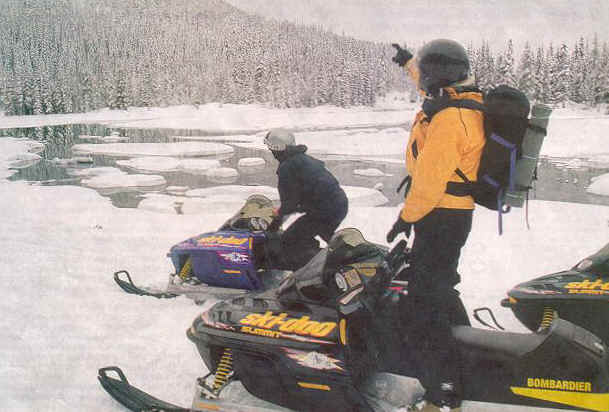 Bob Speik, right, admires Devils Lake in the winter on the "road" between Dutchman Flat and Elk Lake


THRILL OF THE RIDE
As experienced snowmobilers may tell you, the first time
on a snow machine could leave you with a big smile on your face

By Jim Witty
The Bulletin



Up until two weeks ago, I'd never ridden a snowmobile. I'd seen them jamming across Dutchman Flat and definitely heard them whining up the trail while skiing, but in 40-plus years, I'd never straddled one and hit the gas.

It was high time.

So when Bob Speik (who had ridden on the back of one once) called and invited me to go snowmobiling with him and Andrew Mallory, there was little hesitation .

The chance to catch these two colorful characters together and have a little adventure at the same time was an opportunity not to be missed. For those who don't know them, Speik is a seasoned mountaineer and survival skills instructor who never met a quip he didn't like. The British-born Mallory is a television host for the Discovery Channel, the BBC and currently the Fox Network. A descendant of George Mallory of Mount Everest fame, he ran safaris in Africa for several years.

We convened at Wanoga SnoPark where Mallory was setting up camp for his Safari Adventures snowmobile tours. Headquarters is a big wall tent with a stove and chairs and most importantly, carafes full of steaming hot chocolate and coffee.

Just outside was a row of state-of-the-art sleds all shiny and sporty and intriguing with their sleek profiles and racing stripes.

Inside the tent, Mallory and guide Mike Lapat spoke of the trail to Elk Lake and how much fun it is to show newbies what snowmobiling is all about. Someone smiled and said that the perma-grin is a common side effect of riding snowmobiles.

After picking out a helmet that fit and learning the basics of the machine (throttle, kill switch and the all important brakes), we were good to go. Out and back to Elk Lake Resort is a good 30 miles on groomed snowmobile trails and on Cascade Lakes Highway beyond the snow gate.

With thumbs up all around, we zoomed off up the trail in single file, leaping headlong into the realm of motorized winter recreation and getting used to these powerful contraptions beneath us.

Devil's Lake is covered in snow; Elk Lake is a popular spot to visit

It didn't take long.

By the second mile or so we were accelerating into the moguls and leaning into the turns.

After a little more practice time at Dutchman Flat, we got out on the (snowed-in Cascade Lakes) highway and opened it up a bit.

Familiar territory in the summer, the highway in winter is transformed. Devils Lake for instance, clear as gin in August, is covered in snow in December save for a winding channel in the middle.

When we reached Elk Lake, I was surprised to see more than 40 snowmobiles parked outside and a full-house lunch crowd inside. Nordic skiers often ski into the resort, spend the night, and ski back out the next day. The only other way in and out is via the resort's snow-cat, a half-van-half-tank that rumbles back and forth to civilization.

Over lunch I learned that there are about 1.64 million registered snowmobiles in the United States, almost 17,000 in Oregon. The snowmobilers in the lodge that day ran the gamut from young families to older couples.

After burgers and fries and chili dogs, we returned the way we'd come, growing more confident by the mile.

When it was all said and done, a couple things struck me about the new experience. I was more fatigued than I thought I'd be. And it was more fun than I'd imagined.

Then Speik noted the ease with which the sleds negotiated hills, adding that elevation gain is one of the downsides of mountaineering.

I started to grin and realized I already was.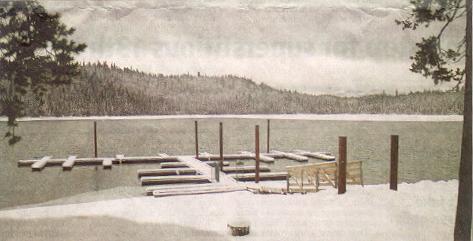 The boat dock at Elk Lake sits empty as winter sets in.
The popular summertime resort is also a key wintertime destination for snowmobilers and Nordic skiers.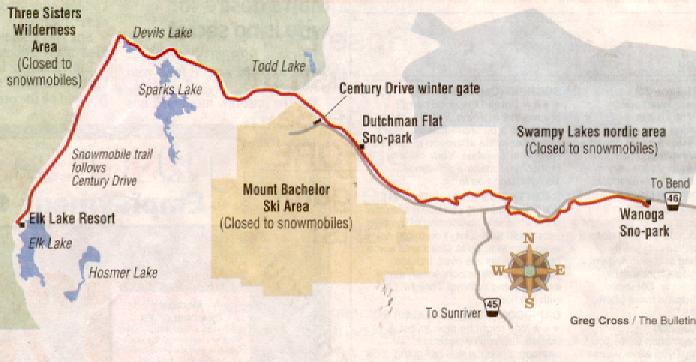 Snowmobile route to Elk Lake Resort

If You Go
>GETTING THERE: Drive 15.5 miles west of Bend toward Mount Bachelor on Cascade Lakes Highway. Wanoga Sno-park is on the left.
>ACCESS: Wanoga is a multi-use snow park with snowmobiling and dog sledding permitted on 180 miles of groomed snowmobile trails. In all, there are 850 miles of designated snowmobile trails in the Deschutes National Forest. Clubs of the Oregon State Snowmobile Association mark and groom many of the trails.
> PERMITS: A snow park permit is required (available at the Department of Motor Vehicles). Riders must be 16 years of age and possess a valid driver's license.
>RESOURCES: Besides Andrew Mallory's Safari Adventures (385-5065), guided snowmobile excursions in the Deschutes National Forest are also offered by Paulina Tours in La Pine (536-2214) and Quest of the West out of Sisters (389-0323).


Snowmobile rentals are available at:
>Ace Discount Motor Sports, 548-2607.
> Advanced Performance Rentals, 5987819.
>Cascade Motorsports, 389-0088.
>Fantastic Recreation Rentals, 3895640.
>Summit Sports, 593-5252.
> Sunriver Adventure Snowmobile Rentals, 593-2855.

> CAUTION: Snowmobiles are powerful machines. Exercise caution. If you' a beginner, it's wise to get some training or go with an experienced snowmobiler.





Read more . . .
SNOWMOBILES

Map of snowmobile restrictions near Dutchman Flat
Snowmobile restrictions published for Dutchman Flat
Snowmobile Safety Summit on Dutchman Flat area
Report snowmobile renegades - an Editorial
Snowmobiles should not mix with skiers and snowshoers
Snowmobile accident draws 11 million dollar damage award
Snowmobilers keep the Atta Boy Race on track
Snowmobilers must give a little on parking at Dutchman Flat
Recent snowmobile accidents near Bend
Set snowmobile limits at Dutchman Flat
Unregulated OHV use is being reviewed across the western states

Snowmobile access to summit of Mt. St. Helens questioned by The Mountaineers
Snowmobile speed limits on Dutchman Flat in Oregon
Snowmobiles offer thrills
Snowmobiles in Yellowstone
Snowmobiles as a tool for traditional mountaineering
OHVs
BLM weighing public input on management plan
Oregon's Badlands hit by old growth Juniper rustlers
Photos
Badlands Wilderness endorsed by COTA
OpEd - Unregulated OHV use is being reviewed across the western states

OHV use curtailed by new USFS policy decisions
Sierra Club's Juniper Group supports Badlands Wilderness
OHV regulation discussed at BLM meeting in Bend, Oregon

OpEd - Badlands part of BLM's recreation management area
OpEd - We need the Badlands Wilderness
OpEd - Off-roaders have no reason to fear Badlands Wilderness designation
Speak for the Badlands at Town Hall Meeting
Hiking poles are becoming essential gear
Vandals destroy ancient pictographs in the Badlands
Senator Wyden tests support of Badlands Wilderness
Badlands Wilderness endorsed by Bend City Commissioners
The Badlands:
proposed for Wilderness status
The Badlands, a brief history
The Badlands
pictographs reported 75 year ago
FEE DEMO TAX
Fee Demo Forest Pass dropped at 20 sites on the Deschutes National Forest!
Senator Regula's Fee Demo support and The Wilderness Center, Inc.
Senator Craig calls Fee Demo a failed program

Outdoor recreation in Oregon far from free
Oregon Field Guide: "Pay to Play on Public Land"
National Park Service plans climbing fees increase!