TRADITIONAL MOUNTAINEERING ™
www.TraditionalMountaineering.org ™ and also www.AlpineMountaineering.org ™

™
FREE BASIC TO ADVANCED ALPINE MOUNTAIN CLIMBING INSTRUCTION™
Home | Information | Photos | Calendar | News | Seminars | Experiences | Questions | Updates | Books | Conditions | Links | Search

Read more:
Belaying the leader and the follower in 1981
In 1981, Michael Loughman published his large format book Learning to Rock Climb. His wife Amy "demonstrated the art with such spirit and beauty" that the book is a pleasure to own today. The book was dedicated to rock climbing pioneers Glen Dawson, Chuck Wilts Royal Robins, Mark Powell and Chuck Pratt. Yvon Chouinard called Learning to Rock Climb "A very practical, commonsense approach to learning to climb."
While you will note that we have come a long way, "Baby", almost all of the techniques in the book are useful today, especially in Light and Fast, Trained and Experienced traditional mountaineering. A fourth class route may be protected using a rope alone, or with a few runners and carabiners to anchor from natural features; climbers need to know these early techniques developed at Tahquitz Rock and Yosemite into the 1970s. Seat harnesses are not mentioned in the book.
Click photos to enlarge


Amy, belaying the leader in 1981.
(There are a ton of dangerous technical problems here.
Do you know what some of them are?)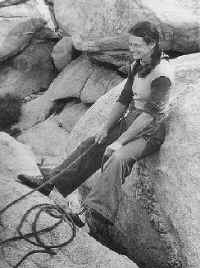 Amy belaying the follower in fine form.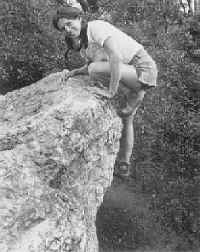 Amy Loughman bouldering over an overhang in the stylish climbing duds of the day.
Note that Bouldering was practiced carefully and without crash pads in the early days.
--On Belay! Bob Speik
Copyright© 2000-2004 by Robert Speik. All rights reserved.

Read More
Who are the Vulgarians?
Did you do top rope climbing in the 1970s?

What is the best harness?
What is the best belay device?
What do you carry on your harness?
Here are links to the latest technical information on belay, rappel and autoblock devices.
Learn the technical details from the manufacturer.
Petzl Reverso technical notes
Trango B52 FAQs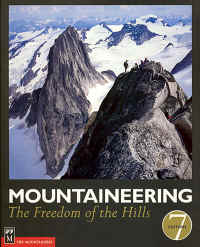 Read about belaying top ropes!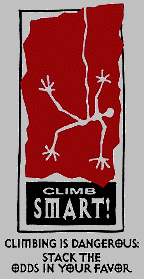 Climbing is Dangerous: Stack the Odds in Your Favor -
Check your knots and harness buckle -
Inspect your gear and replace as necessary -
Know your partners and their habits -
Check your belay - are you sure you're on? -
Read all warnings - they can save your life -
Fixed gear is unreliable - back it up when possible -
Keep an eye on the weather -
Rock breaks - check your holds -
Always double check your rappel system -
Remember, safety is your responsibility!