TRADITIONAL MOUNTAINEERING ™
www.TraditionalMountaineering.org ™ and also www.AlpineMountaineering.org ™

™
FREE BASIC TO ADVANCED ALPINE MOUNTAIN CLIMBING INSTRUCTION™
Home | Information | Photos | Calendar | News | Seminars | Experiences | Questions | Updates | Books | Conditions | Links | Search

Injured Climber Rescued From Asterisk Pass at Smith Rock
Deschutes County Sheriff's Office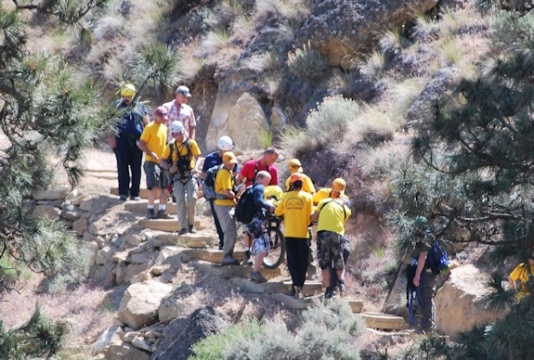 Rescue crews bring injured Redmond teen down from Asterisk Pass climbing area at Smith Rock on Saturday
Redmond 17-year-old was alone, inexperienced
By KTVZ.COM news sources
June 1, 2013

A 17-year-old Redmond resident fell about 20 feet and injured his ankle while climbing at Smith Rock State Park Saturday morning, prompting his call for help and a rescue operation involving Redmond fire crews and Deschutes County Sheriff's Search and Rescue volunteers.

County 911 dispatchers got a call around 8:40 a.m. from the teen, who said he'd been climbing down the west side of the Asterisk Pass climbing area when he fell, hurt his ankle and needed help getting out, said Sheriff's Deputy Jeff Winters, assistant SAR coordinator.

The teen, who authorities did not identify, told dispatchers he'd been climbing alone at the time of the fall.

Redmond Fire & Rescue established command and sent a "reach and treat" team across the Crooked River to reach the youth and begin treating his injuries, said Battalion Chief Chris Simmons.

Meanwhile, two sheriff's deputies and 13 SAR volunteers responded to assist, Winters said, while five Redmond firefighters The first volunteers arrived around 10 a.m. and helped Redmond fire crews ferry personnel and gear across the river by rubber raft, then began the long, steep hike to the teen at the base of Asterisk Pass.

Once they arrived at the teen's location, rescuers placed him in a wheeled litter and brought him back down to the river, where he was loaded onto the raft and ferried across to a waiting Redmond fire ambulance, Winters said. The youth was taken to St. Charles-Redmond with non-life-threatening injuries, he said, and his parents were notified and met their son at the hospital.

Winters said they learned the teen had been hiking on the east side of Smith Rock when he decided to climb up and over Asterisk Pass, despite having no gear and that he "lacked the necessary expertise to successfully negotiate the climb."

Winters said the sheriff's office wants to remind those recreating at Smith Rock to familiarize themselves with the varying difficulty levels there before setting out, and to have the proper training and equipment to safely complete their climb or hike.
Copyright 2013 KTVZ. All rights reserved.
http://www.ktvz.com/news/injured-teen-smith-rock-climber-rescued/-/413192/20389666/-/e831cj/-/index.html
THE MISSION of TraditionalMountaineering.org
"To provide information and instruction about world-wide basic to advanced alpine mountain climbing safety skills and gear, on and off trail hiking, scrambling and light and fast Leave No Trace backpacking techniques based on the foundation of an appreciation for the Stewardship of the Land, all illustrated through photographs and accounts of actual shared mountaineering adventures."
TraditionalMountaineering is founded on the premise that "He who knows naught, knows not that he knows naught", that exploring the hills and summitting peaks have dangers that are hidden to the un-informed and that these inherent risks can be in part, identified and mitigated by mentoring: information, training, wonderful gear, and knowledge gained through the experiences of others.
The value of TraditionalMountaineering to our Friends and Subscribers is the selectivity of the information we provide, and its relevance to introducing folks to informed hiking on the trail, exploring off the trail, mountain travel and Leave-no-Trace light-weight bivy and backpacking, technical travel over steep snow, rock and ice, technical glacier travel and a little technical rock climbing on the way to the summit. Whatever your capabilities and interests, there is a place for everyone in traditional alpine mountaineering.



WARNING - *DISCLAIMER!*
Mountain climbing has inherent dangers that can, only in part, be mitigated

Read more . . .
American Alpine Club
Oregon Section of the AAC
Accidents in North American Mountaineering

MOST RECENT
Two climbers die in fall from Horsethief Butte Crags, WA
Smith Rock veteran slips from climber's trace and dies
AAC Report: Smith Rock Leader fall turns climber upside down
Three climbers, their MLU and a dog rescued on Mt. Hood
Three North Face climbers lost on Mt. Hood
Family of five and exhausted Great Dane dog rescued from South Sister Climber's Trail
Climbing the Snow Creek Route on Mt. San Jacinto, California
Cheating death on the Snow Creek Route on Mt San Jacinto, California
A climb of Three Fingered Jack in the Mount Jefferson Wilderness
Ten high altitude deaths on Everest confirmed for 2006 climbing season
On Being and Becoming a Mountaineer: an Essay
Climbing Mount Hood in April with Arlene Blum and friends
AAC Report - Accident on Mount Washington ends with helicopter rescue
AAC Report - Fatal fall from Three Finger Jack in the Mount Jefferson Wilderness
Three Finger Jack - OSU student falls on steep scree slope
Mount Huntington's West Face by Coley Gentzel ©2005 by AAI. All Rights Reserved
Solo climber falls from Cooper Spur on Mount Hood
Climber dies on the steep snow slopes of Mount McLaughlin
Warning!! **Climbers swept by avalanche while descending North Sister's Thayer Glacier Snowfield
Mt. Whitney's East Face Route is quicker!
Mt. Whitney's Mountaineer's Route requires skill and experience
Report: R.J. Secor seriously injured during a runaway glissade


Mount Rainer . . . eventually, with R.J. Secor by Tracy Sutkin
Warning!! ** Belayer drops climber off the end of the top rope
Runaway glissade fatal for Mazama climber on Mt. Whitney
Sierra Club climb on Middle Palisade fatal for Brian Reynolds
Smith Rock - Fall on rock, protection pulled out
Mount Washington - Report to the American Alpine Club on a second accident in 2004
Mount Hood - Solo hiker drowns while crossing Mt. Hood's Sandy River
Mount Hood - Solo climber slides into the Bergschrund and is found the following day
Notable mountain climbing accidents analyzed


Mount Washington - Report to the American Alpine Club on the recent fatal accident
Mount Washington - "Oregon tragedy claims two lives"
Mount Jefferson - two climbers rescued by military helicopter
North Sister - climbing with Allan Throop

SMITH ROCK EXPERIENCES
Smith Rock - Veteran slips from climber's trace and dies
Smith Rock - Leader fall turns climber upside down
Smith Rock - Fall on rock, protection pulled out
Smith Rock - WARNING - top rope belay error
Smith Rock - Inadequate top rope belay
Smith Rock - Climber injured on the approach
Smith Rock - WARNING - belayer drops climber off the end of the top rope
Smith Rock - Novice sport climber injured
Smith Rock - Fall on rock, protection pulled out
Smith Rock - Fall on rock - poor position, inadequate protection
Smith Rock - Pulled rock off - fall on rock, failure to test holds, exceeding abilities
Smith Rock - Belay failure, fatal fall on rock

SMITH ROCK PHOTOS
American Alpine Club's 2007 Annual Meeting in Bend Oregon
Smith Rock Detour Bouldering Contest and Reel Rock Tour
Redmond Fire Department rescues a senior hiker at Smith Rock
Smith Rock Spring Thing in 2006
Smith Rock Spring Thing 2006 volunteer's party at the Barn
HERA climb for life fundraiser at Smith Rock
HERA climb4life party at the Smith Rock Barn
American Alpine Club and Traditional Mountaineering build another rescue cache at Smith Rock
Smith Rock Spring Thing Improvements
Smith Rock Spring Thing 2004 Party!


Smith Rock hiking in the spring
Smith Rock from above the Burma Road
Smith Rock rescue cache by AAC/ORS and TraditionalMountaineering
Smith Rock weekend
Smith Rock Monkey Face practice