TRADITIONAL MOUNTAINEERING ™


www.TraditionalMountaineering.org ™ and also www.AlpineMountaineering.org ™

™
FREE BASIC TO ADVANCED ALPINE MOUNTAIN CLIMBING INSTRUCTION ™
Home | Information | Photos | Calendar | News | Seminars | Experiences | Questions | Updates | Books | Conditions | Links | Search

ACCIDENT REPORT FOR THE AMERICAN ALPINE CLUB
Smith Rock - Climber injured in fall, lowered in high angle rescue
Narrative Description of the Accident:
The primary purpose of these Experience Reports and the 64 published Editions of the Annual Report of Accidents in North American Mountaineering is to aid in the prevention of accidents.

I was able to interview Aaron Seeman, 32, at St. Charles Hospital the day after the accident. He was resting comfortably; he was alert and cheerful and he filled out the statistics section on the American Alpine Club questionnaire, himself.

The best news is that Aaron's broken pelvis is repaired and he is looking forward to a complete recovery over a period of two or more months. He feels he was saved from more serious injury from his almost 25 foot fall, by his climbing helmet (he reportedly lost consciousness for perhaps 30 to 60 seconds) and by a fortunate landing on a small rock ledge, above a large belay ledge, 200 feet above a thousand-foot forty-five degree scree slope to the Burma Road just above Smith Rock State Park in Central Oregon.

Aaron was climbing a 5.7 mixed multi-pitch climb, with a frequent rock climbing partner, Natalie Paden, 24, also of Bend. He rates himself as having "Moderate" experience (ANAM 1-3 years) and is able to lead climbs rated to 5.9.

Aaron was leading pitch 4 of a 5-pitch route called "Birds in a Rut" on The Wombat formation among the Marsupial Crags. He led up off a big belay ledge, placed a cam, and then a stopper. Then he down climbed back to a stance to take off his gloves that he had been climbing with because it was cold. As he climbed back up, he cleaned the cam. As he climbed past the Black Diamond stopper, it fell out when the direction of pull from the rope changed.

He noted that he should have placed new protection at his position and not tried to re-set the loose stopper. He slipped and without an upper anchor, the belay was not functioning.

Not realizing how seriously he was injured, he painfully rappelled 20 feet to the larger ledge below. At this point, it was clear to them that they could not self-rescue.

The climbers had left their cell phones and day packs with their rope bags at the foot of the climb, 200 feet below.

Luck alone enabled them to signal two fully equipped climbers who by chance were walking on the Burma Road over 1,200 feet below them. The two climbers, by luck again, a Paramedic and a Wilderness First Responder (WFR), called 911 from one of their own cell phones and then climbed up to the ledge, bringing gear, some extra clothing and shelter (the rope bags) from the very cold winds during that long afternoon. (Aaron and Natalie are also trained WFRs.)

Aaron gives the Redmond Fire Department good marks for arriving in two trucks within a few minutes of the call to 911. Redmond Firemen are not trained to do "high angle rescue". They confirmed the problem and called for assistance from the Deschutes County Volunteer Search and Rescue Unit (SAR).

While the Firemen waited below (they were not able to climb the 200 near vertical feet up to the rock ledge), the trained Good Samaritans and his climbing partner Natalie, stabilized Aaron. The Firemen were not able to provide any pain medication because they were unable to "reach and treat" him, according to Aaron.

The SAR Volunteer high angle rescue team members were called out by "beeper" to assemble at the SAR office in Bend and load their gear into SAR vehicles. According to Aaron, it took about two hours for SAR to reach him.

He recalled that six men rigged the high angle rescue anchors and lowered the backboard and litter and that six to eight people assisted in carrying the belayed rescue litter down the long 45 degree scree slope. Reportedly, nineteen SAR volunteers were involved and everything went well and safely. The SAR Mission above Smith Rock was completed efficiently, in about six hours.
Analysis of Accident: What knowledge and techniques will help prevent future accidents?
Aaron Seeman notes that from now on, he will carry in his pocket, his fully charged cell phone from a selected service Provider, on backcountry adventures and climbs. We believe he may wear his day pack with elements of the Ten Essential Systems on multi-pitch climbs
Passive protection was introduced to the world in the 1972 Chouinard Catalog. The sophisticated placement of stoppers and hexentrics are described in the Catalog and by Royal Robbins in his books Basic and Advanced Rockcraft. Proper placement and use were the subject of many seminars led by Outdoor Clubs at the time. Recently, deaths and serious injuries have resulted from less than artful placements.
Our Report to the American Alpine Club for the 2012 Edition of Accidents in North American Mountaineering is based on interviews with the participants, witnesses, personal climbing knowledge of the venue and on the Mission Report released by the Deschutes County Sheriff's Search and Rescue Unit.

ANAM Report published on pages 78 and 79 of Accidents in North American Mountaineering, Issue 65, 2012. Read it here: http://publications.americanalpineclub.org/articles/13201207802/print
--Robert Speik
Local news report of this event
Bend Climber Hurt in Fall Near Smith Rock
Rescue Operation Took About Six Hours
By Barney Lerten, KTVZ.COM
November 14, 2011

A 32-year-old climber from Bend was seriously injured Monday afternoon when he fell to a tall ledge on the Marsupial Rocks (Marsupial Crags) near Smith Rock State Park, prompting a six-hour rescue effort, authorities said.
Deschutes County Sheriff's Search and Rescue and sheriff's deputies responded about 1 p.m. to the report of a hurt climber on the Wombat formation of the Marsupial Rocks (Marsupial Crags) climbing area near Smith Rock State Park, said Deputy Rhett Hemphill.

Aaron Seeman, had been climbing with his climbing partner, Natalie Paden, 24, also of Bend, on a multi-pitch climbing route when he fell about 25 feed, landing on a ledge about 200 feet off the ground, Hemphill said.

Seeman sustained serious injuries in the fall and could not move on his own, the deputy said. Paden was able to contact other nearby climbers, who called 911 for help.

A total of 19 SAR members responded to the scene and began hiking and climbing to Seeman's location, Hemphill said.

Five Sheriff's Office Mountain Rescue members climbed about 200 feet to the ledge, where medics treated Seeman and placed him in a rescue litter, the deputy said.

Seeman then was lowered to the ground, and then brought about 1,000 feet down a 45-degree slope to a waiting Redmond Fire truck on the "Burma road," as it's known.

Seeman was taken to St. Charles Medical Center-Redmond with what Hemphill called serious but non-life-threatening injuries. He was listed in fair condition Tuesday morning at the Bend hospital.

The technically challenging six-hour rescue lasted past nightfall.

"Any rescue effort that involves high angle like this is very difficult. Our rescuers have to be meticulous about how we go about it," Lt. Deron McMaster said at the scene earlier Monday evening. "So it's going to be time-consuming. It's going to take a while."
Selected Comments:
Robert_Speik 2 days ago
I have posted a copy of my Accident Analysis for the American Alpine Club's "Accidents in North American Mountaineering", 65th Annual Edition, to be published in 2012:
http://traditionalmountaineering.org/Report_SmithRock_AaronSeeman_11-2011.htm
Each person should carry their ordinary cell phone, serviced by a local Provider that has the best cell tower coverage for their backcountry adventures. Read more!

Oregonianxkcd 3 days ago
Mr. Speik -
Please let me clarify - as someone involved in SAR and the cell industry... The FCC Phase 2 mandate for device location has not been met by any carrier. While it is a great goal and one we all hope for, it is not reality at this time. Calls to 911 will sometimes generate an accurate location but because of multiple variables (carrier, signal strength, roaming, device, etc) it is just as likely that the best location available is the actual tower or a network derived approximation. These data points can be just a few hundred yards or many miles from the actual caller location.

While it is certainly a no-brainer idea for backcountry users to carry a cell phone as well as judiciously manage the battery, it does not remove searching from the equation. An accurate map, compass and gps supplement, area knowledge, a communicated plan, proper clothing, food and water, a light source, and emergency shelter (along with proper training) are the best insurance for a good outcome.


Robert_Speik 3 days ago in reply to Oregonianxkcd
Hello Oregonianxkcd-
Thanks for your comment. As a former SAR Volunteer and a Senior Fraud Investigator for the FDIC/RTC, I agree almost 100% with your informed paragraphs.

Barney Lerten, for KTVZ.com, has made a specific effort to interview our SAR's spokesman for each backcountry Mission reported. Most all have been resolved with very good accuracy depending on the Provider, using basic e911 cell phone calls in the last two or three years. Perhaps you have better statistics from Deschutes County SAR?

Verizon, using CDMA code, has the best tower coverage of wilderness and backcountry areas in Central Oregon. If you do not have a Verizon cell phone, your phone will not be able to "see" and communicate with all these backcountry towers. And yes, dialing "911" will not connect, despite urban legend.

There is a great deal of "Marketing Miss-Information" in the Cell Phone business. As an example, "GPS" stands for the US DOD system of Global Positioning System Satellites which communicate by radio waves, not cell phone signals. If your cell phone does not have a radio receiver and GPS computer chip on board, you do not have a GPS in your phone. The term "GPS" has been co-opted by the cell phone industry as a means of competing with Garmin's dashboard GPS navigators.

However, cell phone "GPS" Navigation Apps based on triangulation from urban cell tower triangulation are accurate enough to bring you to a restaurant or a crashed car reported by On-Star (via cell towers).

As to the cell phone being a back-up to Basic Responsibilities and the Ten Essential Systems, here is my suggestion, offered over the past few years:

A suggested minimum standard news advisory for all backcountry travelers!
"We would like to take this opportunity to ask our visitors to the backcountry of Oregon to Plan for the unexpected. Each person should dress for the forecast weather and take minimum extra clothing to provide protection from a drop in temperature and possible rain or snow storm or an unexpected cold wet night out. Each person should carry high carbohydrate snacks, two quarts of water or Gatorade, a topo map and declination adjusted base plate compass and an optional inexpensive GPS (and the skills to use them together). Each person who has a cell phone should carry their ordinary charged cell phone (from a service provider that has the best local backcountry coverage). An inexpensive SPOT-2 GPS Satellite Communicator is a good additional option for some. Each person should carry their selected items from the new 'Ten Essentials Systems' in a day pack sized for the individual, the trip, the season and the forecast weather."

"Visitors are reminded to tell a Responsible Person where they are going, where they plan to park, when they will be back and to make sure that person understands that they are relied upon to call 911 at a certain time if the backcountry traveler has not returned. Call 911 as soon as you become lost or stranded. You will not be charged. Do not try to find your way until you are benighted, exhausted, or worse yet - wet. Your ordinary cell phone call to 911 can take the 'Search' out of Search and Rescue."

Can you add to this, Oregonianxkcd?

Robert_Speik 3 days ago
I think it is important to note that most SAR Missions today are initiated by a simple cell phone call to 911.

Each outdoor hiker, biker, hunter, climber, snowshoer, skier, fly-fisher, snowmobiler, ATVer, etc. should carry their own ordinary basic cell phone on adventures into the backcountry.

Some Service Providers specialize in covering the backcountry, while others only cover more urban areas to save tower costs. Verizon specializes in backcountry tower coverage. Verizon uses CDMA code. Cell phones from other providers can not connect with Verizon towers.

Verizon has tower coverage of most of the Three Sisters Wilderness and Eastern Oregon lands. (Their is an urban myth that any cell phone will connect to 911. Not true if the phone can not "see" the tower.)

Cell phone service not only provides voice contact with SAR, but enables them to receive, within ten minutes, by FDIC Regulation, (in latitude/longitude or UTM coordinates), your geographic location, thereby taking the "Search" out of Search and Rescue.

Of course, cell phones, like automobiles, have a serious flaw - they depend on a battery, so make sure it is charged. If there are several cell phones in a group, turn some of them off as a reserve. Use other gadgets to take pictures, play your tunes, point to North, draw a road map, make notes, etc., etc.

Robert_Speik 3 days ago in reply to DurkaDurka911
Yes, there is a functioning road to the BLM land overlooking Smith Rock State Park. It is called "The Burma Road". The gate is locked for other than official use. The road gives working access to the large canal that goes North to agricultural land.

There is a trail on State Park land that follows the wild and scenic Crooked River then joins The Burma Road. The hiking/bilking trail continues around the north side of the Park and re-joins the Crooked River trail back to the Bridge near the Park parking.

Visit Smith Rock State Park, pick up a Park map and enjoy the day!
Copyright 2011 KTVZ. All rights reserved.
http://www.ktvz.com/news/29770689/detail.html
The rest of the story
Deschutes County Sheriffs Search and Rescue Volunteer Coordinator Al Hornish, a 12 year veteran of DCSAR, stated the following in an interview published on January 26, 2012 in the Bend Oregon Source Weekly: "We have grown a lot over the past decade. The nature of missions has changed as well." "There are more Rescues and less Searches, mostly because of the better technology available." Read More. --Robert Speik
FCC E911 Requirements for Providing Mobile Phone Geographic Locations mentioned by Oregonianxkcd, above: Read More about the latest facts. --Robert Speik, 2012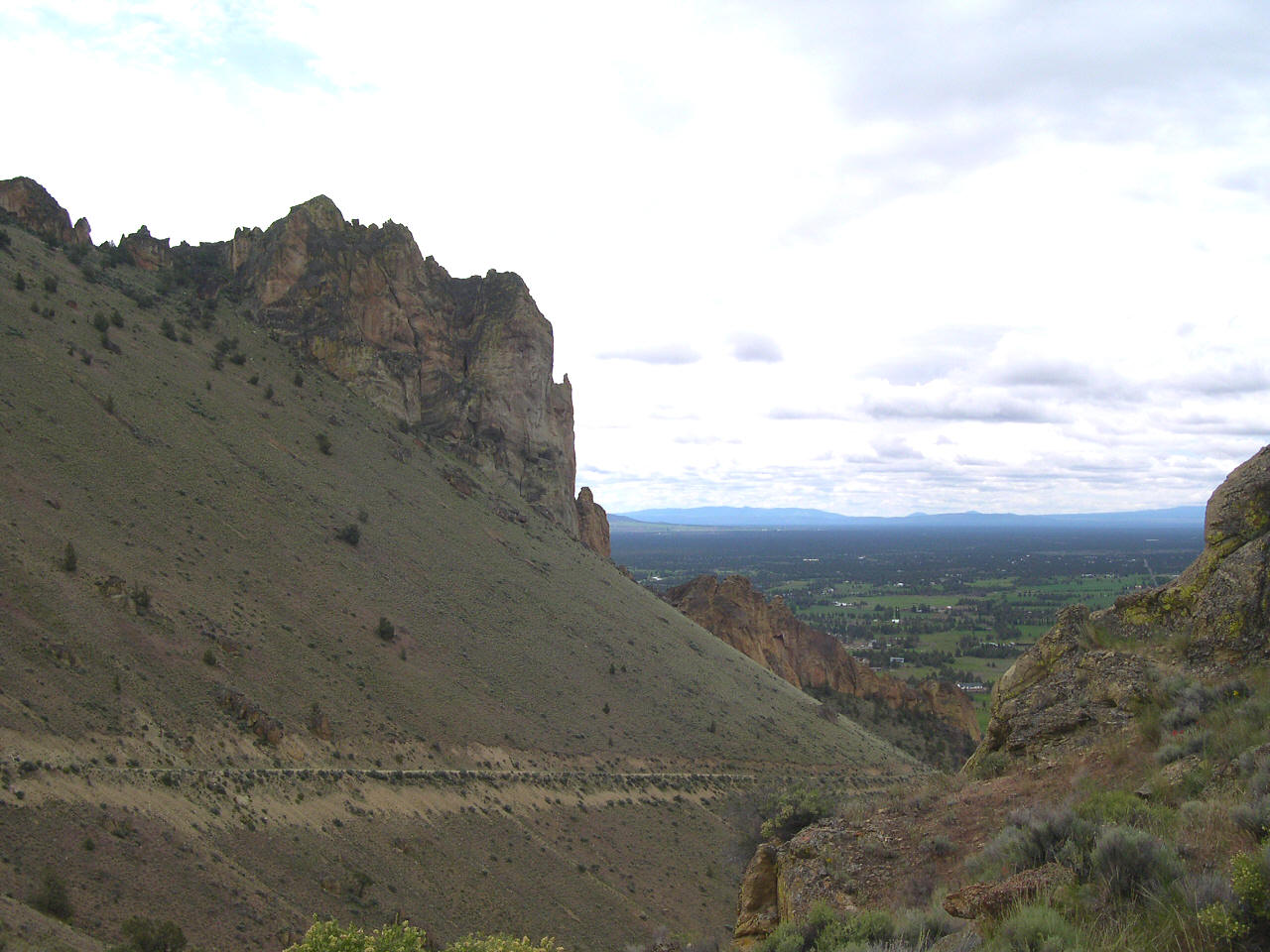 The Wombat formation in the remote Marsupial Crags group above The Burma Road above Smith Rock State Park, Central Oregon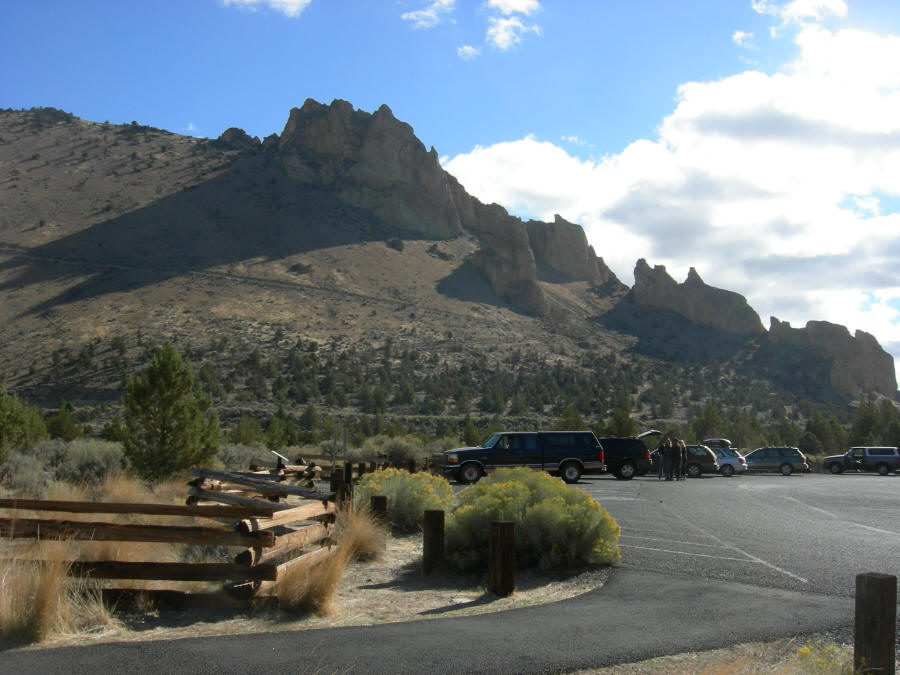 The Burma Road and the Marsupial Crags located out of the Park above the Smith overflow parking area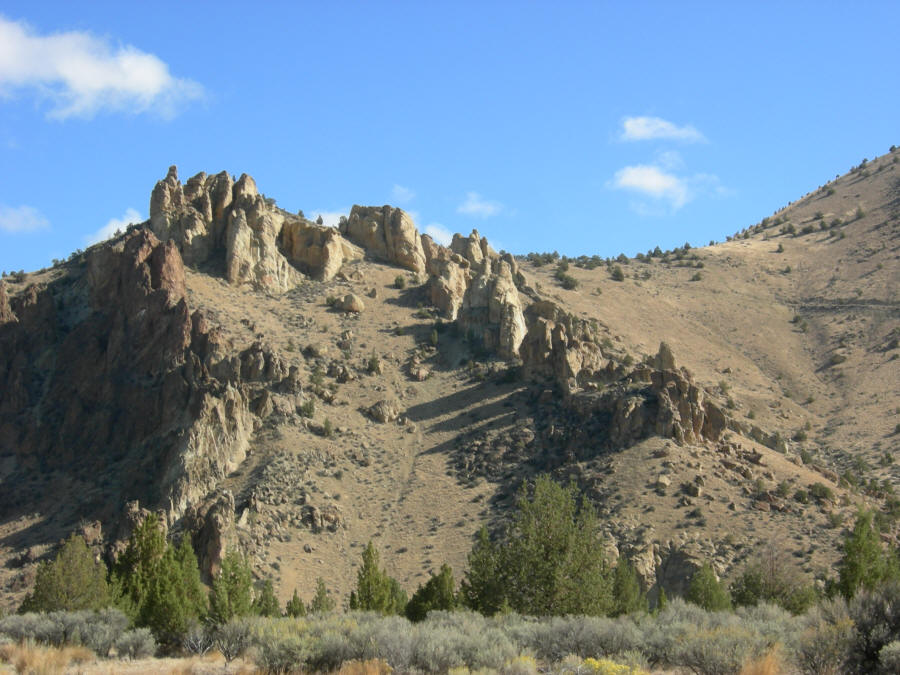 The top of The Burma Road leading to BLM managed high desert lands to the North and East of the Park
Photos Copyright 2011 by Robert Speik. All Rights Reserved.

Read more . . .
American Alpine Club
Oregon Section of the AAC
"Accidents in North American Mountaineering"

MOST RECENT
Climber injured in fall near Smith Rock, lowered in high angle rescue
Smith Rock Climbers injured by Monkey Face swing stunt
Fallen solo climber on Mount Thielsen, rescued by chance encounter
Searchers Find Lost Mountain Biker West of Bend
Two rescued in Three Sisters Wilderness
Bend Teen Falls Into Crevasse on South Sister
Mount Hood - Analysis of the December 2009 deaths of three climbers on Reid Glacier Headwall
Three Stranded Hikers Assisted from Atop South Sister by SAR
Two climbers die in fall from Horsethief Butte Crags, WA
Young Smith Rock climbers become stranded on Monkey Face
Smith Rock veteran slips from climber's trace and dies
AAC Report: Smith Rock Leader fall turns climber upside down
Three climbers, their MLU and a dog rescued on Mt. Hood
Three North Face climbers lost on Mt. Hood
Family of five and exhausted Great Dane dog rescued from South Sister Climber's Trail
Climbing the Snow Creek Route on Mt. San Jacinto, California
Cheating death on the Snow Creek Route on Mt San Jacinto, California
A climb of Three Fingered Jack in the Mount Jefferson Wilderness
Ten high altitude deaths on Everest confirmed for 2006 climbing season
On Being and Becoming a Mountaineer: an Essay
Climbing Mount Hood in April with Arlene Blum and friends
AAC Report - Accident on Mount Washington ends with helicopter rescue
AAC Report - Fatal fall from Three Finger Jack in the Mount Jefferson Wilderness
Three Finger Jack - OSU student falls on steep scree slope
Mount Huntington's West Face by Coley Gentzel ©2005 by AAI. All Rights Reserved
Solo climber falls from Cooper Spur on Mount Hood
Climber dies on the steep snow slopes of Mount McLaughlin
Warning!! **Climbers swept by avalanche while descending North Sister's Thayer Glacier Snowfield
Mt. Whitney's East Face Route is quicker!
Mt. Whitney's Mountaineer's Route requires skill and experience
Report: R.J. Secor seriously injured during a runaway glissade


Mount Rainer . . . eventually, with R.J. Secor by Tracy Sutkin
Warning!! ** Belayer drops climber off the end of the top rope
Runaway glissade fatal for Mazama climber on Mt. Whitney
Sierra Club climb on Middle Palisade fatal for Brian Reynolds
Smith Rock - Fall on rock, protection pulled out
Mount Washington - Report to the American Alpine Club on a second accident in 2004
Mount Hood - Solo hiker drowns while crossing Mt. Hood's Sandy River
Mount Hood - Solo climber slides into the Bergschrund and is found the following day
Notable mountain climbing accidents analyzed


Mount Washington - Report to the American Alpine Club on the recent fatal accident
Mount Washington - "Oregon tragedy claims two lives"
Mount Jefferson - two climbers rescued by military helicopter
North Sister - climbing with Allan Throop

SMITH ROCK
Smith Rock - AAC: Climber injured in fall near Smith Rock, lowered in high angle rescue
Smith Rock - Climbers injured by Monkey Face swing stunt
Smith Rock - AAC: Climber survives 40-foot fall, rescued by SAR
Smith Rock - AAC: Climber rescued after 70-foot sliding fall
Smith Rock - AAC: Climbers become stranded on Monkey Face
Smith Rock - AAC: Warning!! - Climber falls trying to clip first bolt
Smith Rock - AAC: Experienced rock climber Jim Anglin dies
Smith Rock - Eye witness report of a Leader ground fall in 2007
Smith Rock - AAC: Leader fall turns climber upside down
Smith Rock - AAC: Warning!! - Belayer drops climber off the end of the top rope
Smith Rock - AAC: Fall on rock - protection pulled out
Smith Rock - AAC: WARNING - Belayer drops climber off the end of the top rope
Smith Rock - AAC: Inadequate top rope belay
Smith Rock - AAC: Climber injured on the approach
Smith Rock - AAC: WARNING - Belayer drops climber off the end of the top rope
Smith Rock - AAC: Belay error - novice sport climber injured
Smith Rock - AAC: Fall on rock, protection pulled out
Smith Rock - AAC: Fall on rock - poor position, inadequate protection
Smith Rock - AAC: Pulled rock off - fall on rock, failure to test holds, exceeding abilities
Smith Rock - Eye witness report of a serious fall
Smith Rock - AAC: Belay error - fatal fall on rock
Smith Rock - News report: Portland man hurt in fall in 1987

SMITH ROCK PHOTOS
American Alpine Club's 2007 Annual Meeting in Bend Oregon
Smith Rock Detour Bouldering Contest and Reel Rock Tour
Redmond Fire Department rescues a senior hiker at Smith Rock
Smith Rock Spring Thing in 2006
Smith Rock Spring Thing 2006 volunteer's party at the Barn
HERA climb for life fundraiser at Smith Rock
HERA climb4life party at the Smith Rock Barn
American Alpine Club and Traditional Mountaineering build another rescue cache at Smith Rock
Smith Rock Spring Thing Improvements
Smith Rock Spring Thing 2004 Party!


Smith Rock hiking in the spring
Smith Rock from above the Burma Road
Smith Rock rescue cache by AAC/ORS and TraditionalMountaineering
Smith Rock weekend
Smith Rock Monkey Face practice