TRADITIONAL MOUNTAINEERING ™
www.TraditionalMountaineering.org ™ and also www.AlpineMountaineering.org ™

™
FREE BASIC TO ADVANCED ALPINE MOUNTAIN CLIMBING INSTRUCTION™
Home | Information | Photos | Calendar | News | Seminars | Experiences | Questions | Updates | Books | Conditions | Links | Search

Read more:
AAC Member Heidi Kloos Perishes In Avalanche Outside Ridgway, CO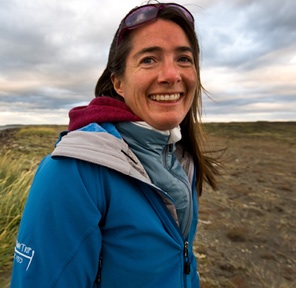 Heidi Kloos


AAC Member Heidi Kloos Perishes In Avalanche Outside Ridgway, CO
Posted: April 5, 2010

RIDGWAY , Colo. — Experienced alpine guide Heidi Kloos, 41, died in an avalanche on Tuesday, March 30, 2010. It is believed that Kloos was ascending on skis to a remote ice climb on Mt. Baldy in the Cimarron Mountains east of Ridgway, Colorado, when a slide released from above the cliff, burying Kloos beneath several feet of snow. Wednesday morning, friends alerted Search and Rescue, who found her dog, her backpack and one ski at the site. The body was recovered on the afternoon of Thursday, April 1.

Kloos' death comes as a surprise because of her reputedly conservative approach to traveling in avalanche terrain. "She would turn back sooner than anyone I know, when she considered the avalanche danger to be too high," said close friend and ski partner Debbie Wheeler. It is believed that unseasonably warm temperatures caused the north-facing slope to avalanche.

Kloos was a long time resident of the Western Slope of Colorado. Born in Aspen, she graduated from Hotchkiss High School, where she was very active in sports including basketball, volleyball and track, even winning state championships in track. After high school, Kloos joined the Air Force for four years and was stationed primarily in the Philippines. After discharge, she attended the University of Idaho where she received a Bachelor's Degree in Wildlife Management and Resources.

Heidi became involved with climbing while in the Air Force as a member of the Search and Recovery team. Later, while at the University of Idaho, she began working at the school's indoor climbing wall, and by the time she graduated she was working as a professional climbing guide, mostly with other students, according to her mother.

After college, Kloos returned to Colorado where she began working with kids at the indoor climbing wall in Grand Junction. Soon after, she moved to Aspen, where she worked as a ski instructor, landscaper, painter, ski patroller and eventually, full-time mountain guide. She also worked as an instructor with the Aspen Youth Experience, a non-profit program that took inner-city youth to Marble for a ropes course, climbing and rappelling trip. Kloos managed the yearly event, coordinating up to 40 volunteers every July.

Kloos was an AMGA certified alpine guide and had guided trips in Nepal, Russia, Argentina, Antarctica, Alaska, Thailand and Patagonia. While she had summitted four of the Seven Summits (the highest point on each of the seven continents), Kloos was not interested in accumulating summits for the record and had turned down multiple offers to climb Everest.

"She was not so much about summitting," said close friend Sherri Silvera. "She was completely about being in the mountains. It didn't matter if you were a great climber; she had just as much fun with anyone who was pushing their physical limits."

Her mother tells a story of one guided climb on Mt. Elbrus in Russia. Nearing the summit in deteriorating weather, Kloos turned back with her clients despite their pleas to continue because they were so close to the summit. Another party was nearing the summit as well, and the guides had left their clients to wait while they continued up. Kloos told the clients that they could descend with her if they'd like, but they chose to wait for their guides. Kloos and her clients descended safely, while the other party was never seen again.

Most recently, Kloos had been inspired by her work guiding disabled veterans on the slopes of Denali. The program is run by the Telluride Adaptive Sports Program in conjunction with Mountain Trip, for whom Kloos was a regular guide; she had been looking forward to returning to Denali with TASP this summer.

In addition to her love of mountains, Kloos was known as a strong horsewoman and lover of animals. "There wasn't an animal that she couldn't befriend, I think," said Irene Kloos, her mother. "She just loved animals."

Kloos' brother Eddie passed away in a kayaking accident in 1996, and her fiancé, climber Dave Bridges, was killed in an avalanche in Tibet with Alex Lowe in 1999. Kloos' father, longtime ski patroller at Snowmass Mountain, died in January 2010. Kloos leaves behind her mother, Irene Kloos, her brother Andy Kloos and wife, niece and nephew Stephanie and Adam, and a cadre of friends, climbing partners, clients and pets.

A memorial scholarship fund is being established through Mountain Trip for the Telluride Adaptive Sports Program. Donations in memory of Heidi Kloos may be made to TASP (contact Mountain Trip, 866-886-8747 or 970-369-1153), as well as to Ouray Mountain Rescue (970-318-8872).

A memorial service was held for family and friends at Kloos' residence on Saturday, April 3. Another service for friends far and wide is being planned for May at Indian Creek, date and location TBA.
-- Christina Callicott
http://www.americanalpineclub.org/news/aacmemberheidikloosperishesinavalancheoutsideridgwayco



WARNING - *DISCLAIMER!*
Mountain climbing has inherent dangers that can in part, be mitigated
Read more . . .

ALPINE CLIMBING ON SNOW AND ICE
Winter mountaineering hazards - streams and lakes
Is long distance backpacking part of "traditional mountaineering"?
How long is the traditional alpine mountaineering ice axe?
What about climbing Mt. Hood?
What is a good personal description of the south side route on Mount Hood?
What should I know about travel over hard snow and ice?
How can I learn to self belay and ice axe arrest? 6 pdf pages


What should I know about snow caves?
What should I know about climbing Aconcagua?

AVALANCHE AVOIDANCE
Young Bend man dies in back county avalanche
What is an avalanche cord?
Avalanche training courses - understanding avalanche risk
How is avalanche risk described and rated by the professionals? pdf table
How can I avoid dying in an avalanche?
Known avalanche slopes near Bend, OR?
What is a PLB?
Can I avoid avalanche risk with good gear and seminars? pdf file

AVALANCHES
AAC Member Heidi Kloos Perishes In Avalanche
US National Avalanche Accidents Database
Three personal experiences with avalanches
Mount Hood avalanche proves fatal for members of climbing group
Climbers swept by avalanche while descending North Sister's Thayer Glacier Snowfield


Snowshoer dies in backcountry avalanche in Washington State
Young Bend man dies in remote backcountry avalanche
Recent deaths cause concern over avalanche beacons
Skilled member of The Mountaineers killed in avalanche
Basic Responsibilities of the cross country skier
Avalanche avoidance a practical approach to avalanche safety
Tumalo Mountain a wintertime treat
Fatal Mount Hood avalanche described by Climbing Ranger

SNOWSHOES AND CRAMPONS
Why do you like GAB crampons for traditional mountaineering?
What should I know about the new snowshoe trails
What are technical snowshoes?
Which crampons are the best?
What about Boots and Shoes?


YOUR ESSENTIAL SUMMIT PACK
What are the new Ten Essential Systems?
What does experience tell us about Light and Fast climbing?
What is the best traditional alpine mountaineering summit pack?
What is Light and Fast alpine climbing?
What do you carry in your day pack? Photos?


What do you carry in your winter day pack? Photos?


What should I know about "space blankets"?
Where can I get a personal and a group first aid kit? Photos?