TRADITIONAL MOUNTAINEERING ™
www.TraditionalMountaineering.org ™ and also www.AlpineMountaineering.org ™

™
FREE BASIC TO ADVANCED ALPINE MOUNTAIN CLIMBING INSTRUCTION™
Home | Information | Photos | Calendar | News | Seminars | Experiences | Questions | Updates | Books | Conditions | Links
WILDFIRE! WILDFIRE!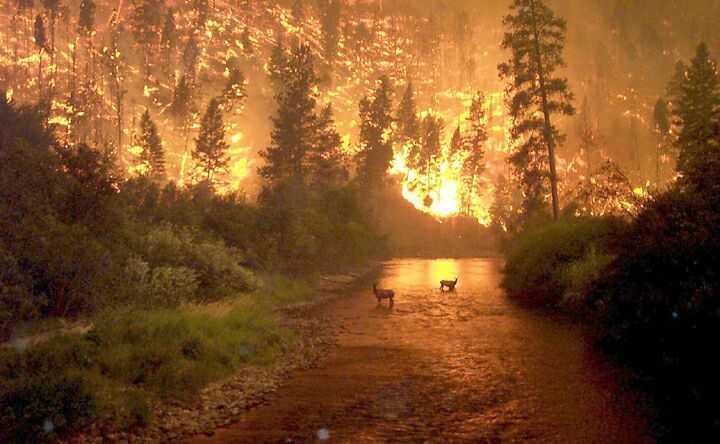 WILDFIRE IN MONTANA
"I believe the picture was taken in Idaho by an Idaho Fish and Game warden. I believe the creek in the picture is Panther Creek, which is a tributary of the Salmon River. I think the fire is the Clear Creek Fire, which burned more than 100,000 acres in the summer of 2000". Email from Micah Prange, Pacific University Physics. March 2003.
Questions Form Response 04-06
"I am writing about the photo of the forest fire showing two elk standing in a river you have on your web site with the words "FIRE! FIRE!" splashed across the top. The attribution for the photo is incorrect. The photo "Montana fire (1).jpg" was taken in Montana in the Bitterroot by an Alaska smoke jumper. This has become a widely published photo and sadly since the feller who took it was working, the government has taken all the rights to the photo. A major bummer for him.

If you go to the photo page for the BLM Alaska Fire Service (for whom I work) you can find a little more info about this stunning forest fire photo:
http://fire.ak.blm.gov.

This image was captured late in the afternoon of Sunday August 6th, 2000 from a bridge over the East Fork of the Bitterroot River just north of Sula, Montana. These elk sought refuge in the river bottom during what may have been the most extreme day of fire behavior on the Bitterroot in more than 70 years. The image was taken on a digital camera and as such there are no photographic negatives."
--Bruce Amsbary
--Thanks Bruce, Webmeister Speik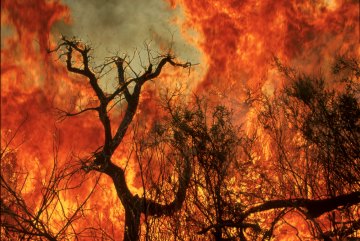 Read more
Current wildland fire conditions in Central Oregon
Housefire!

Environment
Theft of ponderosa pines in the National Forest near Bend, OR
Skyline Forest should be purchased by Deschutes Land Trust!
Hunters who use ATVs are hurting Oregon's elk population
Outdoor folks can help Katrina incident victims now!
An update on the Hart Mountain Antelope Refuge in Oregon
The Store Wars
best with broadband!
TraditionalMountaineering adopts the Crooked River through Smith Rock State Park
The Republican Political Party is responsible?
Times Up, by Yvon Chouinard
Nation's forests might be on the road to ruin, by President Bill Clinton
Wilderness at risk from new Bush policies
Steens management scandal may affect wilderness study areas
BLM outsourced Steens Management Plan to mining industry leaders!
Owyhee River wilderness study area inventory with ONDA
OHV vandals charged in Yellowstone
Oregon's B and B Complex fire closure modified
Senate says NO to Big Oil in Alaska
Gloria Flora - Environmental Hero
Re-introducing wolves into Oregon
George Bush overlooking the environment