TRADITIONAL MOUNTAINEERING ™
www.TraditionalMountaineering.org ™ and also www.AlpineMountaineering.org ™

™
FREE BASIC TO ADVANCED ALPINE MOUNTAIN CLIMBING INSTRUCTION™
Home | Information | Photos | Calendar | News | Seminars | Experiences | Questions | Updates | Books | Conditions | Links | Search

Read more:
TIMES UP
OpEd by Yvon Chouinard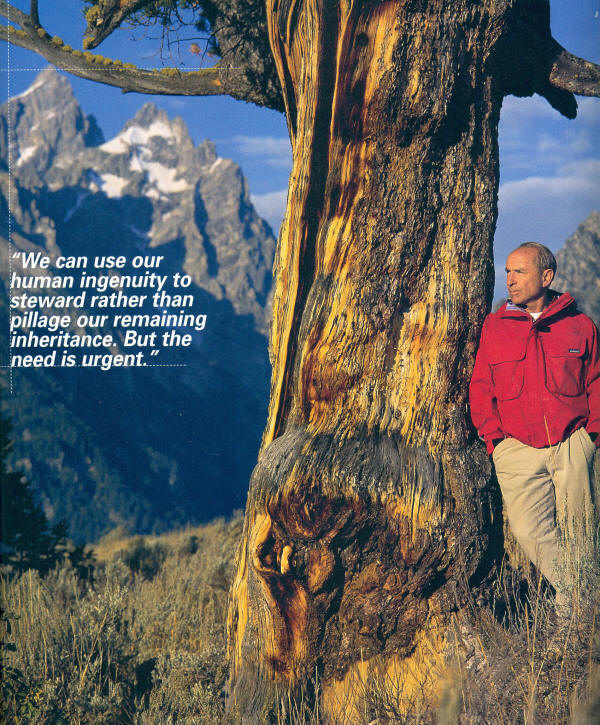 TIME'S UP
By Yvon Chouinard
from a 2004 Patagonia Catalog

According to various polls, Americans by a 4-to-1 margin support stronger environmental laws - and tougher enforcement.

But debate about environmental policy does not loom large in presidential election years and never has. Other issues elbow to the front of the national consciousness: jobs and the economy, security and war, health care, the price at the pump, education. We argue that environmental concerns trump all others.

America is now well on course to leave our children if not a dying country, one that is irreversibly damaged in all ways that count. In recent years, this country has suffered serious erosion of its hard-won environmental protection measures. We have to correct course now.

A few quick facts about the twin heads of the environmental beast that confronts us: Between 1950 and 2000, world population more than doubled and economic activity increased sevenfold. The change to life in the United States has been extraordinary. We were no paradise in 1950; ask anyone who lived in Pittsburgh then, or near a Nevada test site. But the Great Plains still had its aquifer and most of its topsoil, the Northwest still had its salmon runs and much of its forests, acid rain had not deadened every third Northeastern lake and the Everglades had more freshwater than salt. We had twice as many acres of wetlands as we have now. We had more acres of rangeland and they were in better shape. The oceans off our coasts teemed with fish. There was as yet no Northwest Passage through the melting polar ice cap. There were no factory farms; pesticides had come only recently into use. The countryside had not yet been industrialized.

That was then. In 2004, we are no longer over pruning the branches of the fruits of the earth: we are chopping away at the roots. Where will it lead?

Consider that American babies born this election year will turn 46 in 2050. What will their world be like if we continue to roll back our modest gains of cleaner air and water? Or continue to tolerate ever-increasing waste and toxicity as ordinary by-products of human activity? Or fail to reach accord with other nations to reduce carbon emissions? Or maintain the same standard of living as most Europeans yet go on using twice the nonrenewable energy?

Forecasting is an imprecise art, but here are a few basic strokes to the picture. Even Pentagon planners are concerned that global climate change may reach a "tipping point" after which widespread drought would turn farmland into dust and forests to ash. Even without accelerated weather change, parts of the Great Plains and Midwest will become desert as the Ogallala aquifer further shrinks. In Appalachia, more mine waste will choke more rivers below more decapitated mountain tops. The soil of California's San Joaquin Valley will be too polluted to grow food. There will be fewer wetlands and forests to sustain fewer species of birds, fish and mammals. By 2050, our children will pay dearly for scarce water as well as energy and food. Ditto for national security, because large parts of Africa and Asia will suffer great harm induced by global warming before we do. Cancer incidence will be higher; viruses are likely to be stronger.

Our children will not miss the world we know now, as we do not miss the world our parents knew in 1950. Memories are short. The natural world we have, diminished from the one our parents knew, will slowly become irretrievable to the imagination. But the dread we now suffer, dread none of our parents could imagine in 1950, will play a central role in our children's lives -face to face, as they may be, against the failure of the earth to sustain itself as an organism complex and resilient enough to support a species as extractive and destructive as ours.

We can do better than that. And we do know how to do better: to conserve our dwindling fresh water supply, to switch to renewable energy. Three states alone have the wind power to provide electricity to the nation as a whole. We do not have to pay public subsidies to poison our fields. We have the capacity to develop a sophisticated, low-impact agriculture free of pesticides. We are beginning to understand how to make products from recycled materials that can be recycled again, which would bring to a close the era of junk. And we can save wild lands to give a diversity of species a rest from exploitation and some distance from the human hand.

We can use our human ingenuity to steward rather than pillage our remaining inheritance. But the need is urgent. Many ecologists think that turnaround may not be possible much longer.

Jobs and the economy, national security, health care, education: all are important. But this is the time to vote the environment first - locally, statewide, nationally - so that a civil human society and a survivable planet will be possible by the time this year's babies reach early middle age.

Vote the environment November 2nd.

Yvon Chouinard is an alpinist, surfer and fly fisherman, as well as the founder and owner of Patagonia, Inc. He also founded 1% For The Planet, Inc. an alliance of businesses committed to donating at least one percent of their annual net revenues to environmental organizations worldwide. For more information, or to join the alliance, visit www.onepercentfortheplanet.org. Register to vote, get informed, vote the environment. Register to vote online via Research the candidates' www.patagonia.com/vote environmental voting records.
Note: Yvon Chouinard is the founder of The Great Pacific Iron Works, Black Diamond and Patagonia. --Robert Speik
#######

Read more . . .

Mark Fiore animates the Bush Roadless Rule
You will like this!


Environment
Nation's forests might be on the road to ruin, by President Bill Clinton
Wilderness at risk from new Bush policies
Steens management scandal may affect wilderness study areas
BLM outsourced Steens Management Plan to mining industry leaders!
Owyhee River wilderness study area inventory with ONDA
OHV vandals charged in Yellowstone
Oregon's B and B Complex fire closure modified
Senate says NO to Big Oil in Alaska
Gloria Flora - Environmental Hero
Re-introducing wolves into Oregon
George Bush overlooking the environment



EASTERN OREGON ADVENTURES
Backpacking Big Indian Gorge in The Steens
Owyhee Canyon wilderness study area in south east Oregon


ONDA's Owyhee wilderness inventory camp near Rome, Oregon
NOLS group on an Owyhee River Canyon adventure
Owyhee River desert lands - Jordan Valley Rodeo
Steens Mountain wedding in Eastern Oregon

The Badlands Wilderness

BLM posts Reward for information on Juniper rustlers
BLM weighing public input on management plan
Oregon's Badlands hit by old growth Juniper rustlers
Photos
Congressman Greg Walden to visit The Badlands
Badlands Wilderness endorsed by COTA
OpEd - Unregulated OHV use is being reviewed across the western states

OHV use curtailed by new USFS policy decisions
Sierra Club's Juniper Group supports Badlands Wilderness
OHV regulation discussed at BLM meeting in Bend, Oregon

OpEd - Badlands part of BLM's recreation management area
OpEd - We need the Badlands Wilderness
OpEd - Off-roaders have no reason to fear Badlands Wilderness designation
Speak for the Badlands at Town Hall Meeting
Hiking poles are becoming essential gear
Vandals destroy ancient pictographs in the Badlands
Senator Wyden tests support of Badlands Wilderness
Badlands Wilderness endorsed by Bend City Commissioners
The Badlands:
proposed for Wilderness status
The Badlands, a brief history
The Badlands
pictographs reported 75 year ago
Map of huge exclusive OHV areas adjoining the Badlands