TRADITIONAL MOUNTAINEERING ™
www.TraditionalMountaineering.org ™ and also www.AlpineMountaineering.org ™

™
FREE BASIC TO ADVANCED ALPINE MOUNTAIN CLIMBING INSTRUCTION™
Home | Information | Photos | Calendar | News | Seminars | Experiences | Questions | Updates | Books | Conditions | Links | Search

Read more:
Theft of ponderosa pines in the National Forest near Bend, OR
Ochoco and Deschutes National Forests, and Prineville District, Bureau of Land Management
Office of Communications
April 4, 2006
Roland Giller, Office of Communications

Illegal Tree Cutting Occurring On Deschutes National Forest

Deschutes National Forest law enforcement officers are seeking information about illegal tree cutting of mature ponderosa pine trees on public land near Bend.

The federal agents found trees in late March that were felled with axes on the national forest southeast of Bend near China Hat Road, and between Bend and Sisters off Forest Road 4606. All nine trees measured about 25 inches in diameter.

"Any information the public can provide about this activity would be greatly appreciated," said Rico Burgess, a Deschutes National Forest law enforcement officer. "These people are not taking great effort to hide what they're doing."

Burgess said it would be helpful if anyone who witnesses this type of activity provide information such as license numbers, time, location, and descriptions of the people and vehicles involved. He said stump cuts indicate the people involved are experienced at cutting down trees with extremely sharp axes. "It's definitely someone who knows what they're doing."

Cutting or otherwise damaging any tree or other forest product is prohibited, except as authorized by a special use authorization or timber sale contract. Penalties can reach up to $5,000 in fines and/or six months in jail. Multiple incidents are considered a felony when timber value exceeds $1,000.

Anyone who can assist the investigation should telephone Deschutes National Forest Patrol Captain Lisa Fisher at 541/383-5798.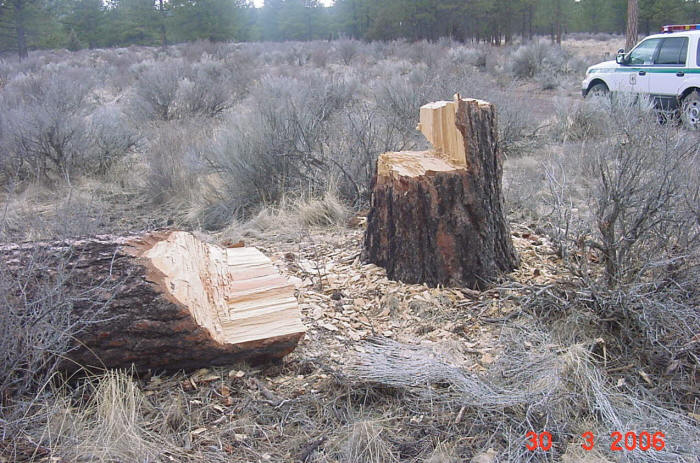 Note: Please call our law enforcement contacts if you have information on these incidents or any illegal activity, i.e. mud bogging, trash dumping, vandalism, etc
that you may witness. .Thanks for helping keep an eye on your public lands! --Webmeister Speik


Read more . . .

The Badlands Wilderness
Photos of the Juniper theft crime scene in The Badlands
OpEd - Unregulated OHV use is being reviewed across the western states
OHV use curtailed by new USFS policy decisions
Sierra Club's Juniper Group supports Badlands Wilderness
OHV regulation discussed at BLM meeting in Bend, Oregon
OpEd - Badlands part of BLM's recreation management area


OpEd - We need the Badlands Wilderness
OpEd - Off-roaders have no reason to fear Badlands Wilderness designation
Speak for the Badlands at Town Hall Meeting
Hiking poles are becoming essential gear
Vandals destroy ancient pictographs in the Badlands
Senator Wyden tests support of Badlands Wilderness
The Badlands: proposed for Wilderness status
The Badlands, a brief history
The Badlands pictographs reported 75 year ago
Map of huge exclusive OHV areas adjoining the Badlands