TRADITIONAL MOUNTAINEERING ™
www.TraditionalMountaineering.org ™ and also www.AlpineMountaineering.org ™

™
FREE BASIC TO ADVANCED ALPINE MOUNTAIN CLIMBING INSTRUCTION™
Home | Information | Photos | Calendar | News | Seminars | Experiences | Questions | Updates | Books | Conditions | Links | Search

Read more:
Adopt-a-Highway over Santiam Pass with TraditionalMountaineering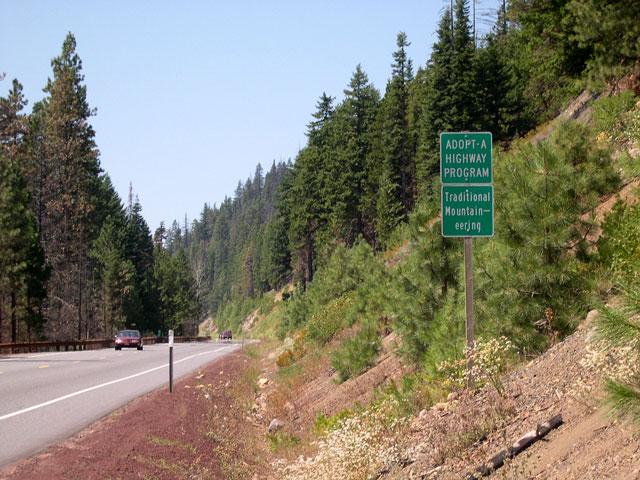 We have "Adopted" all of the scenic pull-outs between Suttle Lake and Hoodoo Ski Resort at the top of Santiam Pass on Oregon Highway 20.
Highway 20 connects Bend and Central Oregon with Salem, Albany and Eugene in the Willamette Valley across the Cascades.
It is very heavily traveled and is slow going in the winter snows. ODOT does not permit us to walk outside the pull-outs because of the traffic hazard.
The summer pull-outs provide great views of Mount Washington and the Cascades and are kept very clean.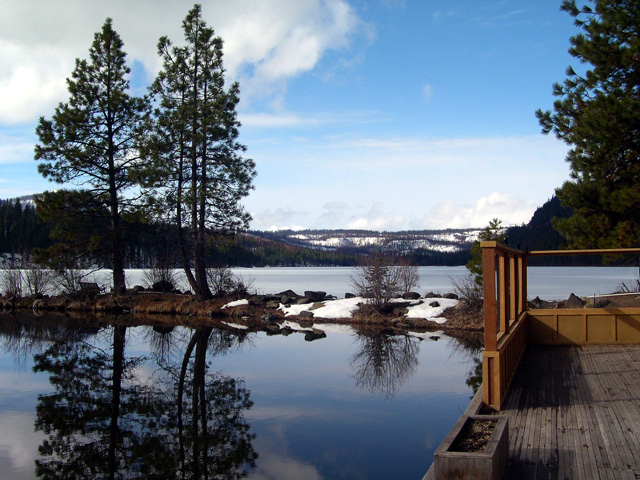 Suttle Lake Resort at the lower end of our section, from the Resort restaurant deck.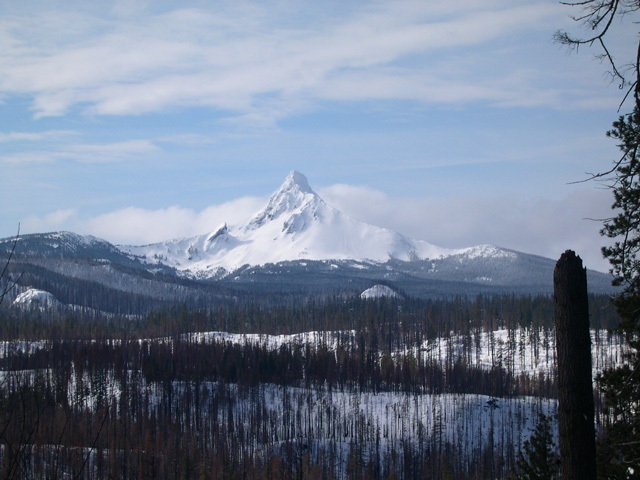 Mount Washington in June 2004.

Our most developed scenic pull-out and Mount Washington in July, 2004. (This is not a Fee Demo site ;-)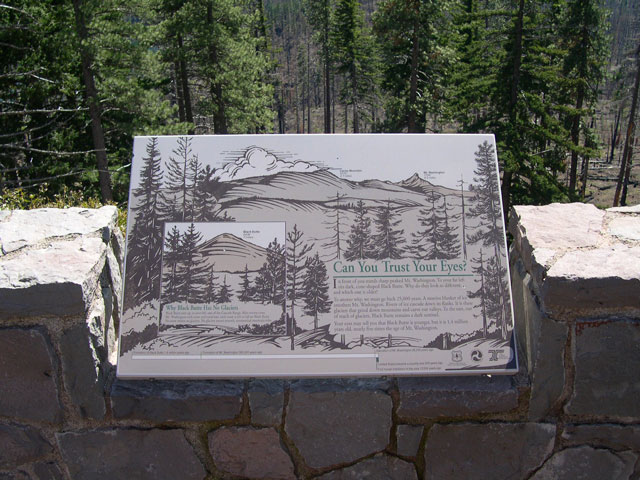 Oregon is proud of it's visitor friendly roads and parks! But please don't stay ;-)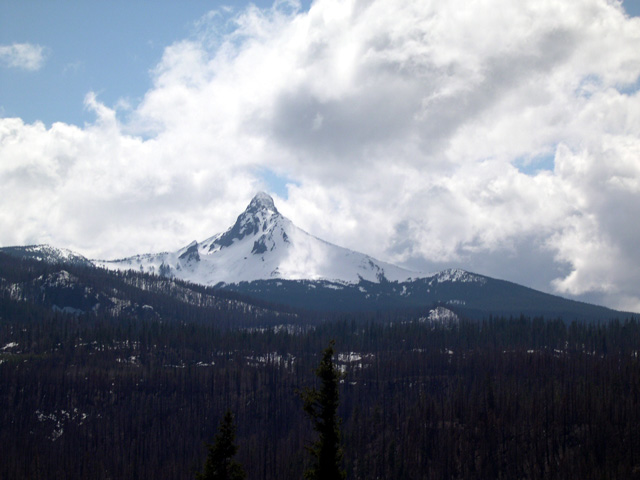 Mount Washington in July. The climber's route follows the North Ridge.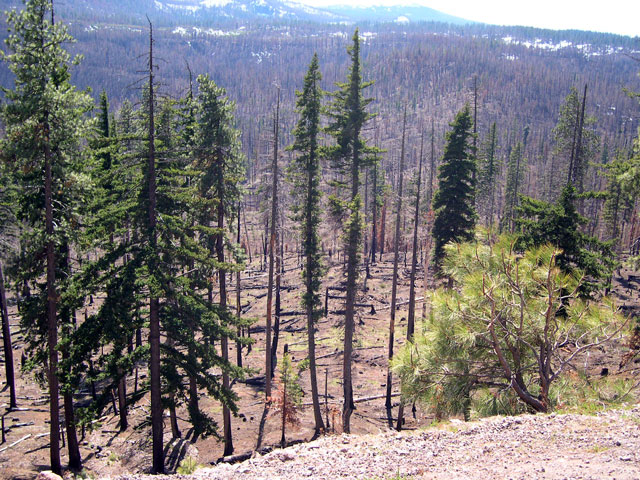 Mosaic fire damage occurred in the summer of 2003.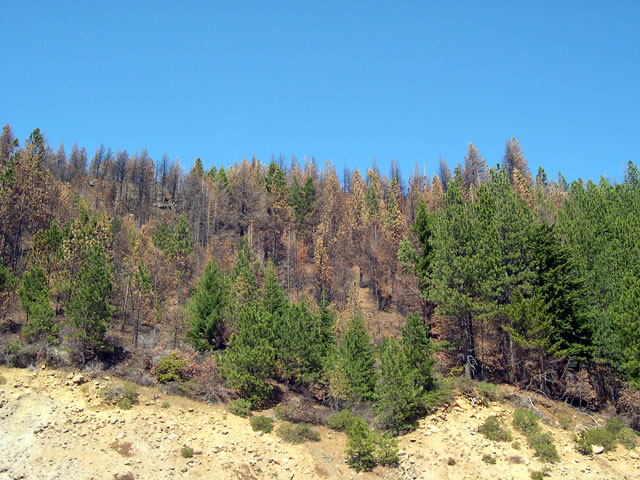 The forest above the highway was a mosaic, as well.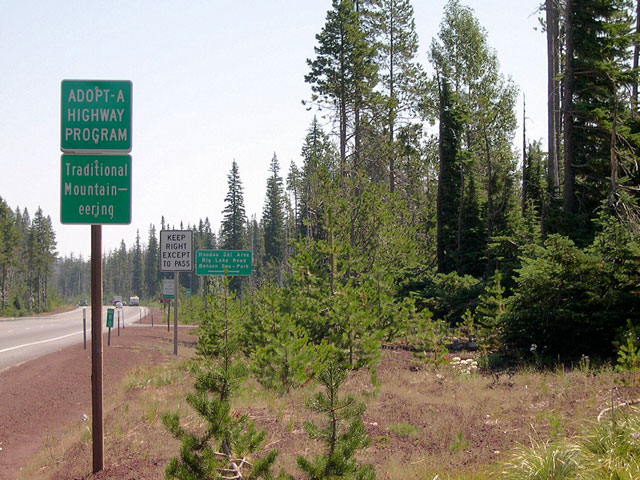 Hoodoo Ski Resort marks the upper end of our Adopted section. The exit here gives access to Big Lake water skiing,
miles of hiking trails to peaks and lakes and the climber's way off the PCT to the North Ridge Route to the summit of Mount Washington.
We have very little litter to pick-up thanks to the beauty of the pull-outs down the road.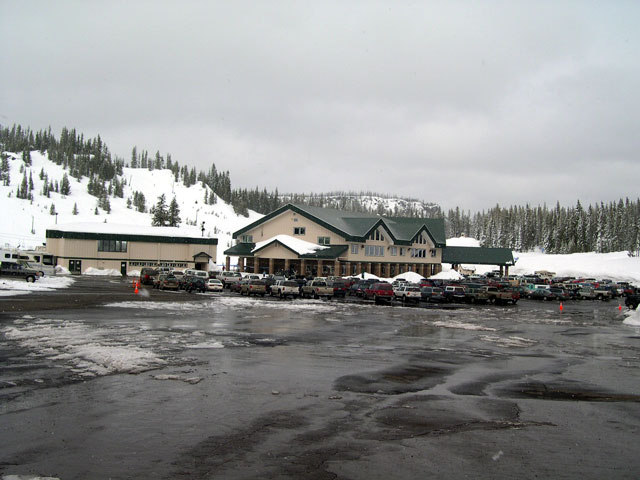 Hoodoo in late season.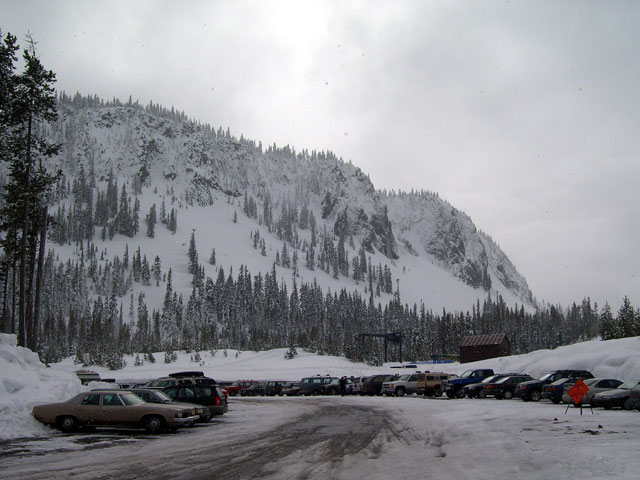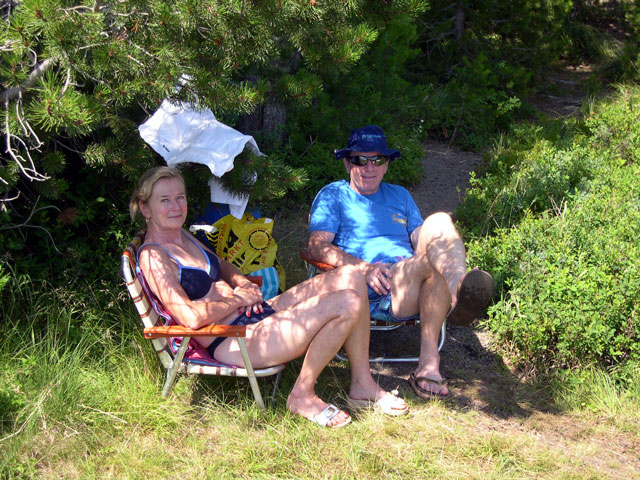 Big Lake Hobie Cat folks.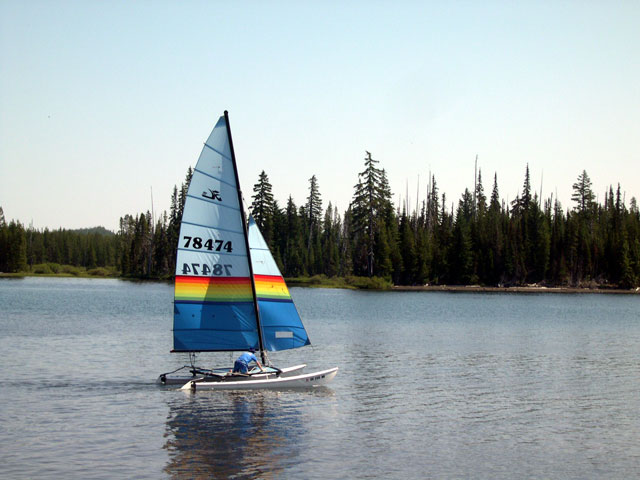 Photos Copyright© 2004 by Robert Speik. All Rights Reserved.

Read more . . .
Adopt-a-Highway along the Oregon Badlands Wilderness on Highway 20 into Bend, OR
Adopt-a-Highway with TraditionalMountaineering on Cascade Lakes Scenic Highway
Adopt-a-Highway over Santiam Pass with TraditionalMountaineering
Adopt a Road at the entrance to Smith Rock State Park
ODOT Adopt-a-Highway Awards in Bend, Oregon
Adopt-a-River in Central Oregon with TraditionalMountaineering

ENVIRONMENTAL
The Bend Bicycle Festival 2004
Wolves introduced to the High Desert Museum
Twenty old growth Juniper stolen from The Badlands WSA - More information
A sustainable way to use feathers to adorn my lady
ODFW clinic - Becoming an Outdoors Woman
President Bush holds photo opportunities
Trail Crew builds a log bridge over Spring Creek
Tour fire ravaged Davis Lake
IMBA helps COTA build trails
South Sister climbers trail relocated
President Bush hopes no child will be left behind
Adopt-A-Highway with TraditionalMountaineering
Department of Inferior dumps wilderness protection
An ODFW juvenile steelhead sampling project near John Day, Oregon
The ODFW juvenile steelhead survey in the stream
Owyhee Canyon wilderness study area in south east Oregon
ONDA's Owyhee wilderness inventory camp near Rome, Oregon
Riverfest river cleanup in Bend Oregon
USFS Mud Bog poster
A Pay to Play bust
President Bush reassures us that SUVs do not damage the environment!
President Bush overlooking the environment
Al Gore and his young son summit Mt. Rainier
Fee Demo demonstration in Central Oregon

Fee Demo and Climbing Fees
Fees, forests don't always fit, by Sen. Larry Craig, R-Idaho
Congressman Greg Walden limits fee demo
Fee demo program discriminates against our poor folks
Fee Demo looses to grass roots outrage
Fee Demo Forest Pass dropped at 20 sites on the Deschutes National Forest!
Senator Regula's Fee Demo support and The Wilderness Center, Inc.
Senator Craig calls Fee Demo a failed program
Outdoor recreation in Oregon far from free
Oregon Field Guide: "Pay to Play on Public Land"
National Park Service plans climbing fees increase!
Fee demo rejected by USFS employees
Fee demo has "fallen short" - Senator Craig
Fee demo demonstrations

TRADITIONAL MOUNTAINEERING R&R
Winterfest in Bend, Oregon
Bend's Tower Theater restored to 1940s elegance
Snowshoe Shuffle comes to Bend, Oregon
A snowshoe adventure with Bend Parks and Recreation
CORK, Central Oregon Running Klub plays in The Badlands
Atta Boy 300 dog sled race start and finish from Mt. Bachelor
Bend's Wednesday market near the Deschutes River in Drake Park
Central Oregon's High Desert Museum in Bend


Bend Log Jam celebrates the opening of the Deschutes southern crossing bridge


Bend's southern crossing bridge
The Beach Boys concert in Bend Oregon, Summer 2003


Pilot Butte - hike and run to the summit
Cascade Music Festival in Drake Park, Bend Oregon


A sea kayak adventure on Puget Sound
Bend Adventure Racing Klub - The Wild Juniper Berry Race