TRADITIONAL MOUNTAINEERING ™
www.TraditionalMountaineering.org ™ and also www.AlpineMountaineering.org ™

™
FREE BASIC TO ADVANCED ALPINE MOUNTAIN CLIMBING INSTRUCTION™
Home | Information | Photos | Calendar | News | Seminars | Experiences | Questions | Updates | Books | Conditions | Links | Search

Read more:
No trail fees: a national day of action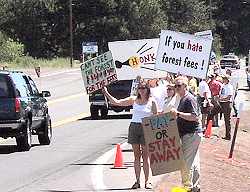 Dozens of protesters opposed to Forest Service rec-fees 'demonstration' program
line Highway 20 by Deschutes National Forest HQ Photo by Barney Lerten

Trail-fee foes fight on, as Bend man's group leads the attack
'National Day of Action' protests just latest salvo, as all eyes focus on Capitol Hill

bend.com
June 15, 2002 at 9:20 pm
By Barney Lerten

June 15 - There were Boy Scouts and a political candidate, a protester on horseback and another carrying a bugle and a big, inflatable green alligator. But most of all, there were cheers, horns honking and lots of signs, big and small, at Bend's roadside role in a "National Day of Action" to protest the Forest Service's 6-year-old demonstration (but possibly headed for permanence, unless foes prevail) recreation fee program.

About 75 folks took part in all or part of Saturday's horn-honking, cheering, three-hour protest, lining both sides of Highway 20 in front of the Deschutes National Forest headquarters. They did not include the Bend man who, for all intents and purposes, could be considered the leader of the national fee protest movement, Scott Silver, executive director of Wild Wilderness (http://www.wildwilderness.org/).

Silver instead was helping lead a protest in downtown Portland, one of more than 30 such events being held Saturday in nine states around the nation. So Dale Neubauer, another organizer of the 11-year-old, 700-member Wild Wilderness group, organized the show back home, and quite pleased with the turnout (and media spotlight) on a hot almost-summer day.

"You've got to remember, this is Bend – we don't have protests here, except the anti-abortionists," he said.

Two of the youngest protesters on hand were 15-year-olds Carl Rockwell and Evan Teicheira, who decided to take a stand while their fellow Troop 18 mates were out cleaning up illegal dumpsites on BLM land east of town.

"We like to go camping and hiking," Rockwell said, "and we don't want to have to be charged for every time we go out and use a campsite."

Issues go way beyond trail fees, to publicly funded 'corporate welfare'

Neither does Phil Philiben, the Democratic nominee taking on Republican incumbent Dennis Luke in this fall's Deschutes County Commission race.

"We already pay taxes that pay for that" public land, Philiben said. As for the Forest Service's claim that it needs the extra dough to maintain heavily used recreation sites, Philiben pointed to billions of dollars in "corporate welfare" – including timber, grazing and mining on public lands, at dirt cheap prices or for free.

Those views were echoed by fellow protester (and recycler/EarthShip resident) Paula Kinzer, who pointed to a site called http://www.greenscissors.com/ that talks of billions of dollars in wasteful federal spending that harm the environment.

After similar protests in 1999 and 2000, Silver and his fellow fee protesters took a break last year. Kinzer explained, "That's because legislation (to make the demonstration fees permanent) was not supposed to come up until 2004." Instead, a powerful GOP congressman's upcoming retirement prompted a push this year – right now, in fact.

To protesters like Kinzer, the fees are a symbol of an agency bent on destroying many forests' tranquil nature by opening up more and more to motorized vehicles. "We already have plenty of places where motorized vehicles are welcome," she said.

One of the protest signs: "Mining fee: $2.50 – hiking permit, $25" – also strikes at a message the fee foes stress – that corporations are allowed to plunder public lands without paying royalties back to the public, and have a far greater impact on the land then the hikers – and taxpayers – now being asked, unfairly they believe, to shoulder more of the burden.

"Commercial users are not paying their fair share, based on their impact," Kinzer said.

Forest Service notes that half its sites charge no fee, amid doubled recreation use

Amid the cheers for cars and big rigs that honked in support were the signs: "We are not customers," "No timber subsidies = no user fee," and the like.

Watching the activity from the nearby forest headquarters was Margot Buchholz, a local agency spokeswoman, who said the protesters had caused no real problems but that police came by a few times, making sure they stayed off the highway itself (which has no sidewalks but is due for a big four-lane widening project in coming months.

"Fifty percent of our recreation sites have no fee," Buchholz said, so the fees are focused on "places where people are using it more, and they need to have things like a restroom."

"Recreation use has doubled in the past 10 years – hikers, and not just RVers," she said. "We need that resource to maintain the health of the forest. Even the trails have to be cleared of trees that fall in the winter." And Buchholz said even the current fees "don't come anywhere near to covering the costs" of that increased usage.

While fees for boat ramps and campgrounds and the like go back far longer than the recent debate, the charge for using trails has been the lightning rod that has ignited fierce debate.

"Fees are really being applied … where there are already facilities," Buchholz said. "There's still a lot of places where people can go" where fees aren't assessed.

"Part of our job is conservation, education, helping people understand what's here, so they have a better appreciation" she said, noting that it's "hard to stay connected to a natural world" in a country where an increasing majority of residents live in urban areas.

Everybody has to pay a fee – and recreation is no different'

Buchholz wasn't prepared to delve into the issue of whether timber, grazing, mining or other interests are paying their fair share, based on the impact they have on public land or the money they make from resource extraction. But she said, "Everybody has to pay a fee, and recreation is no different, from that perspective."

Without specifics in hand, Buchholz said surveys have found "a fairly high percentage who are supportive" of the idea that users help with maintenance and upkeep of public lands through fees. She said the comments were on the line of, "We know we're using this trail – why should someone in New York have to pay for our (impacts)?"

The recreation fee demo program brought in $6 million last year in Forest Service Region 6 (Oregon-Washington), about half of that from the Northwest Forest Pass, which costs $30 a year or $5 for a day permit, Buchholz said. Eighty percent goes back to the forest where the fee was collected, for projects related to recreational use that also involve other money, partnerships, volunteers and the like – programs such as the $500,000 spent last year on Youth Conservation Corps work in the forests.

Tracy Dutton, holding up the mining-fee comparison sign and one that simply said "WILD AND FREE," said he was on hand for the last protest, two years ago, said he and his family find themselves using the public lands more these days, for mountain biking and other recreation. "We want people to be educated" about the government's efforts to charge fees, he said.

The passing cars weren't the only ones doing the honking – so was Bend resident Taylor Poynter, holding his bugle in one hand and his large green inflated 'gator named Adrian in the other.

Bugler trumpets 'call to nature and call to arms'

The green alligator "represents the reptilian nature of mankind" and the Forest Service, said Poynter, adding that his buddy has been around the world. The bugle notes symbolize a "call to nature, and a call to arms."

"I'm here because I think it's important to be here," Poynter said. "I'm not particularly Christian – I'm Buddhist, in fact – but it's like Jesus and the money-changers in the temple – well, the outdoors is my temple."

"Try going along the (Deschutes) River and finding a place to camp – there used to be five, including Sunriver. And now you can't. The river is life." Indeed, day passes are required along the river, in spots where free camping used to be the norm.

Demonstrator Ross Bricco offered a reporter a protest sign to hold, as he had to head off to work: "Government out of Control" it said on one side, "Greed and sloth" on the other. "I can think of lots of places to use this sign," he said.

Neubauer talked of how it would cost him and his family $100 to hike to the top of Mount Shasta – a fee he considers unaffordable, not to mention, in the protesters' lingo, "un-Democratic, exclusionary, discriminatory and just plain un-American."

He said a General Accounting Office report found that mining companies taking advantage of the 1872 Mining Act removed $15 billion in precious metals from public lands between 1992 and 1997, "and we (the public) did not receive a penny in royalties. Many of these were foreign corporations, to make matters worse."

"If there were a 1 percent royalty," he said, "the public lands' problems would be over."

Silver didn't go looking for a cause, but found one anyway

The idea that "user fees" are fair doesn't seem to extend to more politically sensitive places, Neubauer said – if they did, there would be a turnstile at the Vietnam Memorial Wall or the Lincoln Memorial in Washington, D.C.

Silver, 50, is a former biotech scientist who didn't need to work, really, when he moved to Bend with wife Wendy in the early '90s. But now, scarcely a day goes by when he isn't e-mailing friends, supporters and the media near and far with the latest article, study or developments in the battle to kill recreation fees.

"I guess I am the leader" of the effort, Silver said, pointing with pride to a mention in a new Sierra Club brochure blasting fee demo, which refers readers to the Wild Wilderness Web site for a "more thorough treatment" of the issues surrounding the American Recreation Coalition, the industry lobbying group that pressed for Congress to enact the fees.

The protests were timed to coincide with the coalition's "Great Outdoors Week." Silver says ARC is in cahoots with the Forest Service to make the wilderness and public lands "products" to squeeze maximum profit out of. And just days before the protests, during "Great Outdoors Week," the second of several rec-fee and infrastructure pieces of legislation was introduced in the Senate – on a "fast track" with a quick hearing, Silver said.

"I've anticipated this legislation and more – there will be more this summer," at the behest of the Bush administration, Silver said. Asked how hopeful he is of heading off the legislation make the fees permanent, Silver said time could be on the foes' side – at least for now: "I think Congress has no compelling reason to do anything for the rest of this session."

"There's not a lot of urgency" to make the fees permanent, he said. "Last year, Congress approved this all the way to 2004. When they extended it last year, they said the Forest Service has not really proved that this program has been done successfully, so the idea was to work out the bugs."

Fee program began, was extended through appropriations 'riders'

So far, recreation fees have not stood or fallen purely on their own merit in Congress, but instead have happened – slipped through, critics would say – as "riders" on appropriations bills. But Silver said "Congress has shown some interest in not doing this (making the fees permanent)" in that manner.

Silver recalls how it all began, for him: Going down with Neubauer to visit with Marv Lang, the head of recreation planning on the Deschutes, in the spring of 1997. "I thought I could qualify for a volunteer permit," he said, noting that those who put in 16 hours or more were said to be entitled to a break. But they learned they had to put in the hours that year, but they had done so the previous year, in 1996.

He still has the flier on the recreation fee demo program that he picked up that day. "This is what got me started," Silver said, reading from the brochure: "The Forest Service recreation fee program was developed in partnership with leading national recreation interests," including the American Recreation Coalition. "I went to the Internet, looked up who ARC was," and the battle was on – complete with the symbol of Smokey Bear in a Mickey Mouse hat – the symbol of what protesters call "the corporate takeover of nature and the Disneyfication of the wild."

That still rankles folks like Teri Cleeland, coordinator of the national fee program.

"I would like Scott Silver to show where the national forest has been 'Disneyfied,'" Cleeland told The Bulletin. "We have been with this program for six years: Where have the prophecies come true?"

As you might expect of a scientist by nature, Silver said he doesn't just have a few examples – he has "about 50. I can get 'em in a thousand different ways," and his favorite is to use the Forest Service's own words and studies against them.

Forest Service talking points: 'It's good to see that people care …'

'Then there's the talking points, distributed to Forest Service officials about the "National Day of Action." Here's a sample: "We respect the right of all people to voice their opinions. This topic is certainly an important one for the people in ___ (fill in the blank). It's good to see that people care and are involved in what is happening on their national forest. … One thing we all agree on is that current appropriations are not adequate to address recreation needs. We welcome all suggestions of realistic solutions to the problem."

A "draft blueprint" for a future fee program is being developed, the agency says, recognizing the lessons of the demonstration program – that "fees are acceptable when they have a direct connection to a perceived benefit," for example.

At least 175 other groups have joined in the fee-demo fight, such as the Native Forest Council. Lawmakers in four states – including Oregon – have passed legislation formally opposing the fee program. Similar federal legislation has failed; now, legislation is being drafted that would create a single, nationwide recreation pass for all federal public lands.

Their target is a maintenance backlog of roughly $4.9 billion at the National Park Service and $800 million at the Forest Service, according to an article in High Country News. Under the "draft blueprint," the government would not charge for "general access" to national forests, such as driving or walking through, or parking at scenic overlooks, as well as dispersed camping. Fees would be charged to park at trailheads, to use visitor centers, at national monuments, and spots where heavy traffic (and use) takes a toll on the environment.

"This is Enron accounting and double taxation," said Tim Hermach, president of the Native Forest Council. "Our taxes already pay for so-called 'public lands management. All they are managing to do is help industry trash precious national assets at a net loss. Subsidies for national forest logging topped $1 billion last year. Why should we have to pay to camp, hike or fish on lands that our forefathers set aside for the American people?"

Planned events around the country on Saturday included a mock coffin-nailing in New Hampshire, simulated "sidewalk demonstration fees" in San Francisco and a toilet paper drive in Arizona (to offset one expense supposedly covered by fees."

Fee foes take on well-heeled 'motor home crowd'

In an interview with the Yakima Herald-Republic, Silver said his organization "represents low-impact recreationists who primarily like to use undeveloped recreation. In a 'pay to play' paradigm, whoever is willing to pay the most, you'll get the most. If you are willing to pay, you'll get to play. We can't afford to compete."

"People who enjoy tent camping cannot compete (in fund-raising and political lobbying) with the motor-home crowd, which is basically who people like the American Recreation Coalition represents. We're not interested in seeing campgrounds turned into KOAs," Silver told the paper.

Asked about the comment, Silver reiterates it: "Our concern is very simple – the undeveloped sites are being developed. If you think of what's happening locally … getting rid of dispersed camping and putting in more developed facilities, yurts – you remove opportunities for the lower-impact user."

Among Silver's recent e-mail relays was a piece by Richard Behan, author of "Plundered Promise: Capitalism, Politics and the Fate of Federal Lands."

In the article, entitled "Fee-Demo and the Economic Taliban," Behan calls the demonstration project "the greatest threat to the federal lands since the breathtaking proposals in the Reagan years to sell off the entire public estate."

"It won't succeed," he wrote. "The ideology of the Economic Taliban – deregulation, privatization, and the glory of free markets – is both naïve and fraudulent."

Silver: to head off 'corporate takeover of nature,' it will take mobilized activists

As Silver put it, "If we had corporations paying taxes like they used to, we wouldn't have a shortfall in the general fund." But fee demo arose during the Clinton years, another administration "keen on privatizing," he said, adding bluntly: "Both parties suck."

"This is a corporate takeover of nature … part of the corporate takeover of everything," Silver said, sounding quite a bit like consumer activist Ralph Nader

Silver derided where the Forest Service has put its scarce dollars: "We built that stupid stonework at Tumalo Falls. We built that $400,000 toilet at the Y in Sisters. … Everywhere you look, there's the Forest Service logo (as) 'your recreational provider.' I don't like it. I want to go to the forest and see the forest," not interpretive signs that say, "this is a tree and this is a mountain." He did find, however, that "the signs are pretty useful – as backrests."

And Silver is sure that "whatever the forest Service is saying about the public liking the program is bullshit. We have growing momentum. … People are losing confidence with the Forest Service and seeing them being untruthful."

"The Forest Service is very much on the defensive" these days, he said. "The Forest Service bureaucracy is doing everything it can to find a reason to exist."

"I came to this as a scientist. I didn't know diddly-squat about activism," Silver said. "A couple of years ago, when I used to do this stuff, people called me a conspiracy theorist. … Now, everything I'm doing, they are responding to."

But now, Silver said, he's come to realize that you don't just need the facts to win an argument. You need the passion, and voices, of as many people as possible, putting pressure on decision-makers.

"I thought I would bury them with the truth," he said. But after six years, he said, one thing has become clear: The fate of the fees "will be decided on whether the public will be mobilized or not."


Read more . . .
Senator Ralph Regula's Fee Demo support modeled on The Wilderness Center, Inc.
Senator Craig calls Fee Demo a failed program

Fee Demo program rejected by USFS employees
Fee Demo on OPB
More photos of the demonstration!