TRADITIONAL MOUNTAINEERING ™
www.TraditionalMountaineering.org ™ and also www.AlpineMountaineering.org ™

™
FREE BASIC TO ADVANCED ALPINE MOUNTAIN CLIMBING INSTRUCTION™
Home | Information | Photos | Calendar | News | Seminars | Experiences | Questions | Updates | Books | Conditions | Links | Search

Read more:
Hiking to the glacial tarn below Broken Top with Jim Witty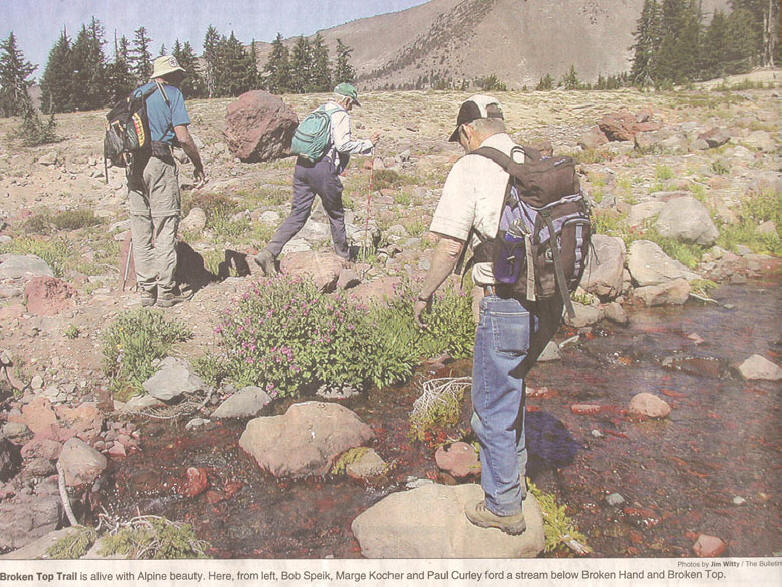 Broken Top, Trail To Alpine Splendor
Highland spring is a sight worth hiking the two miles to see
The Bulletin
By Jim Witty
Wednesday, August 17, 2005

It's easy to find an excuse not to go.

I'm too busy. I'm too tired. I'll wait until it cools off.

It's a slippery slope. You start making excuses and you just might never get around to traipsing over that next hill to see what's there.

I'm sure glad I went hiking Friday.

The Broken Top trailhead is about four miles past Todd Lake up Forest Road 370, a rutted track that's snow-free and open just a few months of the year.

If it's Alpine you want, this trail is a good place to get it. Though the trail isn't overly long (less than two miles in to the glacial tarn on the north side of Broken Top), you gain about 1,000 feet in elevation; you're in the good stuff right off the bat.

Not far from the trailhead, Bob Speik, who had cobbled this day trip together, showed us a geocache he'd stashed under a log on the mountainside. Then it was up a side trail to the right (off the trail that goes to the Green Lakes area), four happy wanderers with new and improved vistas around every turn. Joining Speik and me this day were Paul Curley, a wilderness-savvy history buff, and Marge Kocher.

It's spring in the high country and the slopes are alive with compact little wildflowers such as aster, paintbrush and sedges, especially along the streams that plummet from way up. Listen and you can hear the breeze that's almost always blowing, the water burbling, the dry snap of grasshoppers caroming from rock to rock. You feel the sun's rarefied intensity. You see boulders and mangled pines and the stunning symmetry of mountains forged by fire. Life, pure and simple, abounds briefly in this harsh place where the narrowest of seasons is bracketed by winter.

As you climb, the trees thin out and so does the air. You huff and puff getting where you're going and find when you finally get there that sometimes the journey does pale in comparison. Because the destination is sublime.

After scrambling up a short-but-precarious, rock-strewn path to reach our destination, we ate lunch inside a sheltered glacial tarn on the north side of Broken Top. At intervals, the old volcano before us unleashed a volley of rocks that spattered into the lake like a blast of shrapnel. Speik recalled an event that occurred in a similar glacial lake on the other side of Broken Top some years ago when a big chunk came off the mountain and created a mini-tsunami. According to Speik, the big wave broke through its outlet, roared down, the mountain and flooded a section of Cascade Lakes Highway.

As it is with mountains, Broken Top looks far different up close than it does from afar, say from downtown Bend. Viewed from the tarn, the mountain blazes with striations of yellow, green, ochre and more. In his book 'The Wilderness Concept and the Three Sisters Wilderness," Les Joslin explains that Broken Top began erupting about 150,000 years ago and continued doing so for well more than 10,000 years.

"Repeated glaciation during and after this eruptive period, which has eroded away the mountain's former summit - it stood much higher than the jagged summit's current 9,175 feet - as well as its entire southwestern slope and much of its interior, has exposed the core of this composite volcano," Joslin writes.

That's what we were seeing, the innards of a volcano.

After lunch, we skirted the tam and two of us made the trek up to the ridge to see what we could see from that vertigo-inducing vantage.

Again, the destination.

From the ridge, Broken Top towers above, and the Three Sisters North, Middle and South -loom tantalizingly close. Far below are the Bend Glacier and a little lake.

Curley and I caught our breath and caught up with the rest of our party on the way down and I asked Kocher, who's almost 8O, how she does it. She said she watches her diet and loves to hike. She led hikes for Central Oregon Community College and the Bend Metro Park and Recreation District for many years and has walked most of the trails in Central Oregon at one time or another.

Perhaps most important, though, she keeps showing up. She's there at the trailhead with her boots on.

No excuses.


IF YOU GO
Getting there: From the traffic circle at Colorado Avenue and Cascade Lakes Highway, drive 25 miles west of Bend, turn right on Forest Road 370 to Todd Lake. Continue on the gravel road past Todd Lake about 3 miles, then turn left at the sign for the Broken Top Trailhead and go about 1 mile to the parking area.

Difficulty: Moderate to rigorous.
Round-trip distance: about 4 miles.
Permits: A Northwest Forest Pass is not required to park at the trailhead.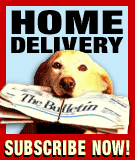 ##########
Friday, August 12, 2005, hike to the glacial tarn on the north side of Broken Top with TraditionalMountaineering
We will meet in Bend and carpool up the 370 Road beyond Todd Lake to the Brokentop Trail Head. Reservation required! Call Bob Speik at 385-0445.
See older photos of this nice hike.

Read more . . .
Hiking to the glacial tarn below Broken Top with Jim Witty
Prospectus for a Broken Top Circle Two pdf pages
A cross country circumnavigation of Broken Top in late summer
Prospectus for two day adventure with friends Two pdf pages
A cross country circumnavigation of South Sister in September

CASCADES SUMMITS
Views of the Cascades from the ridge above Three Creek Lake
Summits of the Oregon Cascades from Tumalo Mountain in February 2005
A snowshoe summit of Vista Butte off Cascades Lakes Highway near Bend, OR
Mt. Bachelor, the Three Sisters and Broken Top
Photos of the Three Sisters Wilderness Summits form Sparks Lake
Geocaching the Top of Black Crater
Overlooking the Three Sisters from Mt. Bachelor


Three Sisters summits


Scott shares his summits of Middle Sister and Mt. Thielsen

PROFESSIONAL PHOTOGRAPHERS
Ben Moon, MoonFoto
Bruce Jackson Photography
Aerial photos of the Cascades summits by Mark and Jody Tuttle

NORTH SISTER
Timberline Mountain Guides lead North Sister climbs
North Sister, the Terrible Traverse in September, 1999
Middle and North Sister exploratory adventure


North Sister and Middle Sister spring summits on telemark skis
North Sister, Scott's solo summer summit
North Sister exploratory
North Sister winter solo
North Sister: crux photos of the Three Sisters Marathon
North Sister by the south east ridge

MIDDLE SISTER
Middle and North Sister exploratory adventure


North Sister and Middle Sister spring summits on telemark skis

SOUTH SISTER
A cross country circumnavigation of South Sister in September
South sister spring overnight snow climb, gear and skills
South Sister Summer Summit
South Sister climbers trail relocated
South Sister Spring South Ridge Summit

BROKEN TOP
Hiking to the glacial tarn below Broken Top in the Three Sisters Wilderness
A cross country circumnavigation of Broken Top in late summer with friends
Broken Top north side, with Z21 TV
Broken Top winter summit with Eric Hoffman
Climbing to the summit of Broken Top
Climbing Broken Top with Eric Seyler
Todd Lake, a gateway to Broken Top
Broken Top circumnavigation
Climbing Broken Top in the winter

MT BACHELOR
Mt. Bachelor ski and summer resort during the Atta Boy 300
Atta Boy 300 dog sled race start and finish from Mt. Bachelor
Overlooking the Three Sisters from Mt. Bachelor


Mt. Bachelor from Tumalo Ridge
Photos of the melted snow pack near Mt Bachelor

TUMALO MOUNTAIN
Summits of the Oregon Cascades from Tumalo Mountain in February 2005
Tumalo Mountain across from Mt. Bachelor
A spring climb of Tumalo Mountain near Mt. Bachelor

MOUNT HOOD
Climbing Mount Hood in May
Mount Hood, south side route in June
Climbing Mount Hood in July
Mount Hood, Eliot glacier ice travel practice
Recent accident on Mt. Hood