TRADITIONAL MOUNTAINEERING ™
www.TraditionalMountaineering.org ™ and also www.AlpineMountaineering.org ™

™
FREE BASIC TO ADVANCED ALPINE MOUNTAIN CLIMBING INSTRUCTION™
Home | Information | Photos | Calendar | News | Seminars | Experiences | Questions | Updates | Books | Conditions | Links | Search

Geocaching introduced to Central Oregon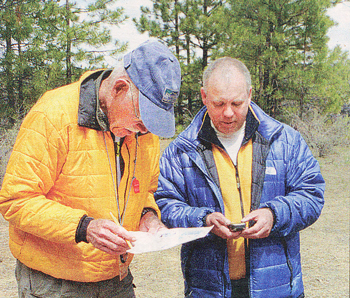 GEOCACHING
Jim Witty The Bulletin 2002
When Bob Speik called to tip me on geocaching, I knew it was the real deal.
Speik, a well-known local wilderness skills instructor who came honestly by his nickname "Techno Ranger", had discovered a fun outdoor adventure activity that combines his passion for navigation with his love for getting out and trudging through the puckerbrush.
And Speik's not one to keep this sort of thing under his Stetson.
When we met east of town, Speik introduced me to Paul Chance, a computer whiz who also likes to stumble around Central Oregon's backcountry and find stashed treasures with only his wits and a well calibrated GPS unit. Which, in a nutshell, is what geocaching is all about?
You get the coordinates of a cache either directly off the official geocaching Web site (www.geocaching.com) or from a clue obtained there, and then you set off in search of a small plastic or metal container brimming with inexpensive baubles such as toy frogs, space blankets, coin purses and those little folding scissors good for trimming nose hairs.
Some caches contain "hitchhikers", an item that you can move from cache to cache. One such trinket has traveled from Australia to Arizona, according to those who know.
In essence, you never know what you're going to find. Of course, the actual finding is not the entire point anyway, it's the mystery, the thrill of the chase, the blend of panic and exhilaration that comes from knowing exactly where you're standing on this crazy planet of ours (within 20 feet or so) but having absolutely no idea where you parked the rig. And, yeah, it is awfully exciting to zero in on the cache, get on your hands and knees and spy something deliciously out of place under a fallen log. It's terribly satisfying to feel the heft and texture of dusty Tupperware in your hands and then pop the lid for a little look-see.
Leaving everything to Chance, we followed him up the trail toward the top of Pilot Butte to find our first cache of the day. Then we drove out a little ways east of town to find one on a patch of public land. Like potato chips and disc golf, one cache begets another. So, after finding the second we moved on to the Deschutes River west of Bend to try to find more.
There's nothing like honing in on your target, head down and GPS ticking off the distance: .37 mile, .25, 300 feet, 100…and then finding the cache, usually concealed beneath a log or rock with just a small portion visible, examining the contents and either exchanging items or simply adding to the treasure.
We signed the log book found with each cache with our official geocaching nicknames (Cougar Meat, Baron Max, and Redsides-1) and made our way back to the Jeep each time as best we could. Each time we intended to enter the location of the Jeep in at least one GPS, and each time each of us forgot. It's easy to get carried away with the hunt, look up and have very little idea of how you got where you are.
According to Speik and Chance, there were more than 190 caches within 100 miles of Bend's zip codes in 2002. According to Geocaching.com, there were an estimated 16,000 caches in 116 countries.
"It's more of a game than a sport", said Chance who admits he's addicted. "You get to visit areas you may never have been before. … The price of admission is the price of the GPS unit."
"The spirit is to hide these somewhere, that whether or not the person finds the cache, it's a great place to be," said Speik. "It's really conducive to a social thing. One person drives, the other looks at the GPS."
-Copyright © 2002 by Robert Speik. All Rights Reserved.


Subscribe to this newspaper!
The rest of the story
Geocaching began following President Clinton's order on May 1, 2000, to stop the purposeful degradation by the Department of Defense of the accuracy of the geographic Coordinants provided to the new inexpensive hand held GPS units sold to the public by companies such as Garmin. Read more.
In 2012, there are millions of Geocaches place by members of Geocaching.com, world wide and found daily by millions of enthusiasts downloading descriptions and geographic Coordinants posted on the for profit enterprise that has built the social network that supports the game. Read more.
Paul Chance and i are pleased to have helped Jim Witty introduce Geocaching to Central Oregon. Jim was an avid Geocacher and he often reported on our adventuress -
into The Hole of Inaccessibility and Grey Butte will take your breath away before he passed away.


FREE SEMINARS
Becoming an Outdoors Woman learning backcountry navigation in La Pine Oregon
Snow camping from bivy to base camp
Map, compass and GPS navigation training Noodle in The Badlands
Snow climbing training with Mountain Link
Ice axe self belay and self arrest seminar
Traditional snow climbing training: snow anchors and rappels
Glacier travel and crevasse rescue seminar
Bend High invites an old traditional mountain climber
A Navigation Noodle in the Badlands with ONDA
A free guided tour of The Badlands with ONDA
Wilderness Navigation Noodle Seminar
A Sunriver thank you

GEOCACHING
Geocaching introduced to Central Oregon in 2002
I-Butte Cache on the summit of Black Butte
Geocaching the Top of Black Crater
Belknap Crater in the Mt. Washington Wilderness
Tam McArthur Rim
Geocaching into the Hole of Inaccessibility
Three Buttes Cache
Trail to Flat Iron in The Badlands near Bend
Picnic at Hanging Rock above Smith Rock
Geocaching with Z21 News with Molly Graham in the high desert

ENVIRONMENTAL
Photos of the Alvord Desert side of the Steens WSA in eastern Oregon
Access Fund's Adopt-A-Crag event at Meadow Crags on the Deschutes River near Bend Oregon
USFS Trail Crew builds a log bridge over Fall Creek near the Green Lakes Trail Head
Photos of Central Oregon from an ultralight aircraft
Weather Spotting during an Oklahoma spring
ONDA's Wilderness inventory of BLM area near Juntura in eastern Oregon
USFS Five Buttes Healthy Forest fire reduction program in Central Oregon
Bob McGown, AAC Section Chair, builds a telescope pad at Pine Mountain Observatory
Becoming an Outdoors Woman classes in LaPine, Oregon with the ODFW
Pulling barbed wire fence at the Hart Mountain Antelope Refuge with ONDA
A tour of the aftermath of the B & B forest fire with the Sierra Club
Adopt-a-Road with TraditionalMountaineering
The Bend Bicycle Festival 2004
Wolves introduced to the High Desert Museum
Twenty old growth Juniper stolen from The Badlands WSA More information
A sustainable way to use feathers to adorn my lady
ODFW clinic - Becoming an Outdoors Woman
Dutch Oven cooking at GI Joes parking lot in Bend Oregon
President Bush holds photo opportunities
Trail Crew builds a log bridge over Spring Creek
Sierra Club holds a Christmas party
Tour fire ravaged Davis Lake
IMBA helps COTA build trails
South Sister climbers trail relocated
President Bush hopes no child will be left behind
Adopt-A-Highway with TraditionalMountaineering
Department of Inferior dumps wilderness protection
An ODFW juvenile steelhead sampling project near John Day, Oregon
The ODFW juvenile steelhead survey in the stream
Owyhee Canyon wilderness study area in south east Oregon
ONDA's Owyhee wilderness inventory camp near Rome, Oregon
Touring The Badlands with ONDA
Riverfest river cleanup in Bend Oregon
USFS Mud Bog poster
A Pay to Play bust
President Bush reassures us that SUVs do not damage the environment!
President Bush overlooking the environment
Al Gore and his young son summit Mt. Rainier
Fee Demo demonstration in Central Oregon

CASCADES SUMMITS
Photos of a South Sister snow-climb in June 2006
Photos of Central Oregon from an ultralight aircraft
Views of the Oregon Cascades in the summer and fall
Views of the Cascades from the ridge above Three Creek Lake
Summits of the Oregon Cascades from Tumalo Mountain in February 2005
A snowshoe summit of Vista Butte off Cascades Lakes Highway near Bend, OR
Mt. Bachelor, the Three Sisters and Broken Top
Photos of the Three Sisters Wilderness Summits form Sparks Lake
Geocaching the Top of Black Crater
Overlooking the Three Sisters from Mt. Bachelor


Three Sisters summits


Scott shares his summits of Middle Sister and Mt. Thielsen