TRADITIONAL MOUNTAINEERING ™
www.TraditionalMountaineering.org ™ and also www.AlpineMountaineering.org ™

™
FREE BASIC TO ADVANCED ALPINE MOUNTAIN CLIMBING INSTRUCTION™
Home | Information | Photos | Calendar | News | Seminars | Experiences | Questions | Updates | Books | Conditions | Links | Search

The 1972 Chouinard Catalog introducing hexentrics, stoppers, the "sit harness" and more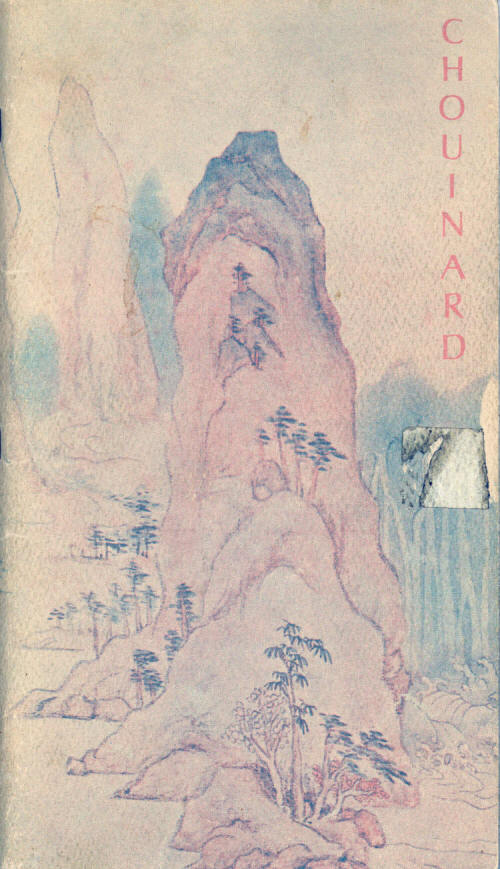 Image Copyright© 2005-2012 by Robert Speik. All Rights Reserved.
This is the actual size of the catalog!
This copy of the 1972 Chouinard catalog was mailed to me at my home. My name and address are on the label still attached to the back cover.
-Robert Speik
Check out the complete Chouinard 1972 Catalog reproduced on RAHutchins web site: www.ClimbAZ.com
Bob Hutchins writes:
David Brashears, the legendary climber/mountaineer and IMAX photographer, writes about the influence of the 1972 Chouinard catalog in his 1999 autobiography, "High Exposure":
"Another serious influence on my developing style came via the Chouinard climbing equipment catalogue of 1972, a slender publication with a Chinese landscape painting on the cover. Its author, the revered rock and ice climber Yvon Chouinard, called for "clean" climbing, proposing that climbers disavow pitons and bolts that scarred or otherwise altered rock. Instead, he advocated the use of metal nuts of various shapes and sizes which slotted into cracks without damage to the rock and could be recovered by the second climber on a rope. He reminded readers of the edict of John Muir, the late-nineteenth-century poet-environmentalist: "Leave no mark except your shadow."
This ethic of purism and self-control made a profound impact on the climbing community - and on me as well."
--David Brashears
Yvon Chouinard
Beginnings and Blacksmithery
Yvon Chouinard, Patagonia's founder, got his start as a climber in 1953 as a 14-year-old member of the Southern California Falconry Club, which trained hawks and falcons for hunting. After one of the adult leaders, Don Prentice, taught the boys how to rappel down the cliffs to the falcon aeries, Yvon and his friends became so fond of the sport they started hopping freight trains to the west end of the San Fernando Valley, to the sandstone cliffs of Stony Point. There, eventually, they learned to climb up as well as rappel down the rock.

Chouinard started hanging out at Stony Point on every weekend in the winter, and at Tahquitz Rock above Palm Springs in the fall and spring. There he met some other young climbers who belonged to the Sierra Club, including TM Herbert, Royal Robbins, and Tom Frost. Eventually, the friends moved on from Tahquitz to Yosemite, to teach themselves to climb its big walls.

The only pitons available at that time were made of soft iron, placed once, then left in the rock. But in Yosemite, multi-day ascents required hundreds of placements. Chouinard, after meeting John Salathé, a Swiss climber and Swedenborgian mystic who had once made hard-iron pitons out of Model A axles, decided to make his own reusable hardware. In 1957, he went to a junkyard and bought a used coal-fired forge, a 138-pound anvil, some tongs and hammers, and started teaching himself how to blacksmith.

Chouinard made his first pitons from an old harvester blade and tried them out with T.M. Herbert on early ascents of the Lost Arrow Chimney and the North Face of Sentinel Rock in Yosemite. The word spread and soon friends had to have Chouinard's chrome-molybdenum steel pitons. Before he knew it he was in business. He could forge two of his in an hour, and sold them for $1.50 each.

Chouinard built a small shop in his parents' backyard in Burbank. Most of his tools were portable, so he could load up his car and travel the California coast from Big Sur to San Diego, surfing. After a session, he would haul his anvil down to the beach and cut out angle pitons with a cold chisel and hammer before moving on.

For the next few years, Chouinard forged pitons during the winter months, spent April to July on the walls of Yosemite, then headed out of the heat of summer for the high mountains of Wyoming, Canada, or the Alps, and then back to Yosemite in the fall until the snow fell in November. He supported himself selling gear from the back of his car. The profits were slim, though. For weeks at a time, he'd live on fifty cents to a dollar a day. Before leaving for the Rockies one summer he bought two of cases of dented, canned cat tuna from a damaged-can outlet in San Francisco. This food supply was supplemented by oatmeal, potatoes, and poached ground squirrel and porcupines.

In Yosemite, Chouinard and his friends were called the Valley Cong. They had to hide out from the rangers in the boulders above Camp 4 after they overstayed the 2-week camping limit. They took pride in the fact that climbing rocks and icefalls had no economic value, that they were rebels. Their heroes were Muir, Thoreau, Emerson, Gaston Rebuffat, Ricardo Cassin, and Herman Buhl.


Chouinard Equipment
There was soon enough demand for Chouinard's gear that he couldn't keep making it by hand; he had to start using tools and dies and machinery. So in 1965, he went into partnership with Tom Frost, who was an aeronautical engineer as well as a climber, and had a keen sense of design and esthetics. During the nine years that Frost and Chouinard were partners, they redesigned and improved almost every climbing tool, to make them stronger, lighter, simpler, and more functional. They would return from every trip to the mountains with new ideas for improving existing tools.

Their guiding design principle came from Antoine de Sainte Exupéry, the French aviator:
Have you ever thought, not only about the airplane but whatever man builds, that all of man's industrial efforts, all his computations and calculations, all the nights spent working over draughts and blueprints, invariably culminate in the production of a thing whose sole and guiding principle is the ultimate principle of simplicity?

It is as if there were a natural law which ordained that to achieve this end, to refine the curve of a piece of furniture, or a ship's keel, or the fuselage of an airplane, until gradually it partakes of the elementary purity of the curve of the human breast or shoulder, there must be experimentation of several generations of craftsmen. In anything at all, perfection is finally attained not when there is no longer anything to add, but when there is no longer anything to take away, when a body has been stripped down to its nakedness.*
By 1970, Chouinard Equipment had become the largest supplier of climbing hardware in the U.S. It had also become an environmental villain because its gear was damaging the rock. Climbing had become more popular, but remained concentrated on the same well-tried routes in areas like El Dorado Canyon, the Shawangunks, and Yosemite Valley. The same fragile cracks had to endure repeated hammering of pitons, during both placement and removal and the disfiguring was severe. After an ascent of the degraded Nose route on El Capitan, which had been pristine a few summers earlier, Chouinard and Frost decided to phase out of the piton business. This was to be the first big environmental step we would take over the years. It was a huge business risk – pitons were then still the mainstay of the business – but it had to be done.

Fortunately, there was an alternative: aluminum chocks that could be wedged by hand rather than hammered in and out of cracks. We introduced them in the first Chouinard Equipment catalog in 1972.

The catalog opened with an editorial from the owners on the environmental hazards of pitons. A 14-page essay by Sierra climber Doug Robinson on how to use chocks began with a powerful paragraph:
There is a word for it, and the word is clean. Climbing with only nuts and runners for protection is clean climbing. Clean because the rock is left unaltered by the passing climber. Clean because nothing is hammered into the rock and then hammered back out, leaving the rock scarred and the next climber's experience less natural. Clean because the climber's protection leaves little trace of his ascension. Clean is climbing the rock without changing it; a step closer to organic climbing for the natural man.
Within a few months of the catalog's mailing, the piton business had atrophied; chocks sold faster than they could be made. In the tin buildings of Chouinard Equipment, the steady pounding rhythm of the drop hammer gave way to the high-pitched, searing whine of the multiple-drill jig.
http://www.patagonia.com/culture/patagonia_history.shtml
Item #: OP405
CHOUINARD EQUIPMENT CATALOG 1972
By Chouinard, Yvon. Tom Frost, Doug Robinson
Price: $500.00

Detailed Product Description
The 1972 Chouinard Equipment Catalog marked a watershed in climbing culture/technology by establishing a standard for clean climbing ethics in the United States. In addition to lots of nice photos of gear, features in the catalog include:
"A Word.." an essay on clean climbing by Yvon Chouinard and Tom Frost
A History of Chouinard Firsts with a photo of Yvon Chouinard and John Salathe in 1964
The essay, "The Whole Natural Art of Protection," by Doug Robinson
Short pieces on "the Yosemite Method," "A simple rappelling system and the Yosemite Hammer," Nailing Flexible Flakes," "Method of Removing," and "Safety Considerations."
There are a number of ads for Chouinard equipment. The front cover is a reproduction of a sixteenth century Chinese painting. This 96-page Catalog contains a number of lovely black and white photos of mountain scenes and climbers. The dimensions are approx 6 3/8 x 11 in. Near Fine condition, except that there is some superficial soiling to the front and rear covers and page edges. No internal or external writing, no mailing label, no rips, no flaws. www.chesslerbooks.com
Check out http://climbaz.com/chouinard72/chouinard.html - every page of the catalog is scanned in and discussed.

On the site is an interview with Steve Grossman
'Another thing that really affected me ethically early on was the 1972 Chouinard climbing catalog. It made a strong push for clean climbing in terms of free protection and people relying less on hammered protection. It had a lot of affect on everybody pretty much in climbing at the time in a way that's really unparalleled. It laid out the ethics of British rock climbing. You have a small island with a fairly finite amount of rock and a lot of heavy use. They really, in contrast to what was happening in the rest of Europe, developed a low impact ethic. It allowed their routes to see heavy traffic and minimal damage. The big push was toward that same kind of ethic.

Fortunately, at the same time, Chouinard equipment came out with hexes and stoppers, equipment that made all that kind of low impact climbing possible. Prior to those innovations, the kind of nuts that were available out there were just not really all that effective. The synergy of that catalog pushing that ethic and equipment that was being produced revolutionized climbing as we know it. Thinking about it now, had that not happened, and had people continued to pound pins and bust flakes off and scar and damage rock, things would be much uglier out there. It's really pretty horrifying what would have gone on if that revolution hadn't happened.'
http://www.chesslerbooks.com/eCart/viewItem.asp?idProduct=3757



WARNING - *DISCLAIMER!*
Mountain climbing has inherent dangers that can in part, be mitigated
Read more . . .
What is the Willans sit harness?
Which harness is best for traditional mountaineering and beak bagging?

Notable mountain climbing accidents revisited


The Sport of Alpine Mountaineering


Climbing Together


Following the Leader


The Mountaineer's Rope


Basic Responsibilities


The Ten Essentials


Our Mission


South, Middle, and the sinister North Sister and Broken Top, about 25 miles west of Bend, Oregon
Copyright© 2005-2012 by Robert Speik. All Rights Reserved.