TRADITIONAL MOUNTAINEERING ™
www.TraditionalMountaineering.org ™ and also
www.AlpineMountaineering.org
™

™
FREE BASIC TO ADVANCED ALPINE MOUNTAIN CLIMBING INSTRUCTION™
Home | Information | Photos | Calendar | News | Seminars | Experiences | Questions | Updates | Books | Conditions | Links
An ODFW juvenile steelhead sampling project near John Day, Oregon
* Mouse over for photo captions! *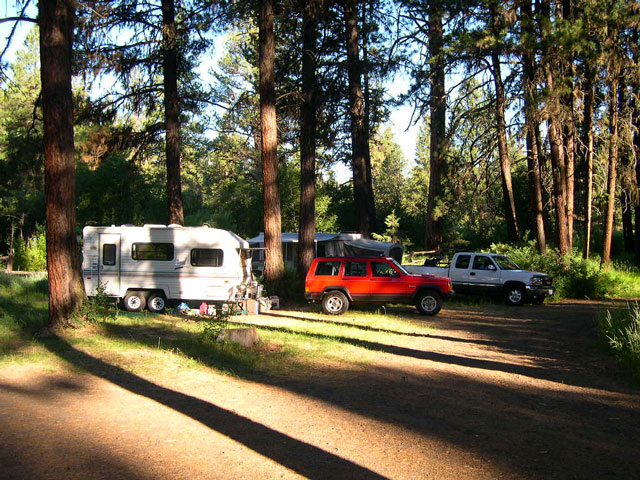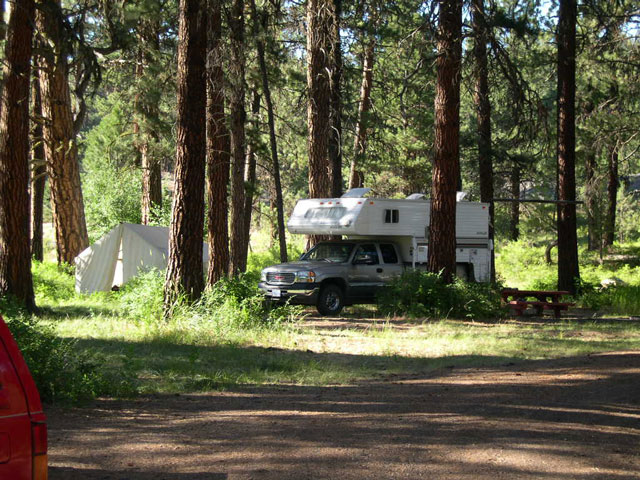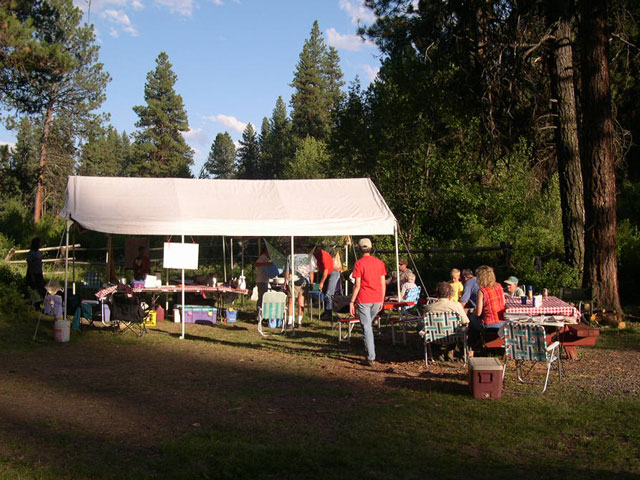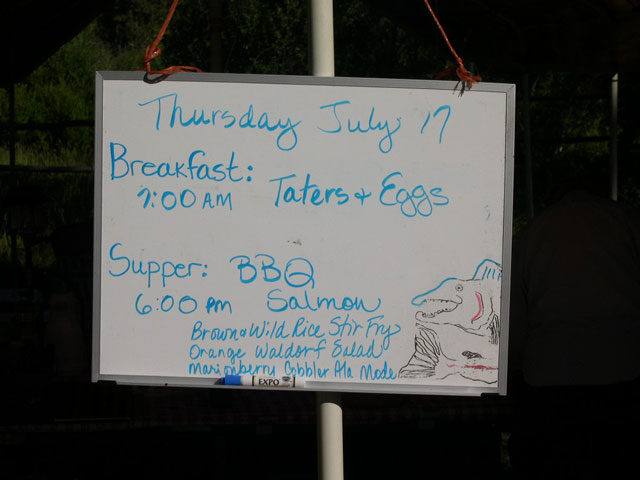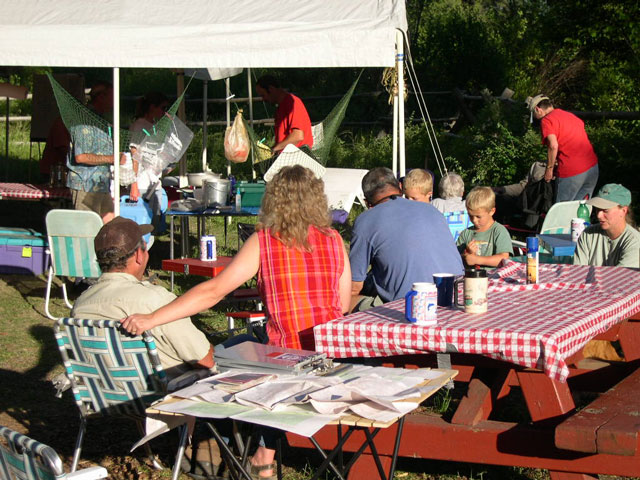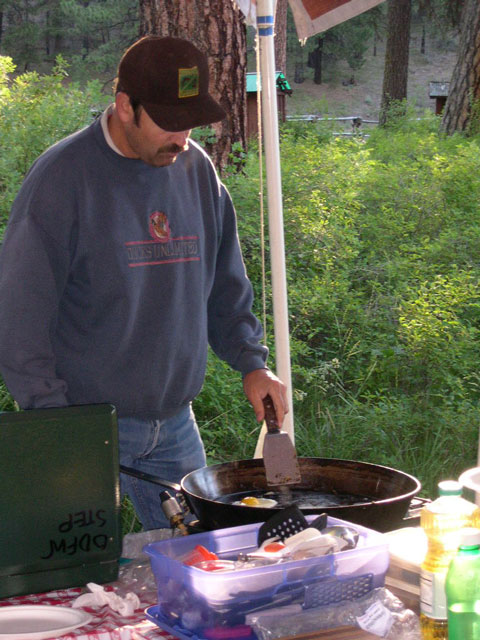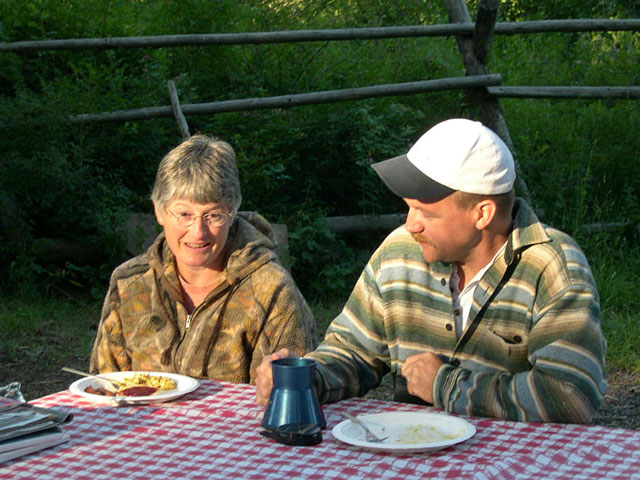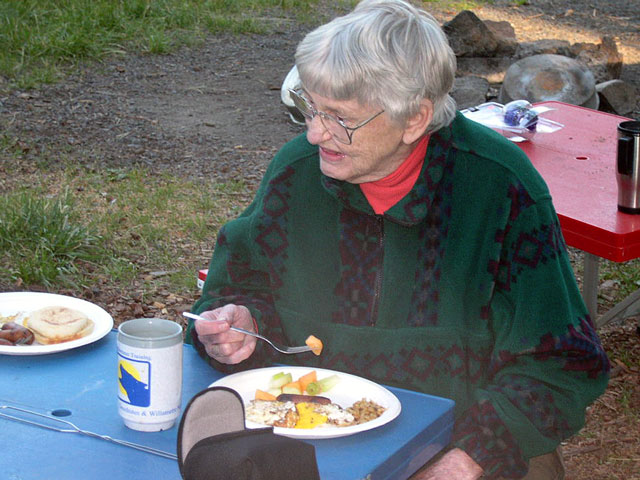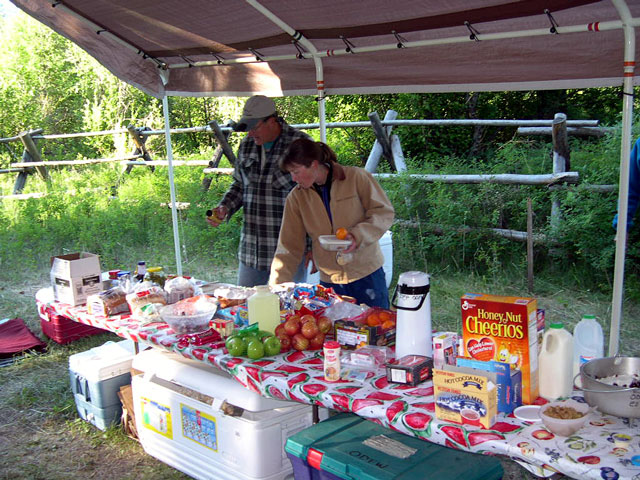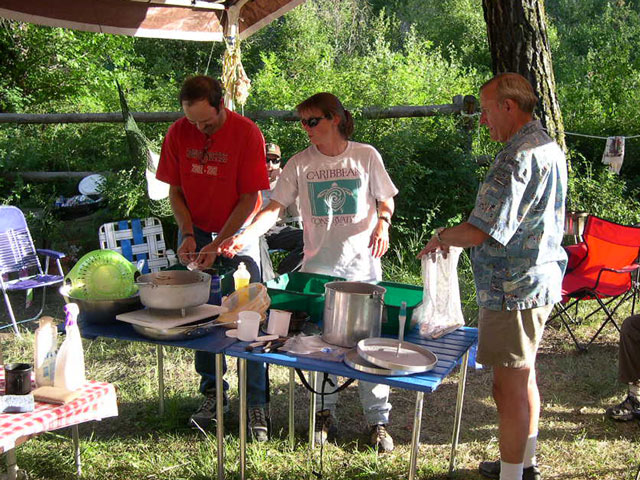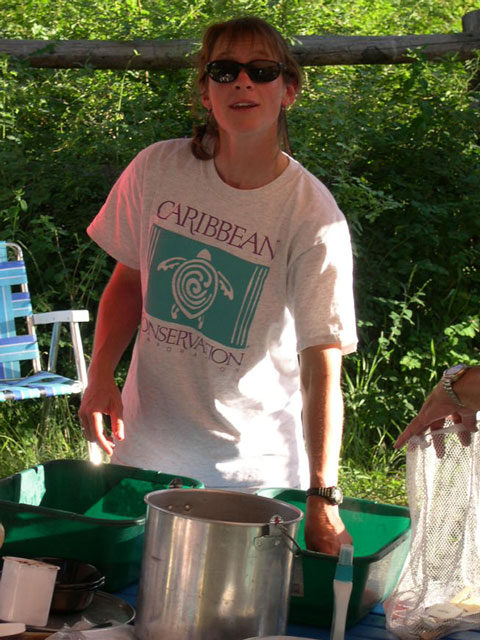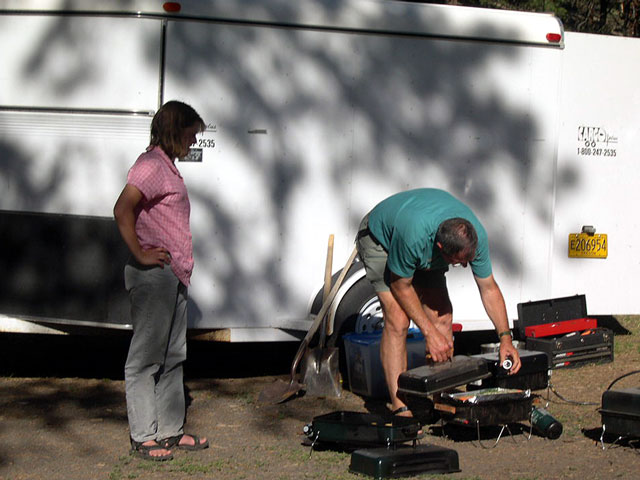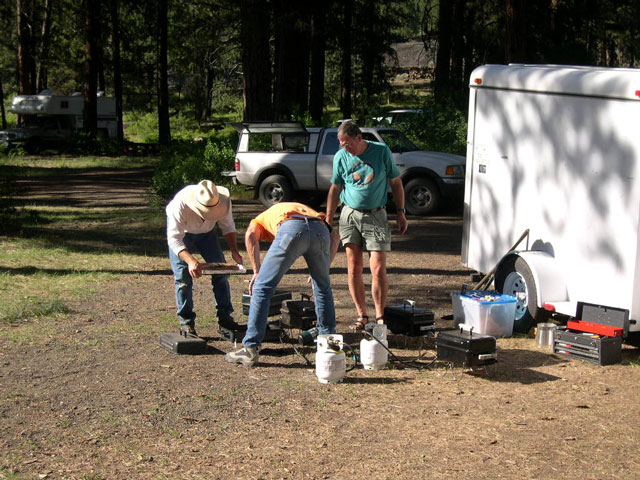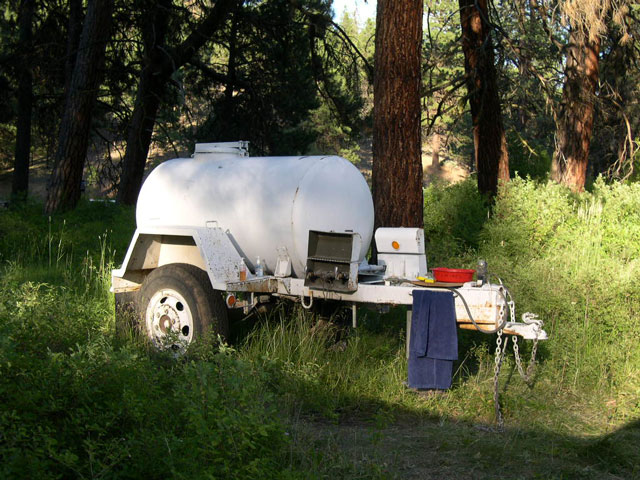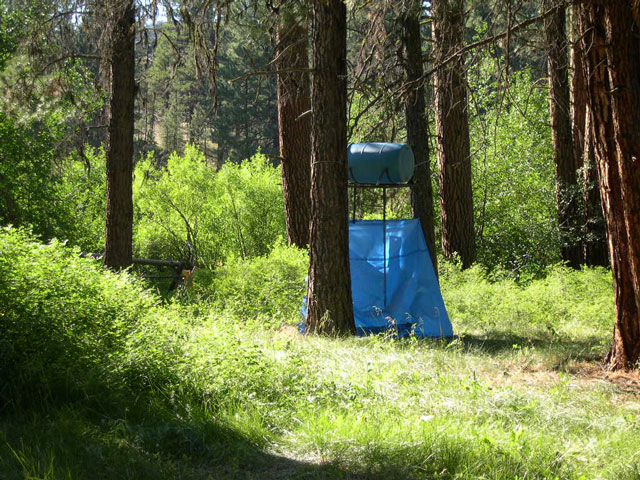 Copyright© 2003 - 2007 by Robert Speik. All Rights Reserved.
Oregon Department of Fish and Wildlife John Day juvenile steelhead inventory project in July 2003

Name of Project: Juvenile Steelhead Inventory
Location: Numerous sites on Deer Creek a tributary of the South Fork of the John Day River. Volunteers must camp in a primitive campground (pit toilet, no water) and drive to different sample sites each day. Campground is 30 miles southwest of John Day and a 3 hour drive from Bend. Base camp location is Oregon Mine Camp off of Forest Road 2170 in the Malheur National Forest. Map and directions are available.

Dates: July 14-18 (Monday thru Friday) We usually try to arrive by Sunday evening if possible to set up camp but volunteers will provide their own meals on Sunday and Monday for breakfast and lunch. The first ODFW meal will be on Monday evening about 5:30 or 6 PM. Monday we will provide orientation. Friday we may sample in the morning (depending on number of sites sampled Tues-Thurs). Friday afternoon breakdown camp.

Project Objective: To capture juvenile steelhead and redband trout within 30 pool/riffle combination sample reaches using electrofishing equipment. Sampling protocol specifies capturing fish with multiple passes of the electrofishing gear. What will the project accomplish? From these counts we will be able to estimate the juvenile steelhead density and total population in each stream.

Project Description: Actual work to be done. Project will begin each day by splitting into groups of 3 or 4. Each group will load nets, electroshockers, boots and fish measuring gear into vehicles and drive up to 15 miles to the sample sites. Here they will block the upper and lower ends with nets, make 3 passes with an electroshocker, measure, count and record all fish. They will then drive to the next site and we anticipate each group completing 2 to 3 sites per day for 4 days.

Volunteers Needed: 8 - 10 maximum, 5 minimum. Some volunteers may assist around camp.

Volunteer Responsibility: Walking, carrying gear over rough, brushy terrain, handling and netting fish, data collection, assist with camp duties. Camping in tents or RV's. No phones or cell coverage.

Comments: Meals will be provided by ODFW/STEP. You will be required to provide your own meals on Sunday. Some wading gear may be available depending on sizes.

Contacts: Tommie Speik 385-0445, Jen Bock 388-6350 x 25, Tim Unterwegner 575-1167
Baron Max, Mrs. Max and Little Max aka the real Baron Max, placed a geocache near this camp
"The Oregon Mine Camp Geocache is located about fifteen miles up into the forest from Fossil Fields Forever on forest road 21 south off Highway 26 to the east of Dayville.

We spent a week in July with volunteers and ODFW fish biologists scientifically searching the streams and creeks of this industrial forest for juvenile steelhead destined to swim more than 400 miles, 5,000 vertical feet down the John Day River to the open ocean beyond the Columbia only to return again to spawn where they were born. We found fish several inches long in the pools and riffles, some just feet from the springs welling ice-cold water into this habitat, damaged by 50 years of timber extraction and cattle grazing.

More than twenty of us camped at Oregon Mine Camp and adjoining primitive sites along forest road 2170. Plan to camp if you can, and explore the Aldrich Mountains of the Ochocos along well maintained gravel logging roads and see the forest struggling to recover from the mismanagement of this vast resource.

The Cedar Grove Botanical Reserve is nearby as you will note from the Oregon Road and Recreation Atlas, made in Oregon by Benchmark Maps and sold everywhere. This Atlas has current forest road detail and topography and provides large-scale maps to go with the detailed USGS maps printed form Maptech's Terrain Navigator.

The cache is placed at the foot of an old growth ponderosa left to shade this old campsite and is easy to see if you are looking in the right direction. It is well stocked with outdoor goodies and, for a lucky person, 1,000 free hours of AOL with the purchase of a long-term contract."


Read more . . .
ODFW - Oregon Department of Fish and Wildlife
STEP - Salmon-Trout Enhancement Program in Oregon

ODFW volunteer adventures in Oregon:
ODFW - BOW clinic - "Becoming an Outdoors Woman" in Oregon
An ODFW juvenile steelhead sampling project near John Day, Oregon
The ODFW juvenile steelhead survey in the stream

Photos from an ONDA volunteer wilderness inventory in south eastern Oregon:
Oregon Natural Desert Association - ONDA
Oregon's Owyhee River inventory delivered to BLM
About the Owyhee River wilderness inventory with ONDA
ONDA survey of Owyhee Canyon
Owyhee Canyon Wilderness study area
NOLS adventure in the Owyhee Canyon
Owyhee River desert lands - Jordan Valley Rodeo
Steens Management Plan outsourced to mining proponents
A Steens Mountain adventure
Backpacking Steens Big Indian Gorge Photos of this trip
A Steens Mountain wedding

What you need to know for your adventures:
Basic responsibilities of the wilderness traveler
The new Ten Essential Systems
Leave No Trace
Map, compass and GPS together, in a nut shell