TRADITIONAL MOUNTAINEERING ™
www.TraditionalMountaineering.org ™ and also www.AlpineMountaineering.org ™

™
FREE BASIC TO ADVANCED ALPINE MOUNTAIN CLIMBING INSTRUCTION™
Home | Information | Photos | Calendar | News | Seminars | Experiences | Questions | Updates | Books | Conditions | Links | Search

Read more:
Missing hiker Mary Owen found alive after 6 nights alone on Mt. Hood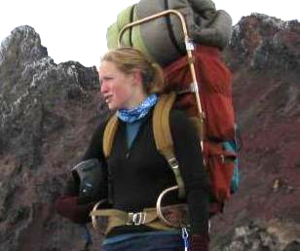 Missing hiker Mary Owen found alive after 6 nights alone on Mt. Hood
March 30, 2013
By FOX 12 Staff
In a remarkable twist of fate, a woman missing since she told loved ones she was going for a hike on Mt. Hood last Sunday has been found and is expected to be okay.

23-year-old Mary Owen was flown to a Portland hospital in an Army National Guard helicopter after she was spotted below the mountain's Sandy Glacier just after 10 a.m. Saturday.

A Clackamas County Sheriff's Office spokesman said she was hoisted up into the chopper and was able to talk to her rescuers.

Owen's family members tell FOX 12 she has a leg injury and frostbite, but doctors expect her to make a full recovery.

"I don't know another person who could have survived that ordeal," said Mary's father, Bruce Owen.

Dozens of responders showed up at the established staging area at Timberline Lodge early Saturday to resume the search effort that began yesterday.

The George Fox University student was reported missing in Newberg last week. Newberg police contacted the Clackamas County Sheriff's Office on Thursday.

The manager at Timberline Lodge checked the parking lot Thursday night and found a white 1998 Toyota 4-Runner, which Mary apparently borrowed from a friend to make the trip up.

Deputies arrived and said it appeared the SUV had been sitting at that location for some time.

Owen had sent an email to a friend that stated she was going hiking on the mountain. The email said she planned to be back that night or Monday morning, according to her father, Bruce Owen.

Bruce Owen told FOX 12 his daughter survived by building a snow cave and keeping warm under a light-weight poncho. But after several days with little food and water, she started to hallucinate.

"She kept imagining people would come to her and tell her ways to get off the mountain," said Bruce. "Like there was some little people who came to her and told her they were going to bring her a horse. Somebody else came and said she could use their dragon but they never came back."

Bruce said his daughter caught a real glimmer of hope Friday, when she spotted a search plane overhead, but rescuers didn't see her on the ground.

"She said that there were parts where she wished she could just die and have it over with," said Bruce. "But she came to the conclusion that God wasn't going to let her die. So she was just toughing it out one day at a time."

Owen is a senior at George Fox University, where she was noted as a contact for groups who work with the homeless on the school's website. Her father posted to the university's Facebook page, was asking for prayer for his daughter's safe return.

"We still need information on who she might have been with and ask anyone with ANY information to contact Newberg Police or message us through FB," he wrote.
-Copyright 2013 by KPTV-KPDX Broadcasting Corporation. All Rights Reserved.
http://www.kptv.com/story/21830173/update-hiker-found-alive-after-spending-6-nights-on-mt-hood
Family of missing hiker, 23, overjoyed she's found after week alone on Mount Hood
Family of missing hiker, 23, overjoyed she's found after week alone on Mount Hood
Clackamas County
By Lynne Terry
March 31, 2013
Mary-owen-in-packjpg-db9c39a202aa1471Moments after Bruce Owen arrived at Timberline Lodge on Saturday, he got the news that his daughter, who'd been alone and missing on Mount Hood since last Sunday, had been found.

Her leg was injured and she had frostbite, a Clackamas County Sheriff's sergeant told him, but she was alive and in good spirits.

Owen dropped to his knees and tears flowed.

"I lost it," Owen said. "This is by far the most harrowing experience that we've gone through."

On the way up to the mountain, Owen, his wife, son and two of his daughter's friends prayed that when they arrived his daughter would be found.

"That's literally what happened," Owen said.

Mary Owen, 23, was treated Saturday in the emergency room at Legacy Emanuel Medical Center, where a nurse said she was in serious condition.

She was lost in white-out conditions near the summit late Sunday night, said Rachel Oliveri, one of Owen's three sisters.

Descending, she hurt her leg in a fall and was unable to walk. A thermal poncho kept her warm at night, but she ran out of food on Wednesday.

"We are so proud of her for her courage and stamina and for keeping her head while waiting for (rescuers) for so long," Oliveri said in an email.

"I think she got really lucky given that we didn't know where to look," said Steve Rollins, rescue leader for Portland Mountain Rescue.

Rollins planned to climb aboard an Oregon National Guard Black Hawk helicopter to look for her but he never got a chance. The crew set off on a flight test before taking searchers onboard. That's when they spotted someone who matched Owen's description, with black leggings, blue shorts and a black sweater, below Sandy Glacier at an elevation of 4,600 feet near the Pacific Crest Trail.

About 10:30 a.m., they hoisted her to safety and flew directly to Emanuel.

"It would have been too hard on her to walk her out," her father said. "She was so weak."

She was also starving.

"She hasn't eaten anything," he said.

Owen, a senior in interdisciplinary studies at George Fox University, is an adventurous spirit. She once spent a summer in Papua New Guinea working with a missionary group. For five months in 2010, she hiked the Pacific Crest Trail from Mexico to Canada. And last year, she raised money for a Bible translation group at a race in Idaho that involved canoeing, rafting, running and climbing.

She hoped to summit Mount Hood for the first time on spring break last week.

She was excited about that," said Elijah Owen, 17, her only brother.

But those plans fell through. On Sunday, Owen emailed a friend, saying she planned to hike around Mount Hood and would return by Monday. When she didn't show up, her friends figured she had decided to linger.

"We thought that maybe she had found more hiking spots," said Izzy Freeman, one of Owen's roommates.

By Wednesday, Freeman became worried. She called Owen's family who notified police. An official at Timberline Lodge found Owen's 1998 white Toyota 4-Runner in the lot. Inside, deputies retrieved a laptop and a backpack, which was empty.

Her friends said she had another backpack and probably took a sleeping bag. But she was not known to hike with a tent.

A search on Friday turned up nothing.

Owen's family posted messages on Facebook, asking everyone to pray. Bruce Owen, who lives in McMinnville, said hundreds responded. But he was worried. He knew that the longer his daughter was in the wilderness alone, the less likely it would be to find her alive.

The Clackamas County Sheriff's Office launched a massive effort on Saturday morning, with dozens of volunteers from Portland Mountain Rescue, Mountain Wave Search and Rescue, Pacific Northwest Search and Rescue, Eugene Mountain Rescue, Corvallis Mountain Rescue and Hood River Crag Rats.

Conditions were clear and sunny but there was one problem: avalanche risk. In the heat of the day, snow melts, causing it to become heavy and unstable.

"Water can percolate to lower levels through the snow pack and can hit a weak layer and lubricate it," Rollins said. "That's what causes avalanches."

The other problem was Owen's location. She hadn't told anyone which trails she would take. She wasn't carrying a location beacon and did not have a working cell phone, her father said.

The search area was huge. Rollins expected it to take days. He was also surprised she was in such good condition.

It might not have turned out so well, he said.

"It doesn't matter if you're climbing Mount Everest or Mount Hood or on a day hike in Washington Park." Rollins said, "You need to let somebody know where you are going when you will return."

Bruce Owen doubts the experience will quell his daughter's zest for adventure. But he hopes she stops hiking alone.

But most of all, he's thankful that she'll make a full recovery.

"This is a great gift for Easter," he said.
http://www.jocosarblog.org/jocosarblog/2013/03/clackamas-county-family-of-missing-hiker-23-overjoyed-shes-found-after-week-alone-on-mount-hood.html
Message from hiker Mary Owen's mom
Message from hiker Mary Owen's mom

On Friday, The Newberg Graphic received an emailed statement from Shelli Owen, a local resident and also the mother of Mary Owen, the 23-year-old hiker who spent a grueling six days on Mount Hood before being rescued. The Graphic declined to publish Shelli Owen's statement due to length, but I don't have any space considerations here. Her message appears below in unedited form.

Thank you to all the people who prayed with us for Mary to be found alive and well, and to those who have continued to pray for her; also for all the well wishes that have been sent to her and to us. Thank you also to those who have been praying for us, her family; her friends; and for her and our other needs which have arisen. We have been inexpressibly blessed by God through His overflowing answers to your prayers!

Thank you to the Newberg/Dundee police department for the diligence and skills which they faithfully and patiently applied to quickly determine Mary's general whereabouts. Thank you to Search and Rescue and the National Guard and other volunteers who gave, or who were willing to give, of themselves and their resources to find and rescue our daughter/sister/friend!

Thank you to the skilled and kindly hospital staff at Legacy Emmanuel Hospital who have taken such excellent care of Mary and so patiently dealt with us, her family and friends; and to Kaiser Permanente for their speed and personal help in replacing Mary's eye glasses, etc…

Thank you to those individuals with the media/press who represented us initially in trying to find Mary; and to those who made an honest effort to accurately share her meaning and the different aspects of her story which they covered. Not all the media/press has taken that care. We have shared some good laughs as well as some consternation at some of the 'stories' that have been fabricated (for lack of a better word) around her true story and interviews.

Thank you to friends and family who have been such a wonderful mortal (and moral) and emotional support in both tangible and intangible ways! Mary and everyone involved with her have been hugely blessed by the outpouring of your love to her and to us.

Most of all, thank you, God, for your particular answers to our prayers, and for the grace and mercy You showed to Mary and to us in allowing us to pin-point her on that incredibly vast mountain, and for her rescue and healing, and so much more which we cannot share here.


Some things happen to people by accident, but what happened to Mary was more a result of willful decisions. She has since acknowledged over and over to us and to others that she was being wrongfully head-strong and prideful to try to climb Mt. Hood alone and in failing to tell any of her friends or family that she was going to attempt it, so someone would know where she was and when she should be expected back. She understands now why no one knew to look for her sooner. While she was on the mountain, I believe she came to fully realize these things, and that they could cost her her life and leave those who love her with unimaginable pain and grief. The first thing she said to her dad and then to me after we arrived at the ER was, "I'm so sorry…" She has since been repeatedly apologizing to us and to others. This is a learning experience that will not be wasted.

Some people have been commenting, on Facebook and elsewhere, about how stupid or costly this was; and, yes, they are right; but they are also wrong. In failing to give her (and others?) any mercy or grace, they are failing to acknowledge their own human failings and those of us all. Mary's failings in this instance might be far less stupid or costly to others in the long run, than the daily thoughtlessness, carelessness, arrogance and selfishness that sometimes or often takes over in our own lives. These 'little' things eventually add up to the equivalent of a mountain in the lives of the people who love us and/or who live the closest to us each day. We are grateful for God's grace and mercy in bringing Mary back to us. May each one of us also extend grace and mercy (but not excuses) to those whose failings are exposed to us – just as we would like our own failings to be treated.


Even after this experience, Mary will probably never grow tired of seeking novelty, adventure, challenge and even danger, and in a way we wouldn't want her to. This is part of who Mary is. But we are relieved by how she has internalized this experience and expressed the desire to never again intentionally allow this desire to eclipse her submission to God's leading or warnings or to doing what is right by the people in her life. She has expressed the realization that we are all attached to one another in the tapestry of life. She has experienced now how what one person does effects EVERYONE else. Through this experience she seems to have encountered that this is both a fearful and a wonderful thing. It has become a powerful reason to her for looking to God for His wisdom and love for direction in her daily walk and in her relations with others.

The timeless wisdom in the following verse has new meaning in the light of Mary's experiences, not just for her, but if we will take it to heart, for the rest of us as well: "Trust in the LORD with all your heart; do not depend on your own understanding. Seek his will in all you do, and he will show you which path to take. Don't be impressed with your own wisdom. Instead, fear the LORD and turn away from evil" (Prov. 3:5-7, from the New Living Translation of the Bible).

Posted on April 6, 2013. Posted in Faith, Local News, Media | Tagged Mary Owen, missing hiker, Mount Hood, Shelli Owen.

Résumé of Tyler J. Francke
Self-motivated reporter with enterprising news sense. Prolific writer familiar with numerous areas of journalism, including state and local news, entertainment, business, religion, sports and politics. Experienced in photography, page layout, graphic design, social media and Web management. Works well with others and in leadership roles.

Awards and Career Highlights
Outstanding Young Journalist of the Year Award of Merit, 2012 | Missouri Press Association
Missouri Press Association Best News Story, 2012 | co-author
Missouri Press Association Best Photo Package, 2012 | contributing staff member
Broke a news story in November 2011 that was picked up by CNN, AP and hundreds of other media
Missouri Press Association General Excellence, Best News Content awards, 2011 | contributing staff member
Brooks Hamilton Spirit of Excellence Award, 2010 | awarded to one outstanding undergraduate journalist
Steve Grady Award for Opinion Writing, 2009 | first place for opinion writing
Leadership Award for Living Faith and Spirituality, 2008 | for work with several Christian student groups
Journey into Writing finalist, 2005 | for short fiction, "My Friend Jimmy"
Four-time Guy P. Gannett Scholar, Presidential Distinguished Scholar, MBNA scholarship recipient
Honors Societies: Phi Beta Kappa, Lambda Pi Eta, Psi Chi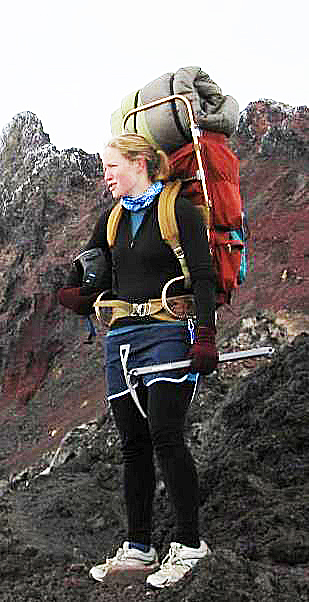 Mary Owen, equipped and dressed as she was found, including her shoes.
REPORT WITH PHOTOS AND MAPS, FROM PORTLAND MOUNTAIN RESCUE
Lost Mt. Hood Climber
March 29-30, 2013
The subject, a 23-year old woman who is a student at George Fox University, set out alone on Sunday March 24, 2013 at around 11:00 AM to climb Mt. Hood. She apparently did not leave a clear itinerary with friends who only knew that she might be spending a portion of her spring break hiking and climbing on Mt. Hood. She was wearing trail shoes and had only a plastic poncho for protection against wind and rain. She was not prepared to stay out over night. She ascended into deteriorating conditions above the Palmer lift, apparently became disoriented, and strayed far off course on the descent. She fell and hurt her leg that night and was unable to continue traveling the next day. She survived on snack food and water collected in her poncho until she was rescued on Saturday March 23, 2013..
Friends or family reported her missing on Thursday, March 28 and the Clackamas County Sherriff's Office located her automobile in the Timberline Lodge parking lot that evening. The sheriff requested assistance from Portland Mountain Rescue the next morning, Friday, March 29.
That day, a team of six PMR rescuers swept the Zig Zag Glacier below 8500 feet and cut for sign in Little Zig Zag Canyon and Sand Canyon. A team from Pacific NW Search and Rescue (PNWSAR) searched the Timberline Trail south and east to the White River Snopark. A fixed wing aircraft from the Hood River County Sherriff's Office conducted an aerial search and spotted possible tracks on the Reid Glacier that could be searched the following day. Search efforts were suspended shortly after dark on the 29th.

Four PMR rescuers were back in the field around 4:00 a.m. Saturday morning. A snow cat carried them to the top of the Palmer Lift. From there, they headed toward the summit to search the upper south side climbing routes. By 7:00 a.m., eight more PMR rescuers along with rescuers from the PNWSAR, Crag Rats, American Medical Response, US Air Force Parajumpers, Corvallis Mountain Rescue, and Eugene Mountain Rescue joined the search. Teams were dispatched to check the upper, lower and the western areas of White River Canyon, Illumination Saddle, terrain west of Mississippi Head down to Paradise Park and sections of the Timberline Trail.

Around 9:00 a.m., an Air National Guard Blackhawk helicopter arrived. After a quick briefing, the helicopter headed directly to the Reid Glacier to investigate the tracks spotted on Friday. They followed the tracks down the mountain below tree line where they spotted the subject at around 4800 feet elevation (marked on the map below). They hoisted her into the helicopter and transported her to Legacy Emanuel Medical Center in Portland. In television interviews, the subject reported that she suffered frost bite to her feet and had deep lacerations on one leg.

During this mission, the media reported that the Clackamas County Sheriff's Office was unable to locate a climber's registration form that the subject completed and filed in the climbers registry at the Timberline Day Lodge. Apparently, the US Forest Service Ranger responsible for the climber's registry removed out-of-date forms (including the subject's) from the file earlier in the week. Although climbers are asked to return to the registry to check out after their climb, few do. Therefore, the rangers assume that the many older registration forms that accumulate at the registry are for folks who made it home, but did not check in. These forms are filed for later compilation of statistics on mountain use. After this mission was over, the Forest Service located the subject's registration.
Also, the subject reported that she was surprised that no one started searching for her when she did not return at the time she estimated on her registration form. As posted in the climber's registry, no one monitors these forms, and there is no system to identify overdue climbers or to trigger a rescue. All back country users should leave an itinerary with a responsible adult. This subject survived six nights in rough, snow-covered terrain. Fortunately, weather was unseasonably mild that week. PMR urges back country travelers to carry equipment appropriate for the conditions and their objective and to build appropriate skills before climbing in technical terrain.
© 2001- 2013 Portland Mountain Rescue
http://www.pmru.org/pressroom/headlines/20130329-LostClimber.html
Mary Owen has told her story to the Clackamas County Sheriff's Office. Her lengthy video interview is recorded here:
http://www.youtube.com/watch?v=918-W6pmlyg
What can mountain climbers learn from this incident?
TraditionalMountaineering.org
TraditionalMountaineering is founded on the premise that "He who knows naught, knows not that he knows naught", that exploring the hills and summitting peaks have dangers that are hidden to the un-informed and that these inherent risks can be in part, identified and mitigated by mentoring: information, training, wonderful gear, and knowledge gained through the experiences of others.
"The value of TraditionalMountaineering to our Friends is the selectivity of the information we provide, and its relevance to introducing folks to informed hiking on the trail, exploring off the trail, mountain travel and Leave-no-Trace light-weight bivy and backpacking, technical travel over steep snow, rock and ice, technical glacier travel and a little technical rock climbing on the way to the summit. Whatever your capabilities and interests, there is a place for everyone in traditional alpine mountaineering."
--Robert Speik, 2000 to 2013
Recovering Mount Hood hiker suffered frostbite
The Columbian
Recovering Mount Hood hiker suffered frostbite
Monday, April 1, 2013

Mary Owen is recovering at Legacy Emanuel Medical Center in Portland from injuries she suffered while lost for nearly a week in the snow on Mount Hood.

The 23-year-old George Fox University student told The Oregonian that she hopes she doesn't lose toes to frostbite.

Owen had planned to climb the mountain with friends, but when those plans fell through March 24 she set out alone. She was caught in a whiteout near the summit, became lost on the way down and fell about 40 feet, injuring a leg.

She made a hollow in the snow to wait for help. She melted snow in a water bottle and survived on snack bars, crackers and ramen noodles.

She was spotted Saturday by an Oregon National Guard search helicopter.
http://www.columbian.com/news/2013/apr/01/recovering-mount-hood-hiker-suffered-frostbite/
Frost Bite Injuries can be Serious
PREDICAMENT
You're on a winter day hike when an unexpected blizzard develops. Visibility drops to nil, and you're forced to spend a night out in frigid temps. By morning, the storm has passed, but the stabbing pain in your feet has given way to stony numbness.

LIFELINE
Hike out to medical help immediately. If you suffer from frostbite–the formation of ice crystals between your skin cells–only one treatment will do: rapid thawing in a warm-water bath, administered by professionals. Don't attempt to thaw tissues yourself: Rubbing skin causes more cell damage, and exposing numb feet to a campfire can lead to serious burns. Until you reach help, it's actually crucial that your feet stay frozen. Once re-warmed, frostbitten areas become so painful and swollen that walking is impossible–and if thawed areas re-freeze, tissue death and amputation are all but certain. To keep feet from thawing as you walk out, adjust your layers so your body feels slightly cool. (Don't dress down so much that you risk hypothermia, of course.) Quickly improvise crutches if hiking is difficult. If you cannot keep feet completely frozen, remove socks or boot insoles to accommodate the swelling and continue walking out.
http://www.backpacker.com/how_to_survive_frostbitten_feet/skills/12684
Frost Bite Injuries can be Devastating
http://traditionalmountaineering.org/Report_Lost_DanWitkoski.htm
Times have changed, each hiker should carry their cell phone!
Ordinary cell phone coverage has improved, year by year, to the time of this writing in 2012 - see below for "The Rest of the Story". Check your own cell coverage in your favorite backcountry areas. Much of the high desert and the urban Wilderness now is covered by Verizon using CDMA code. The cell phones from other (urban) providers are not able to "see" CDMA towers and will not connect.
Cell communication equipment used by many Providers services Mt. Hood. You should have good cell phone communications. If you are in a hollow or behind a ridge, just move a few feet!
A fully charged cell phone signal from the right Provider can take the Search out of Search and Rescue.
Each person in a group should carry their own simple ordinary personal cell phone. Solo hikers can carry a very inexpensive second cell phone battery.
Some "smart phones" are sold with a second back up battery. Most of the cell phone batteries exhausted in search and rescues, are in so called Smart Phones. It seems that showing a map of the major trails, names and locations of prominent points, photos of views from points on the trail, keeping an electronic compass going, taking your photos and playing your tunes, while searching for better tower signals is more a phone battery can bear, no matter how smart the phone is.
--Robert Speik, 2013
The rest of the story
Deschutes County Sheriffs Search and Rescue Volunteer Coordinator Al Hornish, a 12 year veteran of DCSAR, stated the following in an interview published on January 26, 2012 in the Bend Oregon Source Weekly: "We have grown a lot over the past decade." "The nature of missions has changed as well. There are more Rescues and less Searches, mostly because of the better technology available."
Read More.
--Robert Speik, January 26, 2012
Here are some Basic suggestions for all backcountry travelers
1. Practice the Four Basic Responsibilities of the Backcountry Traveler. They work! Basic Responsibilities
2. Carry the new Ten Essential Systems, sized for the forecast weather and the adventure in a light day pack. This includes a map, compass and GPS and the skills to use them. In the winter, this includes enough extra insulation and waterproof clothing to keep you dry and warm if you become stranded. In snow, you must have a shovel and insulating pad and the skills to make a shelter in the snow to avoid hypothermia and frost bite damage. It works! Ten Essential Systems
3. Carry your fully charged digital cell phone and periodically check where it can communicate with any cell towers to assist authorities to triangulate your position from cell tower pings. (Most cell providers do not use internal cell phone GPS radio signals to locate customers under FCC E911 regulations - they use triangulation). Cold disables batteries. If the weather is cold, carry the cell phone in a pants pocket near the femoral artery. Report your UTM NAD27 coordinates, your condition, the conditions where you are and discuss your plans with SAR. Ordinary Cell Phones If you are adventurous and often may be out of cell tower range, carry a $100.00 SPOT. SPOT-2 Satellite Messenger
4. Always stay found on your topo map and be aware of major land features. If visibility starts to wane, reconfirm your bearings with your map, compass and GPS and quickly return to a known location. A GPS is the only practical way for a trained individual to navigate in a whiteout or blowing snow. Lost Mt Hood Climbers
--Robert Speik, 2013
A suggested minimum standard news advisory for all backcountry travelers!
"We would like to take this opportunity to ask our visitors to the backcountry of Oregon to Plan for the unexpected. Each person should dress for the forecast weather and take minimum extra clothing to provide protection from a drop in temperature and possible rain or snow storm or an unexpected cold wet night out. Each person should carry high carbohydrate snacks, two quarts of water or Gatorade, a topo map and declination adjusted base plate compass and an optional inexpensive GPS (and the skills to use them together). Each person who has a cell phone should carry their ordinary charged cell phone (from a service provider that has the best local backcountry coverage). An inexpensive SPOT-2 GPS Satellite Communicator is a good additional option for some. Each person should carry their selected items from the new 'Ten Essentials Systems' in a day pack sized for the individual, the trip, the season and the forecast weather."

"Visitors are reminded to tell a Responsible Person where they are going, where they plan to park, when they will be back and to make sure that person understands that they are relied upon to call 911 at a certain time if the backcountry traveler has not returned. Call 911 as soon as you become lost or stranded. You will not be charged. Do not try to find your way, becoming benighted, exhausted, or worse yet - wet. Your ordinary cell phone call to 911 and conversation with SAR, can take the 'Search' out of Search and Rescue."
--Robert Speik, 2013



WARNING - *DISCLAIMER!*
Mountain climbing has inherent dangers that can, only in part, be mitigated
Read more . . .


MOUNT HOOD
Mount Hood - Missing hiker Mary Owen found alive after six nights alone
Mount Hood - Lost Hood climber posts to Facebook before rescue
Mount Hood - Climber slips and slides down icy face on Mount Hood from the Hogsback
Mount Hood - Climber dies in 1,000' solo fall from the Hogback
Mount Hood - Experienced Climber dies in solo fall on hard snow
Mount Hood - Analysis of the December 2009 deaths of three climbers on Reid Glacier Headwall
Mount Hood - Fatal ice fall below the Pearly Gates during warming winter weather
Mount Hood - Fatal rock fall below the Eliot Glacier Headwall during summer conditions
Mount Hood - Climber falls 300 feet descending the South Side from the summit
Mount Hood - Climber falls descending Mazama Chute from summit
Mount Hood - Lessons learned from the latest lost Mt. Hood climbers
Mount Hood - Two climbers become lost descending the South Side
Mount Hood - Final Report to the American Alpine Club on the loss of three climbers in December 2006
Mount Hood - Veteran climber injured during ice axe arrest on Mt Hood
Mount Hood - Climber injured by falling ice, rescued by helicopter
Mount Hood - Three climbers, their MLU and a dog "rescued"
Mount Hood - Three North Face climbers lost
Mount Hood - What happened to the three climbers on the North Face?
Mount Hood - Solo climber falls from Cooper Spur
Mount Hood - Climbing accident claims three lives -Final Report and our Analysis


Mount Hood - Notable mountain climbing accidents Analyzed


Mount Hood - Solo hiker drowns while crossing Mt. Hood's Sandy River
Mount Hood - Solo climber slides into the Bergschrund and is found the following day
Mount Hood - The Episcopal School Tragedy


Mount Hood - Experienced climbers rescued from snow cave
Mount Hood - A personal description of the south side route
Mount Hood - Fatal avalanche described by Climbing Ranger
Mount Hood - Avalanche proves fatal for members of Mazamas climbing group
Mount Hood - Snowboard rider dies on Cooper Spur
Mount Hood - Fatal fall on snow, Cooper Spur Route
Mount Hood - Fatal fall on snow from the summit
Mount Hood - Climb shows the need for knowledge
Mount Hood - Climb ends in tragedy