TRADITIONAL MOUNTAINEERING ™
www.TraditionalMountaineering.org ™ and also www.AlpineMountaineering.org ™

™
FREE BASIC TO ADVANCED ALPINE MOUNTAIN CLIMBING INSTRUCTION™
Home | Information | Photos | Calendar | News | Seminars | Experiences | Questions | Updates | Books | Conditions | Links | Search

Touching the Void, by Joe Simpson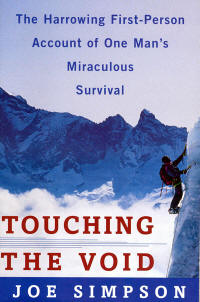 lick to enlarge

Touching the Void, by Joe Simpson
A harrowing first person account of one man's miraculous survival best describes "Touching The Void" by Joe Simpson. This is truly an astounding account of suffering and fortitude brought about when disaster struck after Joe Simpson and his climbing partner, Simon Yates, had just reached the summit of a remote 21,000 foot peak in the Andes. While descending, Simpson plunged off the vertical face of an ice ledge, breaking his leg.

As darkness fell and a blizzard raged, Yates began to lower his friend to safety, but the rope jammed and Yates was forced to cut the rope, moments before he would have been pulled to his own death. Yates, certain that Simpson was dead, was able to successfully return to their base camp.

Simpson had survived the fall, but was crippled, starving, and severely frostbitten and was trapped in a deep crevasse. His description of his escape from the crevasse is an astounding feat of will power and mountaineering skill that is the highlight of this "will to survive" account.

Finally, Simpson crawled, and hopped to make his way back, reaching base camp shortly before Yates planned departure. This is an epic tale of fear and suffering and is a testament to unshakeable courage and friendship. This book was originally published as a hardback in 1989, but is now available in paperback at your favorite book store.
--Review by Bob Mahoney

Note: My friend Bob Mahoney loaned me this book a while ago. I could not put it down! The movie, just released, has been given four stars by Roger Ebert. If you are not convinced, here are some additional reviews from IMDb. See below. For a technical analysis of this event, see Notable mountain climbing accidents revisited




Manhattan
March 10, 2004
Summary: still in my seat
"Joe Simpson's will to survive, kept everyone in my theater until the last credits. And it was a big theater with a true screen.

It was as if everyone was looking for something in the credits that would make a normal guy out of Joe Simpson. But the credits ended, and you're left empty handed. Except for the note where it says he's still climbing. At that point, he's like a Steve Young, who after his 100th concussion, still goes back on the field. He's not normal, and you don't ever have to think he is.

Joe Simpson hits the apex of the human spirit. And it's nice to know it's as high as the death picking mountains around him. And when the point comes in the film where he concedes the situation got so bad that finally he really lost something inside, for the rest of us, you have to believe if it were you, that point would have happened days earlier. In fact, it never would have happened, because when you leave the theater, you carry credit cards, not carabineers. And a big climb for you at best is El Capitan.

This movie is worth at a bare minimum the time it takes to watch it. The ticket price is nothing."



Los Angeles
February 23, 2004
Summary: Intense and inspiring

"The facts surrounding the events in this film are readily known, so its a surprise that this film commands the emotional power and profundity that it clearly does, particularly since it employs a much overused docudrama format.

Harrowing and emotionally compelling, this film is a testament to the film maker's choice to be as simple and unflashy as possible with what can only be described as an epic tale of endurance. Not a film about climbing, the film carefully avoids exploration of the reasons why these men climb. The story is about different questions: about what men do, need to do and what they can endure in order to survive.

The choices which are made defy the imagination's attempt to put oneself in a similar place. One can only marvel at the the emotional and physical peaks which Joe Simpson had to scale in order to crawl down from an enormous, freezing Peruvian mountain with a broken leg for four days without food or water. The reenactments are superb; beautifully shot and dynamically performed.

The film also places a question in the mind of the viewer regarding Simon Yates' decision to cut the rope attached to Simpson to avoid being dragged over down the mountain himself. (In fact, the question is answered, not just by Simpson, who claims he would do the same thing, but by the film itself, which seems to agree). It's a film about survival, which is an end in itself. At the conclusion of the film, Simpson's ordeal eclipses Yates', but Yates' agony continues a slow burn long after the film is over. It was the right thing to do (I believe), but how does he live with it? Not easily, apparently.

I was deeply enriched by this film. A powerful, emotionally exhausting and ultimately a positive statement about the capacity for an individual to withstand unfathomable pain and despair, yet still function. The film places this drama quietly within a complex and ambivalent moral question and allows the viewer to find their own way down. The highest recommendation."


Chicago, Illinois
February 15, 2004
Summary: Making the incredible come to life
"Even before I read Jon Krakauer's Into Thin Air, mountain climbing was very high on my things-I-never-want-to-do-in-my-entire-life list. However, because of that book, I was certainly fascinated by the endeavor. Although the contemporary IMAX documentary Everest was fine, it didn't satisfy me. I wanted to confirm that the images Krakauer conjured in my mind were correct.

That is cured by this excellent film. The other comments here do a swell job of encapsulating the story. I think the director here found the best way to tell this story. I think what really makes this work is that it takes you right to the mountain. Yes, the decision to 'recreate' may not please everyone. But you need to see the steep drops, the seemingly bottomless crevasses, and the picks and boots attempting to gain hold on the icy surfaces to fully appreciate the magnitude of what happened. The contrast of the visceral thrill packed recreations and the measured matter-of-fact stories of Joe and Simon provides balance and manages to heighten the drama without becoming histrionic.

A frightfully great movie. Literally."


What is the Internet Movie Database?
"The Internet Movie Database (IMDb) is a HUGE collection of movie information. We try to catalog every pertinent detail about a movie, from who was in it, to who made it, to trivia about it, to filming locations, and even where you can find reviews and fan sites on the web. We then do our best to present this information in a manner that is easy to search and access.

The IMDb started as a hobby project by an international group of movie fans (see history), essentially something by movie fans for movie fans. And despite our incredible growth, we retain that sensibility. The weekly editorial staff meeting is lunch and a movie. All the weekly status reports detail three things: what we did for work, what we did for fun, and what movies we saw. And our staff is still spread around the U.S. and Europe.

We are some of our site's most hardcore users. Our managing director claims to have seen over seven thousand movies. Most of our people could write or win a movie trivia game show. One of our proposed slogans was "we just love movies." As big and intimidating as we may seem because of our millions of monthly visitors, we're just a bunch of hardcore movie fans who still can't get over the fact that we're getting paid to keep improving this tool we use so much for our own pleasure."

Touching the Void In Review
The Mountaineers News
By Garth Jacobson
Convincing a Mountaineer to attend another "climbing" movie is hard after seeing Vertical Limit or Cliffhanger. But clearly Touching the Void is not just another climbing movie. They finally got it right, not only from a cinema perspective, but also as a solid representation of alpine and ice climbing.

The movie presents a docudrama of Joe Simpson's book Touching the Void. The director, Kevin MacDonald develops the movie though recreations and interviews with Joe Simpson and Simon Yates. They describe their first ascent climb up the 20,000+ feet Siula Grande in the Peruvian Andes. For those of you who have not read the book, the ascent involved mixed climbing up extremely difficult pitches in bad weather conditions. After they attained the summit, the survival adventure began in earnest when Simpson severely broke his leg and had to be lowered down a steep face. On the last lowering pitch, Yates faced the dilemma of either a) cutting the rope and dropping Simpson into a crevasse, or b) being pulled over a cliff and having them both perish. He cut the rope. The remainder of the epic climb involved Simpson's arduous escape from the crevasse and crawl back to camp across a glacier and the terminal moraines. Despite knowing how it ends the movie still raises the hair on your neck and sucks the air out of your lungs. It clearly is a must-see movie for any alpine climber.

The movie and book touch on ethical philosophical questions that hopefully few of us will ever face. According to second step of the Mountaineering Oriented First Aid (MOFA) we should approach the victim safely. Following this logic, during the process of rescue when faced with the question of him or me, Simpson suggests the pragmatic answer that justifies saving your own life first. Simpson says he would have cut the rope if he faced that same dilemma. But the guilt and ridicule that followed
from having made that decision haunted Yates and led to Simpson writing the book to exonerate his climbing partner.

Other take-home messages include never overextending yourself and remembering that most climbing accidents happen on the way down. Perhaps the most important lesson comes from the efforts of Simpson to self-evacuate and survive against seemingly impossible odds. Simpson described how he had to continue to make decisions to keep going and find a way out of the crevasse when he seemed hopelessly trapped. He also describes setting very small goals in order to keep going and not give up hope. So if any of us are ever faced with a similar situation whether it be crawling with a shattered leg or cutting off our hand to escape from a crushing boulder, we should always remember that we hold an inner strength to survive that defies logic and explanation. But the important thing is to find ways to continue to maintain hope so you can survive.

If you haven't seen the movie then I highly recommend seeing it. When the DVD comes out it would be worth considering for a primer for rescue methods. It also justifies the Mountaineers' attempts to instill safety and improve skill sets so that our climbing thrills don't exceed our skills. We never want to end up on either end of a cut rope.

Touching the Void - An Analysis by Robert Speik for TraditionalMountaineering.org
Joe Simpson and Simon Yates- 1985 Touching the Void, Mountain climbers Yates and Simpson are descending a hard route in the Peruvian Andes when Simpson broke his leg and his partner was forced to do the unthinkable: Yates cut the rope between them. Simpson survived the fall. He had fallen into a crevasse but managed to crawl out and crawl back down the glacier and moraines to camp. It took him three and a half agonizing days.

1. What is meant by the term "extreme mountaineering?
Exceptional men and women who attempt to climb remote, high and impossibly steep mountains are doing extreme mountaineering.

2. What inspired Joe Simpson and Simon Yates to climb the Siula Grande?
Siula Grande certainly qualifies as an extreme peak. It is located one days drive from Lima and over two days hike into the Cordillera Huayhuash in the Peruvian Andes. The objective dangers are very significant. The steep ice covered rock of the face is swept by avalanches of powder snow from the almost continual regional snowfall. The fluted ridges of Siula Grande are extremely dangerous, knife sharp and festooned by huge hidden cornices. This mountain has attracted extreme alpinists from around the world. In 2002, Marjan Kovac and Pavle Kozjek (Slovenia) and Aritza Monasterio (Spain) climbed a new route on the northeast face of Siula Grande. For Simpson and Yates this was an affordable, do-able and grand adventure.

Why do mountaineers and explorers undertake extreme adventures? Here are a few reasons taken from the book "Beyond Risk, Conversations with Climbers", by Nichols O'Connell - "Because it's there", a throw away reason attributed to Andrew Mallory; for that "delicious queasy feeling in your stomach when you first see the mountain", Willy Unsoeld; because he is "addicted to danger", Jim Wickwire; "in an adventure, there must be the component of the unknown", Walter Bonatti; "Being afraid is part of the whole deal. Fear can be stimulating, you can solve problems. And when you are afraid and have overcome it, it adds to the satisfaction. Without this satisfaction, it might not be worth all the work." Sir Edmund Hillary

3. Can you explain why Simpson and Yates were tied together when they attempted the ascent of such a dangerous mountain?
The mountaineers' rope is the symbol of the shared companionship of the climb according to Jim Frush, alpine climber and President of The American Alpine Club. It is the symbol of a bond between climbing partners. Primarily, however, it is an important tool that when properly used, can facilitate the climbers travel over difficult terrain and minimize their risk from objective dangers that can not be controlled by the climbers' skill, experience and athleticism.

4. How did Joe Simpson injure his leg?
Joe Simpson broke his leg after a short un-belayed fall down a small ice cliff as the pair descended the heavily corniced knife edged ridge following their successful summit bid. The two long bones of his lower leg were driven upward, through his knee joint. The pain was sickening. He immediately feared it was a fatal injury, he and his partner were so high and un-supported on the terrible ridge.

Simpson does not write that he asked for a belay. That being said and as a respectful exercise only, Yates was aware that he was downclimbing a cliff and he could have provided a safe sitting-hip belay in a moment and Simpson would have had an un-eventful dynamic slid to the bottom of the little cliff and not an un-belayed 20 foot fall to a shattered knee..

5. What solution did they come up with to lower Simpson down the mountain?
At first, Yates stamped a trench in the powder snow so that Simpson could drag himself down the easing ridge line. It was slow, painful going. Finally, the two agreed Yates would be able to lower Simpson straight down the snow slope, first for 600 feet then after short traverse, 3,000 feet almost to the Siula glacier and the moraines leading back to their camp. They were climbing with twin 150 foot ropes. When tied together end to end, the rope length could lower Simpson 300 feet straight down the slope. When the first 150 feet had past, Simpson would anchor himself to the snow slope permitting Yates to pass the knot by removing the first rope and re-attaching his belay plate above the knot and continue lowering his partner on the second 150 foot rope. After being lowered 300 feet, Simpson would prepare Yates' belay seat by scooping a hole in the unconsolidated snow while Yates carefully down-climbed the slope. The down-climbing and lowering went slowly but smoothly until darkness fell and heavy falling snow blocked the visibility into the void below them.

6. Why did Simon Yates ultimately cut the rope?
As Yates lowered Simpson straight down the slope into the gloom and falling snow, Simpson slid silently over an unseen ice cliff into the darkness. His full weight came on the rope attached to Yates. Yates continued to lower him slowly, with frost damaged hands gripping the icy rope until the mid point knot came close to the belay plate. Still came no relief from his partner's weight now any signal on the taught rope leading into the Void. Yates began to slip in his unstable belay position as sloughing snow began to fill his belay hole dug in the powder snow. Yates, with frozen hands and being pulled from his seat was unable to accomplish any of several common self rescue techniques that could have been used to pass the knot through the belay plate and continue lowering Simpson the second 150 feet into the darkness. Desperate, he found the knife in his pack and cut the rope that was dragging him down. Freed from the rope, he dug a cave and tried to sleep until daylight. Dehydration and fatigue overcame him. Neither climber had drunk water all that day.

7. What happened to Simpson after the rope was cut?
Simpson fell perhaps 50 feet to powder snow at the foot of the ice cliff and then slid again and fell perhaps another 50 feet onto powder snow in the crevasse or Bergschrund that lay at the foot of the cliff. He anchored himself to the ice wall of the crevasse and tried until daylight to climb up the ice wall. Finally, as daylight came, he decided to rappel down to a possible ledge of snow, below him and out of sight, that might lead to a snow ramp tapering out the end of the crevasse. It was a do-or-die courageous act, because he would not be able to climb back up the rope. It worked! He crawled out the end of the crevasse, saw the footprints of his partner come and go and knew that Yates had given him up for dead. Simpson realized he must save himself. He began to hop and crawl the miles back to camp over crevassed glacier ice and rough bolder strewn moraines, his injured leg hugely swollen and painful. He broke his three-day-long ordeal into short agonizing sections. He reached his companions just hours before the tents were struck. It took more than three days by mule and truck for him to reached a hospital in Lima and another two days before his insurance cleared and his hugely swollen leg could be medically treated!

8. Can you comment on the reaction of the climbing community to Yates' decision to cut the rope?
The climbing community was guided by Simpson's acceptance of Yates' symbolic decision to cut the rope. Most climbers can not really relate to the conditions these two men endured. Yates writes that he considered trying to hold the frozen rope with his ice cold hand, release the belay plate and pass the knot around the belay plate. He writes that the pressure of the cascading powder snow pushing him out of his belay hole and the condition of his frostbitten hands precluded using this technique. I have not been there or done that.

That being said, and as a respectful exercise only, what if Yates had had a common self rescue prussic loop attached from his harness to the rope beyond the belay plate. (Simpson used a prussic loop to try to climb up out of the crevasse.) He would have been able to jamb the prussic loop, easily pass the rope knot around the belay plate in minutes with even one hand and to lower Simpson (cutting the jammed prussic loop if necessary) the actual 100 feet to the stance at the bottom of the unseen cliff and the crevasse. He could have felt the rope tug signals showing that Simpson was OK, slept the night and climbed down to the lip of the abyss as he did, climbed around the cliff and made his way to the end of the crevasse as he did. Simpson could have popped out of the crevasse like a cork, on belay in the warm sunshine and another climbing epic would have gone un-recorded. (In another context in his book, Simpson refers to the famous account Tony Kurtz who, while dangling over the North Face of the Eiger, was able to fight the frozen rope and jammed knots with one hand for hours with the recently invented prussic knot before he finally died a few feet from safety - read The White Spider by Heinrich Harrer.) It could be noted too, that Yates retained 150 feet of climbing rope which he later used to save himself by rappelling a final pitch from a remaining ice screw, down to the glacier at the end of the crevasse.

9. Do you think this reaction was justified?
Few climbers are able to comment technically on this particular incident. Fewer still are willing to comment. Most people who express concern are simply expressing the importance of the "bond" that is symbolized by the climber's rope, tied in to each climber. That being said, the rope is primarily a climbing safety tool, not a simple symbol.

Touching the Void is not the first such epic of broken legs high on a remote peak. Read "Self Help on the Ogre", a chapter in The Mammoth Book of Mountain Disasters, edited by Hamish MacInnes, Carroll and Graf, New York, 2003.

10. Twenty years after his experience on the Siula Grande, Joe Simpson remarked "Gravity is a wonderfully democratic thing. it doesn't know how good a climber you are once you start falling." Do you agree?
Sure. There are lots of rueful comments like this: "Gravity does not know how much your equipment cost." "The down side of mountaineering is the elevation gain."

Note "Sliding down a steep snow slope is like falling straight off a cliff, less the small friction of your clothing and gear". That being said, there are basic technical maneuvers that can possibly instantly stop a fall on steep snow - learned and practiced ice axe self belay and self arrest techniques. Falls on rock can be caught by climbing ropes, anchored literally by nuts and bolts. --Robert Speik

Copyright© 2004 - 2009 by Robert Speik. All Rights Reserved.

Read more . . .
Notable mountain climbing accidents revisited


The Sport of Alpine Mountaineering


Climbing Together


Following the Leader


The Mountaineer's Rope


Basic Responsibilities


The Ten Essential Systems


South Sister, Middle Sister, North Sister (the Sinister Sister) and Broken Top, about 25 miles west of Bend, Oregon