TRADITIONAL MOUNTAINEERING ™
www.TraditionalMountaineering.org ™ and also www.AlpineMountaineering.org ™

™
FREE BASIC TO ADVANCED ALPINE MOUNTAIN CLIMBING INSTRUCTION™
Home | Information | Photos | Calendar | News | Seminars | Experiences | Questions | Updates | Books | Conditions | Links | Search

The Outdoor Knots Book by Clyde Soles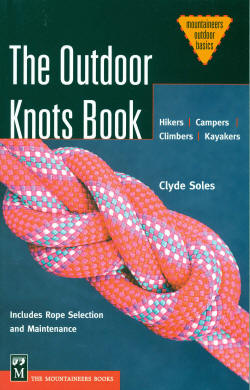 The Outdoor Knots Book by Clyde Soles
This is a great little book!
I will admit, as a traditional climber, I was way put off by the title: "The (just another) Outdoor Knots Book".
I should have know that Clyde Soles, formerly Senior Editor for Rock & Ice, now author of Rock & Ice Gear: Equipment for the Vertical World; Climbing: Expedition Planning; and other titles would not write just another knots book for "Hikers, Campers, Climbers and Kayakers".
The first thing I noticed were the photos of a nice outdoor girl making up a traditional mountaineer's coil. Then I learned a quicker way of stowing my Cordalette. Then I saw the nice outdoor girl modeling a bowline on a coil, tying in with rope alone - a lost traditional skill!
Soles notes that he too got along fine for years with just a few knots, but learned more rope and webbing skills and now climbs faster and safer.
He validates some of the techniques I have used in the mountains, such as joining two slings with a girth hitch. I had always wondered if this was technically correct.
He shows a quick way of forming an adjustable clove hitch with one hand so you can hang on to the rock with the other as you tie into an anchor. And he explains why and where you use a clove hitch while climbing.
Soles is a photographer as well as a writer. All of the illustrations are photos of the actual movements to create the knot. (His mug shot on the last page About the Author, is as unpretentious and revealing as his illustrations.)
Buy this nice book and try all 40 knots and techniques. Read this book before you buy your next rope or new slings. You will save the modest book price ten times over!
--Robert Speik
Copyright© 2004 by Robert Speik. All Rights Reserved.

Read more . . .
Notable mountain climbing accidents revisited

The Sport of Alpine Mountaineering


Climbing Together


Following the Leader


The Mountaineer's Rope


Basic Responsibilities


The Ten Essentials


Our Mission


South, Middle, and the sinister North Sister and Broken Top, about 25 miles west of Bend, Oregon
Copyright© 2004 by Robert Speik. All Rights Reserved.