TRADITIONAL MOUNTAINEERING ™
www.TraditionalMountaineering.org ™ and also www.AlpineMountaineering.org ™

™
FREE BASIC TO ADVANCED ALPINE MOUNTAIN CLIMBING INSTRUCTION™
Home | Information | Photos | Calendar | News | Seminars | Experiences | Questions | Updates | Books | Conditions | Links | Search

The Trad Guide to Joshua Tree by Charlie and Diane Winger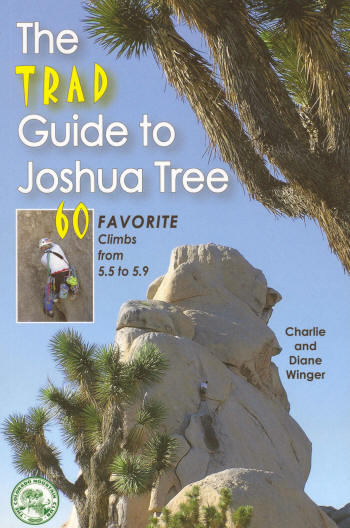 The Mountaineer's Books, ISBN 0-9724413-9-5
The Trad Guide to Joshua Tree by Charlie and Diane Winger
At last! A guide book for more of us!
The Trad Guide to Joshua Tree contains 60 favorite climbs from 5.5 to 5.9. These climbs will test the abilities of rock climbers able to climb bolted routes with higher ratings and yet they are within the capabilities of the majority of dedicated week end warriors who have other lives to live back in the big cities.
In the 1960s, before harnesses or rock shoes had been discovered, only a few individuals and groups climbed in the Monument. The first Climber's Guide to Joshua Tree was published in 1970. The Second and Third editions followed and the number of routes and climbers proliferated. Looking at the photos of climbers in our 1979 edition by John Wolfe and Bob Dominick, we find that half the climbers still wore boots and swami belts!
In the late 1970s when we were learning to rock climb in boots to prepare us for the mountains, other folks at Joshua Tree were beginning to buy special shoes with the new sticky rubber soles from Europe. Some were not interested in the summits, but were dedicated to rock climbing as a sport in its self.
The Trad Guide is profusely illustrated with color photos and maps to the great rock formations that dot the Monument. Route descriptions of the trad climbs are clearly marked on photos of the cracks and slabs that make JT unique. Each section has maps and notes on where to drive to park and camp and climb for a week or a weekend.
Temperatures at JT in the summer can top 100 degrees, so each route is noted for the best time of day to use the natural shadows and avoid the relentless desert sun.
Equipment lists, approach routes, general information on the climbs are printed on pages above a place for your personal route notes and the dates of your successful climbs.
Descent routes are included for every route, often giving the option of walking off or rappelling. These are not bolted routes at JT. Where bolted rappel anchors are placed, you are directed to them so that you will not have to leave gear or slings at the top of a route. If you wish to rig an upper belay, you are advised to make your own. A few of the routes do have bolt anchors at the top.
All of these trad climbers are photographed wearing helmets.
This book called to me to take a sentimental journey back through time. I want to go back to the great times we had a JT!
Buy this book and and take a road trip to JT for me.
--Robert Speik
Copyright© 2004 - 2009 by Robert Speik. All Rights Reserved.

Read more:


The Sport of Alpine Mountaineering


Climbing Together


Following the Leader


The Mountaineer's Rope


Basic Responsibilities


The Ten Essentials


Our Mission


South Sister, Middle Sister, North Sister (the sinister Sister) and Broken Top, west of Bend, Oregon
Copyright© 2004 - 2012 by Robert Speik. All Rights Reserved.