TRADITIONAL MOUNTAINEERING ™
www.TraditionalMountaineering.org ™ and also www.AlpineMountaineering.org ™

™
FREE BASIC TO ADVANCED ALPINE MOUNTAIN CLIMBING INSTRUCTION™
Home | Information | Photos | Calendar | News | Seminars | Experiences | Questions | Updates | Books | Conditions | Links | Search

Read more:
Phil's Trail has put Central Oregon on the Mountain biking map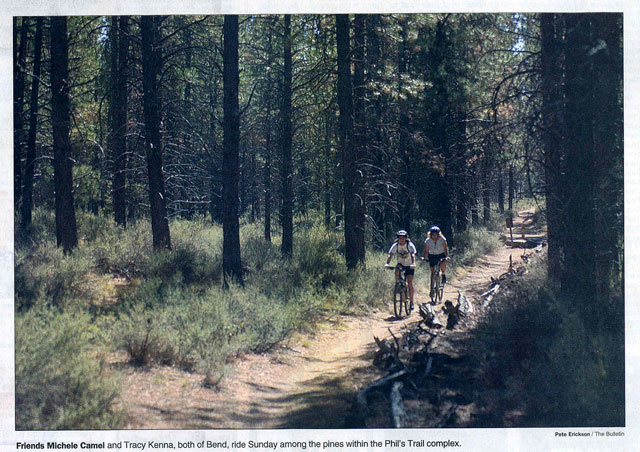 MIXING IT UP
Phil's Trail System Offers Variety In 'Paradise'

The Bulletin
By Jim Witty
Summer, 2003

And it's back open now after a fire closure rendered a big chunk of the system off-limits to fat tire bikers this summer. While many die-hard cyclists were left grumbling when the Forest Service shut, down the heart of the Phil's network because there were huge piles of slash left on the ground following the Katalo timber thinning operation, they're back out there en masse enjoying the best riding days of the season.

Fall, which despite the unseasonably warm temperatures, began yesterday, and it's my favorite time of year to saddle up and hit the dirt. We've got a month and change of prime riding ahead before old man winter sends us rolling out into the desert or up the mountain looking for powder.

If we get a little rain and when temperatures drop, the trails west of Bend will be packed down just right, the summer dust will settle and the riding will be nothing short of sublime.

Imagine: Fifty degrees. Bluebird days. And a chilly deadline pending. The time couldn't be more ripe to get out and ride.

Phil's is a spidery array of single and doubietrack that roughly forms a triangle of trails - more than 300 miles worth by some accounts - bounded by Century Drive to the south, Skyliners Road to the north, Bend to the east and the dirt helipad to the west. If you connect up with the cross-country skitrails that butt up against Phil's to the west and south, you've got a mind-boggling, kidney-jiggling, teeth gnashing network that rivals the best in the world.

And the word - for better or worse - is out. Word of mouth and more than a little national media exposure have mountain bikers from Baltimore to Burbank mentioning Bend and Mecca's like Moab and Crested Butte in the same breathy, superlative-laden sentences.

This, for instance, from Bike Magazine a couple of years ago: "At the risk of furthering the already lemming-like rush of bronzed athletes to the area, I'm gonna go out on a limb and say there is most likely no other place on Earth with such a variety of riding and such a healthy bike culture.

"I apologize to the residents of Bend but you live in paradise."

Whether or not you chose to accept writer Mike Ferrentino's apology is up to you. Bend's probably always been a paradise, but it's only recently become the stuff knobby tire pilgrimages are made of.

During the early '80s, a handful of hard-riding pioneers began blazing trails out west, writing mountain biking history one game trail at a time.

Phil is Phil Meglasson, Woody (of Woody's Way renown) is Bob Woodward, Jim (Jim's Trail) is Jim Terhaar and Ben (Ben's Trail) is Olympian and perennial Pole Pedal Paddle winner Ben Husaby.

What started as an informal - even bootleg - bunch of trails, now has Forest Service blessing and makes a serious contribution to the local tourist economy.

Want to check this out for yourself? If you don't have a mountain bike, you can rent one at one of the local bike_ shops. If you don't have a map, I'd recommend the one by Adventure Maps (about $9 at the shops). If you're not sure where to go once you get to the trailhead, follow the numbered signs at key junctions along the way.

Whenever I ride here, I usually go in with a pretty specific plan of attack and end up getting creative. It pays to remember that Skyliners Road is to the north, Century Drive is to the south and you're somewhere in a pie shaped wedge in between.

If you've never ridden Phil's Trail (or any of the kabillion or so offshoots), you're missing the best mountain biking Central Oregon has to offer. It has bomber singletrack, technical rocky sections and snakey flats.

And the High Desert, ponderosa pine, manzanita and basalt scenery isn't bad either.

But don't tell anyone.
--Jim Witty
IF YOU GO

GETTING THERE: To reach the Phil's Trail trailhead, drive or ride about 2.5 miles west on Galveston (which turns into Skyliners) from the traffic circle at Galveston and 14th in Bend, until you reach a paved road on the left that's marked with a biker icon sign. A half-mile down, the road intersects with the old Brooks-Scanlon Logging Road. Park in the parking lot at the junction where the elaborate system of singletrack begins.
ROUND-TRIP DISTANCE: Anywhere from a 1-mile cruise to a 20-mile-plus epic.
DIFFICULTY: Easy to arduous.
ACCESS: Bikes.
PERMITS: A Northwest Forest Pass is required to park at the trailhead.


subscribe for many more stories like this

Read more . . .
OK, what is TraditionalMountaineering doing reporting on Mountain Bicycling? Well, the short answer is lots of traditional mountaineers get to the mountains on bicycles! German alpinists rode their bikes loaded with their gear, to Switzerland in the 1930s, to assault the North Face of the Eiger. More recently, Goran Kropp rode a bicycle from Sweden to Mount Everest, climbed Everest solo and rode his bicycle back to Sweden!
The long answer is I have been impressed at the way our own mountain bicycling club, COTA, (Central Oregon Trails Alliance) does things here in Bend. Their trails west of Bend are superb. Get a map of Mountain Bike trails and ride or walk some yourself. These single track trails are a joy, and the bikers are polite and "glad to see ya". Until I can write more here, check the links below and see for yourself.
COTA: Mountain bicyclists share the trials!
COTA reports on mountain bike trails
IMBA helps COTA build trails
Geocaching along the mountain bike trail to Smith Rock
The Sport of Traditional Alpine Mountaineering
"Traditional Alpine Mountaineering is basically an aerobic sport. Climbing, jogging, running, hiking the hills, backpacking, mountain biking, back country skiing, snowshoeing, telemark skiing, adventure racing and similar sports all act together to improve aerobic capacity, strength, balance and athleticism. Some of my companions were born with these gifts; I had to work hard at improving my abilities and to climb well. What workouts are you enjoying?"