TRADITIONAL MOUNTAINEERING ™
www.TraditionalMountaineering.org ™ and also www.AlpineMountaineering.org ™

™
FREE BASIC TO ADVANCED ALPINE MOUNTAIN CLIMBING INSTRUCTION™
Home | Information | Photos | Calendar | News | Seminars | Experiences | Questions | Updates | Books | Conditions | Links
Deschutes National Forest and BLM OHV Recreation Trails 2003
The extensive OHV recreational trail system adjoining the proposed Badlands Wilderness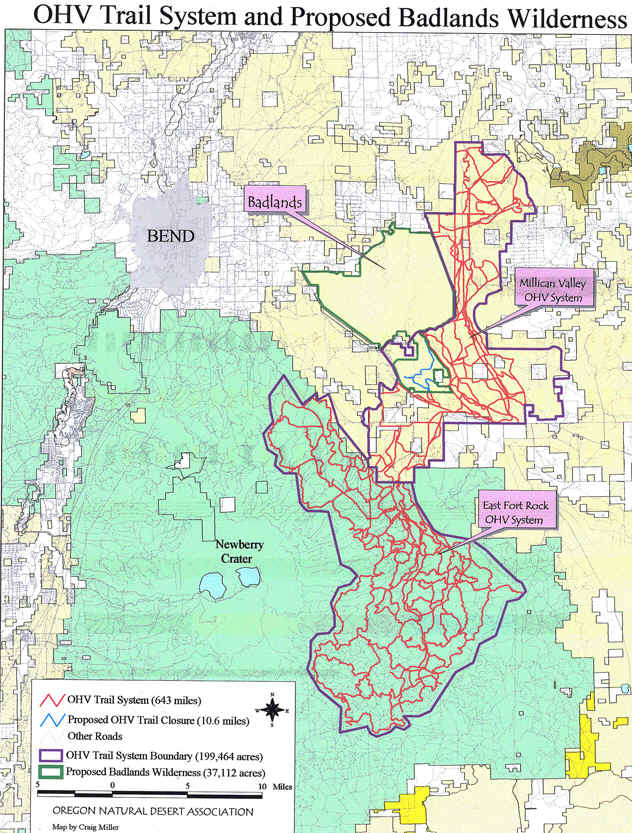 This map was produced from federal land management agency data by Craig Miller for the Oregon Natural Desert Association (ONDA).
This map shows the elaborate 643 mile system of OHV trails that are installed, marked, mapped and maintained by the Deschutes National Forest and Prineville BLM for the sole benefit of motorcycles and other ATVs. This 200,000 acre trail system is being maintained at public expense exclusively for those who wish to ride a machine and who also can afford to buy and ride expensive ATVs in the desert, forest and native grasslands east of Bend Oregon.
A few OHV-gas-tax funded industry lobbyists oppose the conversion of The Badlands Wilderness Study Area (a long time de-facto wilderness) to a Congressionally designated Wilderness of 37,112 acres for quiet, non motorized use. While maintaining de-facto OHV control of 200,000 acres of public land with mechanized thunder and speed, they exclude the hiker, horseman, wanderer, explorer, backpacker, birder and others along with the critters large and small who used to live a quiet life in natural desert, beautiful ponderosa forests and native grasslands.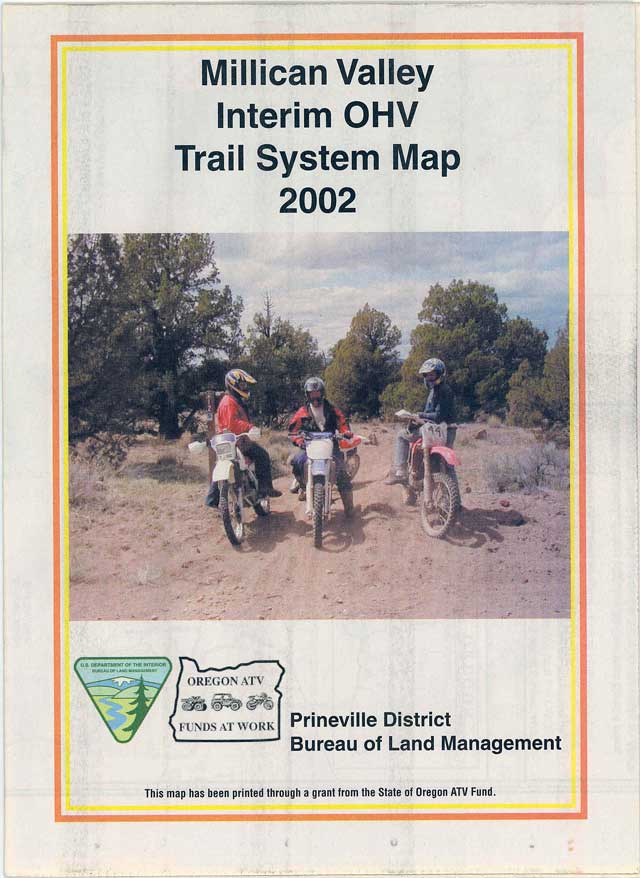 This map (and several others like it) was produced by the BLM for the exclusive benefit of OHV owners
We do hope the majority of OHV enthusiasts will actively support a Congressionally mandated Wilderness designation for this small bit of quiet desert called The Badlands.

Read more . . .
We need the Badlands Wilderness
Op-Ed - Off-roaders have no reason to fear Badlands Wilderness designation
The Badlands Wilderness preservation puzzle
A brief history of The Badlands Wilderness Study Area
Photos of a Badlands Tour with ONDA
Photos of a Navigation Noodle in The Badlands with ONDA
Vandals destroy, deface Badlands Pictographs!
Senator Wyden tests local support of The Badlands Wilderness designation